Earlier this week I released a video showing the NEW Photoshop Touch for iPad 2. The video was recorded using the iPad Digital AV Adapter that allows you to connect an iPad 2 to an HDTV via HDMI and a BlackMagic Intensity Pro that is installed in my Mac Pro tower. While the Intensity Pro card works well it means that any videos that I want to produce directly from my iPad 2 have to be done on that computer. A few months back BlackMagic announced a new external verison, the Intensity Extreme! The difference is is that the Intensity Extreme is an external capture device that connects to your Mac via the super fast Thunderbolt connector. As a matter of fact this is my 1st Thunderbolt device. While Apple has been equipping their new Macs with Thunderbolt ports, the actual 3rd party Thunderbolt equipped devices and peripherals have been slow coming to market.
How does it work?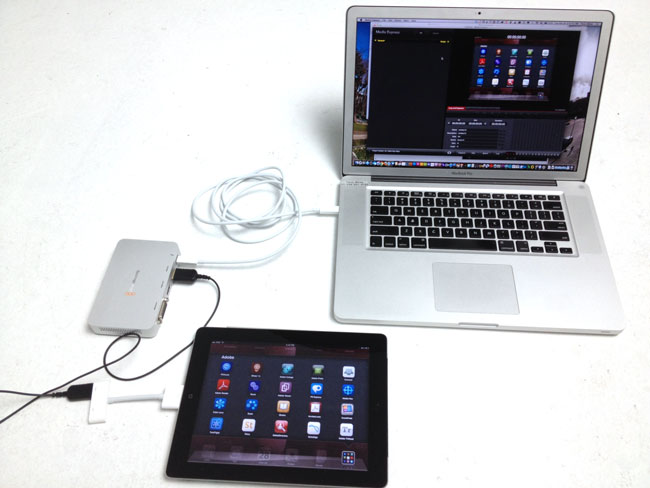 Before I could even get started I had to go get a Thunderbolt cable from the Apple Store, as it's not included. As far as I can tell Apple is currently the only company shipping a Thuderbolt cable ($49). While I'm totally against overpriced cables, the Thunderbolt cable is more than just wire and connectors. The cable actually has some chips/processors in it. However, I expect that competition will bring the price. down.
Once I got back with the cable I installed the BlackMagic software/driver, connected the box and to my pleasant surprise the Intensity Extreme is bus powered via the Thunderbolt port. NO POWER BRICK! I was already used to the software as it's the exact same software that the Intensity Pro uses. Once I set my preferences, the iPad 2 showed up in the capture window and I was ready to go (record)!
What about audio?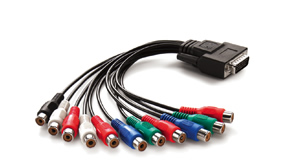 While HDMI does carry both video and audio, the problem is that I want the audio from my voice to be recorded along with the demo. There are a couple of options. The Intensity Pro also supports a breakout set of analog cables and even supplies all the female connections (pictured above). Just plug in your audio gear and you should be good. However, just like on my Intensity Pro, I don't use this set of connections. The reason is I'm also going to want to be on camera and may integrate things/software demos from my computer too. In this case I record both my talking head image, whatever I'm doing on my computer and my audio simultaneously into Screenflow while I'm doing the demo on the iPad 2, which is being recorded into the Intensity Extreme. I put the two videos together in post using Adobe Premiere Pro CS 5.5 as well as adding the iPad "frame" as a Photoshop file on a layer below.
The Bottom Line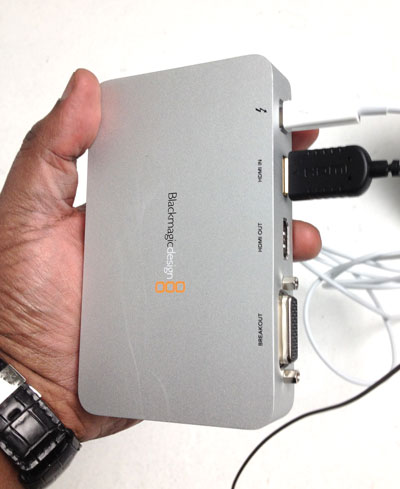 This new Intensity Extreme is a winner on all counts. While it took longer than expected to actually ship it, they got it right. It's small enough to travel with and produces FANTASTIC uncompressed HD results so that you're starting with the cleanest HD video possible!
UPDATE: this also works the exact same way with the iPhone 4s. You use the same Apple AV Adapter and plug it in and you can record video out from your iPhone 4s as well. Thanks blog reader "RF" for the tip!
You can get the BlackMagic Intensity Extreme here for about $285. You also get your Thunderbolt cable on the same order here.
Continue reading "Review: BlackMagic Intensity Extreme Thunderbolt HD Capture Device"