After writing my most recent review of the NEW di-GPS Pro and Mini GPS' a few readers suggested that I check out the Solmeta N2 GPS. which offered a couple of advantages over the di-GPS models and being the GPS freak that I am, I couldn't resist.

What makes Solmeta different?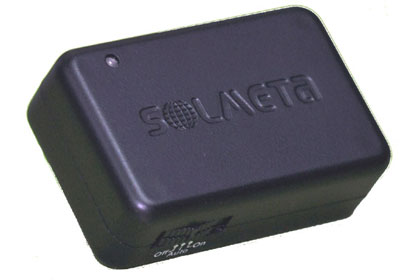 Aside from all the things you would expect and that I've covered before with the other units, the Someta offers a couple more bells and whistles. The big one for me and probably the reason I was anxious to try it was that instead of having to buy one model or another for either a Nikon DSLR with a 10 pin terminal (like my D700) or one that has a specific GPS port (like my D5000), this one comes with BOTH cables. This way the user can buy one GPS unit and use it with every Nikon DSLR that supports GPS units. Although that was a big plus for me having two bodies, the average user is probably only going to use one cable or the other as they will likely only have one kind of body. The only other feature that got my attention was that this one has the ability to know your heading. Definitely nice when you want to know what direction you were facing when you took the shot.

How well did it work?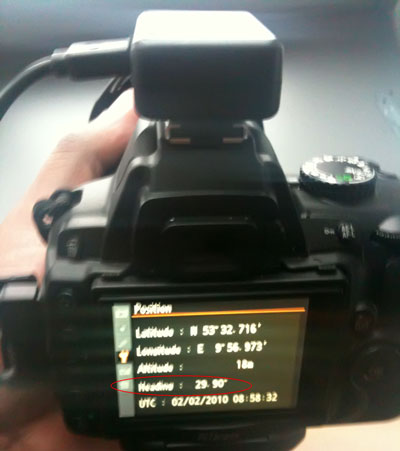 Luckily the unit arrived (after what seemed like forever!), the day before I was headed out on a business trip. So I was able to pack it for some real world testing. I still brought my other GPS as a backup since I hadn't had even a moment to make sure the Solmeta was going to work.
I connected the appropriate cable for my D5000 and stood outside my hotel to grab a GPS signal. I gotta say that it seems to take a lot longer to acquire the satellite than I'm used to. Not too long, just longer. So plan ahead!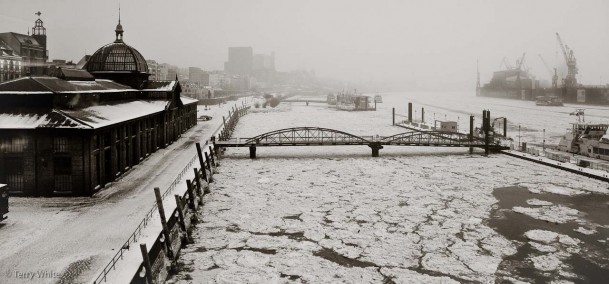 Once it locked on, the light went from rapidly flashing green, to a slow flashing green to a steady green meaning that it had acquired multiple satellites. I started shooting and the information was captured as expected.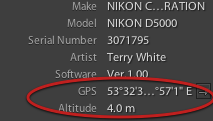 Adobe Photoshop Lightroom brought the GPS metadata in with the shot. You can click the GPS coordinates above to take you to this location on Google maps.

One major design flaw – see UPDATE 2 below
It's a good thing I brought my other GPS because the Solmeta only lasted one day! As it turns out, the cable they give you for the D5000 is very short. So short that there is no play in it whatsoever. So as luck would have it, the cable got bumped by one of my shoulder bags while walking and this caused the connector inside the Solmeta to break free from the logic board. Although the Solmeta itself still lights up and seems to lock on, no information is transferred to the camera anymore because technically it doesn't see the cable.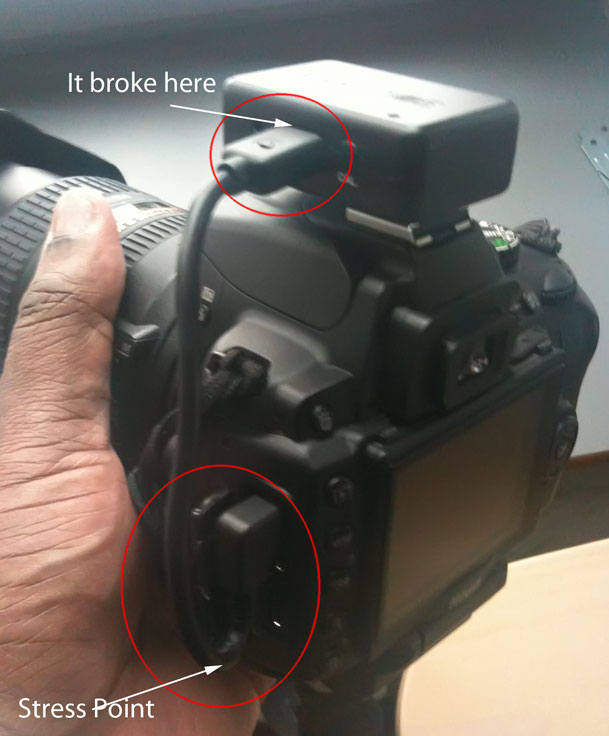 Even if the cable was the same length that it is now it could work so much better if the if didn't plug into the body at a weird (upside down in my opinion) fashion. If they had made the L shaped head plug in the opposite way it would have probably been fine. You probably won't run into this problem with the other cable (for the terminal port) because the port is physically located closer to the hotshoe. Also you could avoid this by attaching the Solmeta to your strap instead of the hotshoe. However, since it's designed to go on either way and is probably more accurate (especially for headings) if sitting on the hotshoe, they should make the cable longer!

The Bottom Line
The Solmeta is a good choice, however I would have to caution everyone to be careful with how you attach it and transport it, otherwise you could end up with a broken one just like I did. Again, this is a lot less of an issue for the other cable and if you mount it on the strap instead, however I hope they change their cable design. Now I get to see how well Solmeta handles replacements? I'll report back on how that goes.
The Solmeta N2 GPS goes for $160 (with normal shipping included).
UPDATE: Solmeta just sent me this email on getting my GPS replaced:
Dear Terry,
Thank you very much for writing a review of solmeta geotagger N2 on your blog.
Could you please send back the defective device back to us.
We would like to send you a new replacement.
1. Please send the defective one back us to the address below:
shipping RMA info omitted here for confidentiality.
Any shipping way is welcome.
Please kindly note that : just send back the device (the black little box) and keep the other accessories( cables, CD…)
If there is any questions , please be free to contact me.
UPDATE 2: Solmeta has been very responsive and I heard back from them again and apparently there is a DIFFERENT Cable for the D5000. When you order the Solmeta, you have to read the fine print, which specifies that the unit comes with TWO cables (as I indicated one for the terminal port and one for the D90 OR D5000).

You have to INDICATE which one you want. Apparently I got the one for the D90. Unfortunately their ordering process doesn't make that clear since they are using a PayPal cart. So unless you proactively enter your choice in the notes section you're going to get the D90 cable.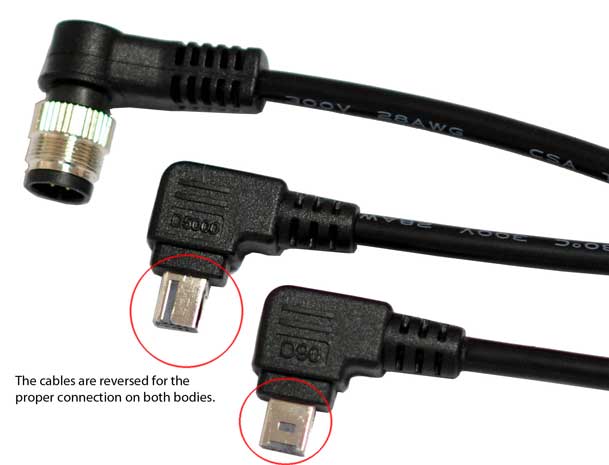 So Solmeta is not only replacing my broken GPS, but also sending me the proper cable for the D5000.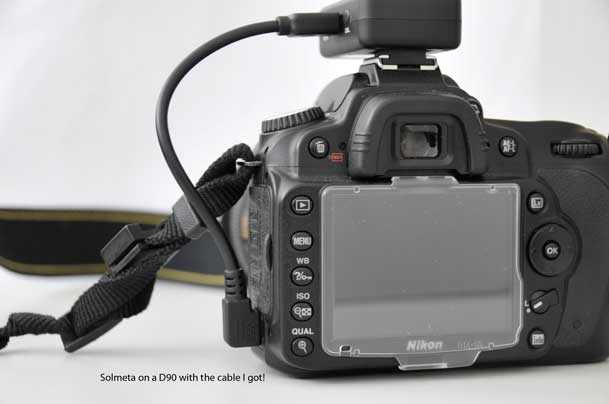 That's the way I would have expected the cable to attach and now that I know there are two cables I can happily recommend the Solmeta GPS for Nikon users!