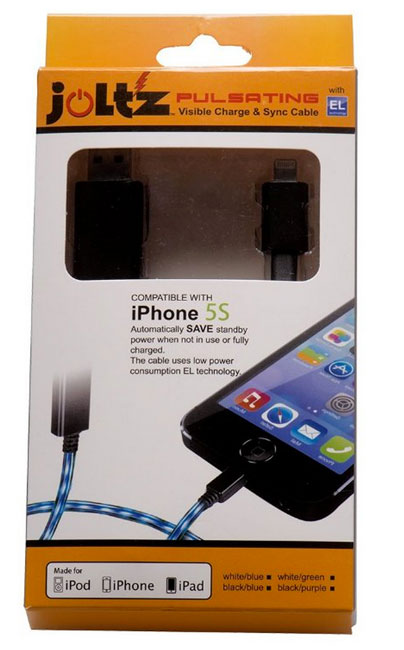 The last time I was in Atlanta for Photoshop World  I took an Uber car from the airport to the hotel. I couldn't help but notice the cable the driver was using to charge his iPhone. The reason it stood out is because it had a stream of pulsating LEDs that animated from the USB power supply to the iPhone. This obviously doesn't charge the device any faster, it's just cool to look at. I had forgotten about it for a while and then I remembered the cable and found out who made it. Joltz makes a Lightning cable version of this. On the USB side the connector is longer than usual and I'm guessing it houses a chip to control the animation of the LEDs along the cable.
Here's how it looks in action:
When the cable is not connected to the iDevice the LED light pattern just sits still and eventually turns off/goes to sleep. I like the cable a lot and my only wish is that Joltz would make a longer version. This one is only 3 feet long.  Charge your iPhone, iPad or iPod touch in style.
You can get the Joltz Pulsating Lightning cable here.