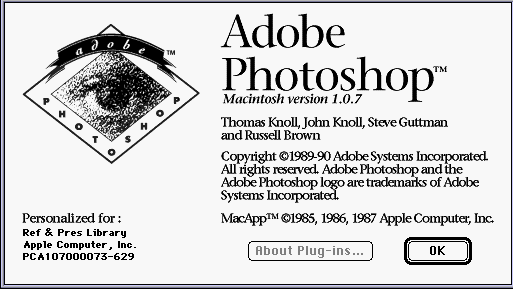 Happy Birthday Adobe Photoshop! That's right folks, it was 25 years today (February 19, 1990) that Adobe released Photoshop 1.0. It's hard to imagine that what started out as a product that most people at the time didn't even understand why we'd need it, would become such a phenomenon that entire industries have been built upon. I of course like many of you begin to think back to the first version of Photoshop that I ever used. For me it was Photoshop 2.0. I only used 2.0 for a short time before getting the Photoshop 2.5 upgrade. I guess I was like most people at the time. I'll admit that I really didn't get it at first. I was spending most of my time back then in PageMaker and using clip art. It really wasn't feasible to use digital photos yet simply because there were limited ways of getting the photos into the computer at a decent resolution. There were no consumer digital cameras! Nope, NONE. No cellphone cameras because there were no cellphones. There were scanners, but they were very expensive if you wanted a good one and even if you paid to have a scan done to your "floppy" disc and brought it home, you'd be hard pressed to have enough memory to do any major work on it in Photoshop. Nonetheless, Photoshop did evolve to the point of becoming a verb "I Photoshopped that" in popular culture. Most designers couldn't imagine doing their jobs without having Photoshop and as a photographer I haven't seen or taken a photo that couldn't be improved in someway by Photoshop.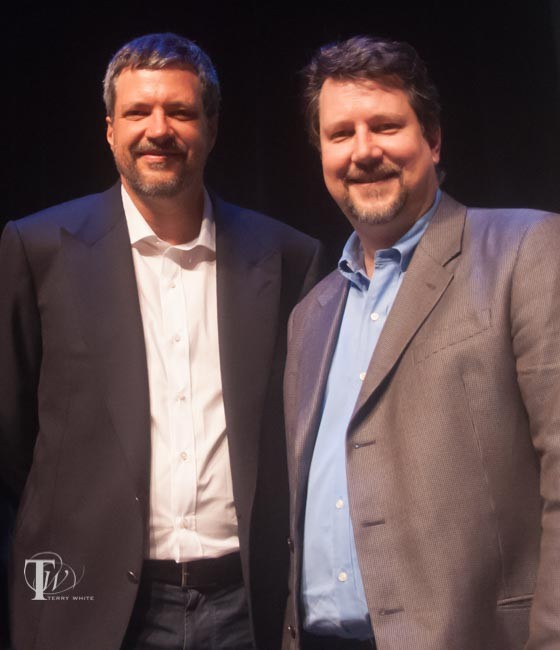 I was thinking of ways I could show people just how far Photoshop had come. After all there are many users that use Photoshop that are 25 years or younger as well as users who were babies or kids when Photoshop was released. That's when it hit me: why not show people what it was like to use Photoshop 1.0 back in 1990? Imagine using Photoshop without layers, with only one undo, and no camera RAW. Also this may be hard to wrap your head around, but Photoshop 1.0 was released two years before there was a standard called JPEG. That's right. There was no JPEG when Photoshop came out. On your Mac you typically worked with either PICT files or TIFF files. Let's take a look at what it was like to do editing and compositing:
It's hard to believe that Photoshop 1.0 originally shipped on an 800k floppy disc. There was no installer. You either ran it from the floppy or copied it to your hard drive.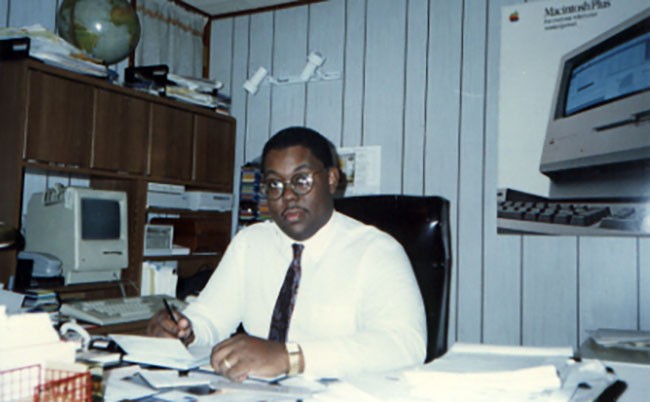 While Photoshop did work in color it would be another couple of years for me before I upgraded from a Mac Plus to a Mac LC with color monitor.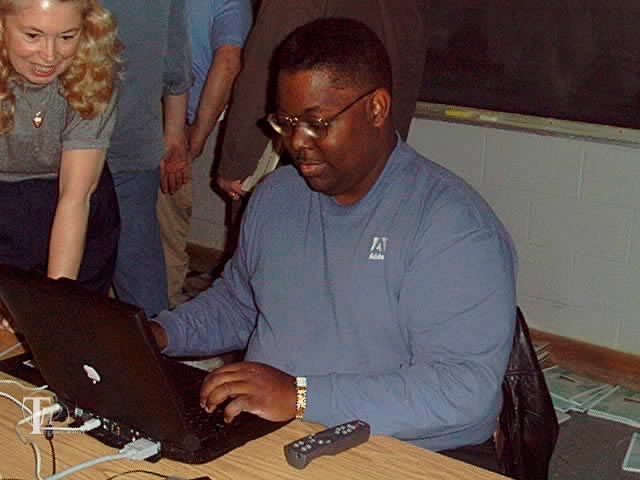 When I joined Adobe in 1996 it was more than a thrill to be working for the company whose products were constantly evolving. Those were exciting times to say the least.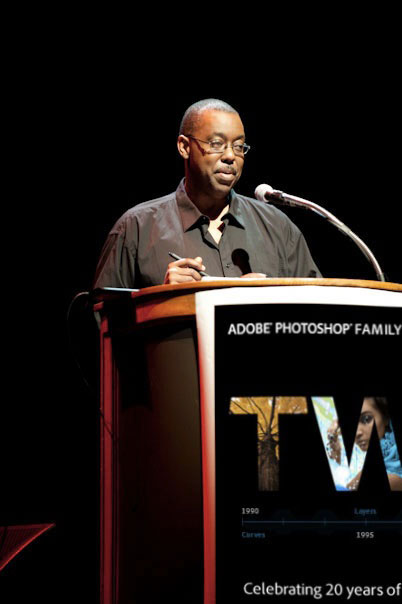 I'll be celebrating my 19th year at Adobe this July and it has been a pleasure and an honor to be a part of company and history that has brought so much creative freedom to the world.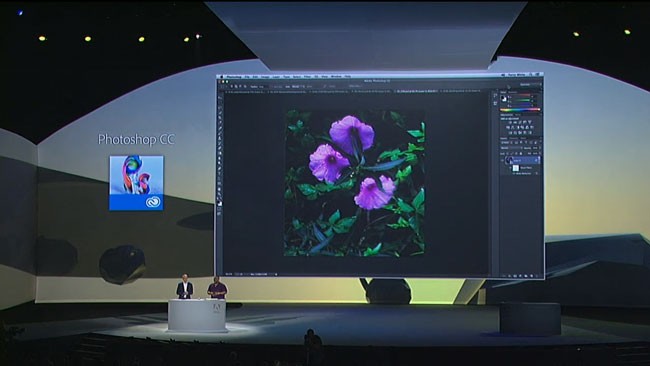 One of the highlights of my career was getting the chance to be on stage at Adobe MAX 2013 and introducing Photoshop CC to the world.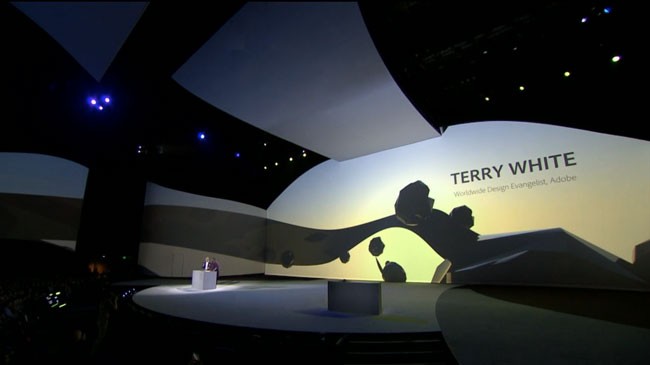 I would like to once again thank all the engineers that spend so many hours, nights and weekends pushing Photoshop to the limits and giving us the tools to make our visions a reality. Most of all Thank YOU. Without our customers we wouldn't be where we are today.
A look back…
Take a look at this video from the early days and also watch Russell Brown, Thomas Knoll and John Knoll discuss how far Photoshop has come (20th Anniversary Video interview).
And while we're looking back on this 25th Photoshop Anniversary, let's take a look at my 1st Photoshop episode of my Creative Suite podcast. This episode first aired on February 15, 2006.

Happy Birthday Photoshop! I'm looking forward to the next 25 years of innovation. As a side note and bit of trivia today is also Adobe Photoshop Lightroom's 8th Anniversary.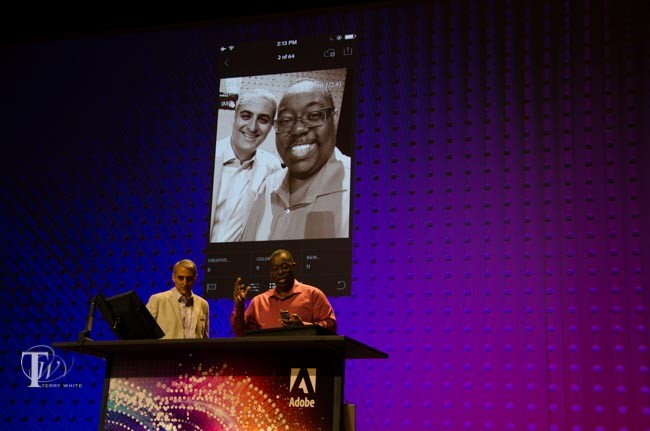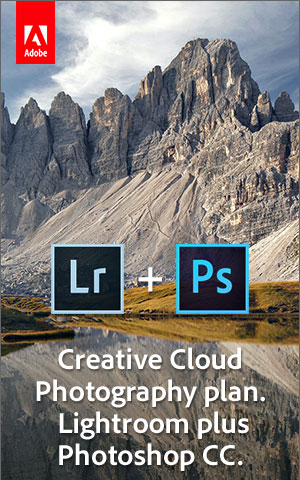 Take advantage of the Creative Cloud Photography Plan which includes Adobe Photoshop CC, Lightroom 5 and Lightroom mobile for only $9.99/month.