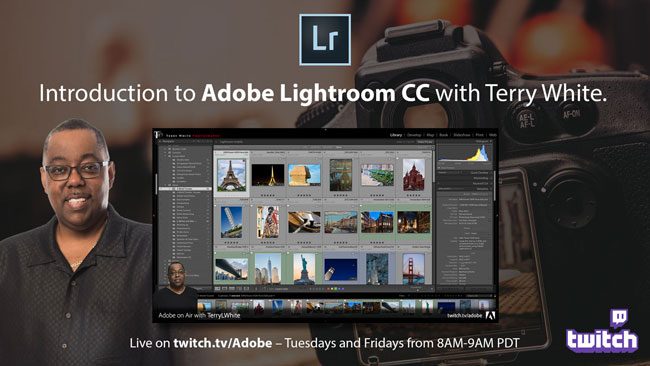 Last week I kicked off my Creative Cloud Learning Stream – "Introduction to Adobe Lightroom CC". This FREE 8 Part class takes place LIVE on twitch.tv/adobe every Tuesday (yes tomorrow) and Friday at 11AM-12 noon EDT (Time Zone Converter). By the end of the 8 sessions you should have a great understanding of how Lightroom works and and how to use it to manage and adjust your images.
What if I missed Lightroom CC parts one and two?
No worries, you can catch the replay on my YouTube channel:
and part two:
While the replays are great, it's best to catch me LIVE so that you can be a part of the audience and more importantly, get your questions answered.
Lightroom CC – Here's what I've got scheduled:
May 3 – 1. Importing Your Images Into Your Catalog – Folders vs. Collections
May 6 – 2. Collections, Smart Collections and Keywording
May 10 – 3. Shooting Tethered and Flags, Stars and Labels
May 13 – 4. Develop Module Part one – Global Adjustments/Editing in Photoshop CC
May 17 – 5. Develop Module Part two – Local Adjustments
May 20 – 6. Lightroom for Mobile and Web
May 24 – 7. Slideshows, Books, Map Module and the Web Module
May 27 – 8. Moving Your Images to A Different Drive & Outputting your Images
As you might expect I go much deeper than those titles above can cover. Having a dedicated hour for each one, really let's me get into all the details that I want to cover on each topic while still leaving room to answer questions.
It's FREE, all you have to do is tune in at twitch.tv/adobe. However, I would recommend that you go ahead and create a FREE account on twitch.tv ahead of time so that you'll be all set to participate in the chat. Also once you create your free account be sure to follow the Adobe Channel and of course my channel for those late breaking broadcasts that I do that can't wait till Tuesday or Friday. If you're up for you can also join in an hour earlier for my regular Design and Photography topics which go from 10AM-11AM ET on Tuesdays and Fridays.
See you tomorrow morning!