I won't even bother going into the details about today being the official launch of the iPhone, because unless you've been locked in a closet for the past 4 weeks you already know! Yes, the lines started forming yesterday at many locations such as the AT&T stores in major metropolitan areas. As I've said before, I'm not a camper and don't believe in spending the night outside just to get a new gadget. However, it's hard to ignore the buzz and anticipation. So I took the day off and decided to cruise the area and check out the happenings. I have an AT&T corporate store less than one mile from my house. I went there first and there were only 3 people in line as of 1:45 PM today.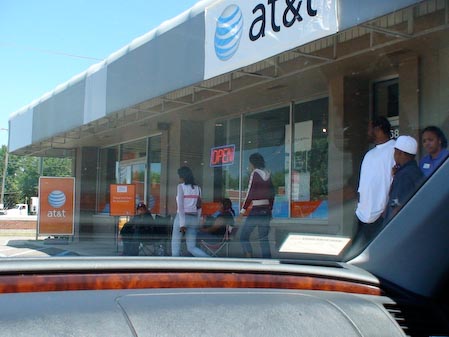 Not much of a wait yet at this AT&T store.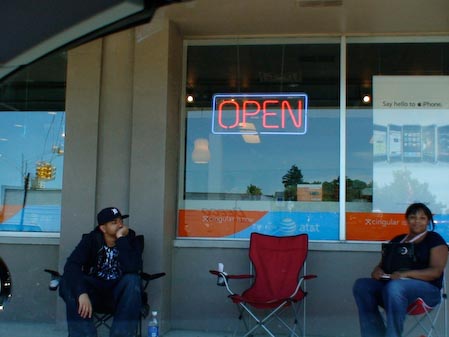 I only counted 3 chairs so far. Smart move to come here as opposed to the Apple Stores.
The AT&T stores close at 3PM today and reopen at 6PM when the iPhone goes on sale. I then headed over to my local Apple Store in Troy Michigan and things were a lot different. I see the line the minute I walked into the mall. It snaked around the corner from the Apple store which is about 200 feet away. I estimated anywhere from 75 to 100 people in line at 2PM. So far everyone seems upbeat and civilized. Most people brought their own chairs or pads to sit on the floor. I was lucky enough to have friends that volunteered to hold a place in line (at the 30th spot and they even managed to grab a bench) for me even though they aren't buying iPhones for themselves. Now that's what I call friendship!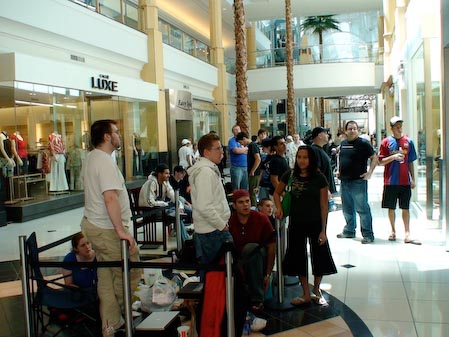 This is the beginning of the line…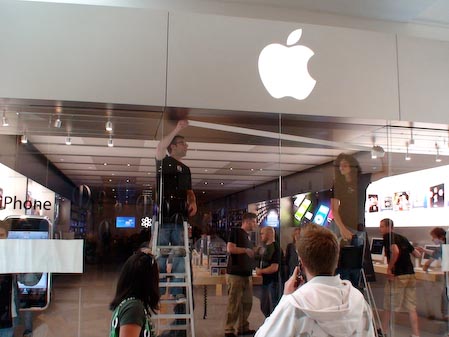 The Apple store closed at 2PM. They're hanging black vinyl so that we can't see what their doing in the store to get ready for 6PM.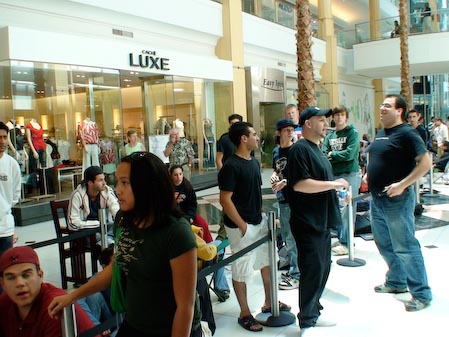 A little less than 4 hours to go… Expect a full review here once I get one and get it up and running…