Usually the only time I pop up the flash on my DSLR is to use it as a Commander to control and fire my off camera Nikon Speedlight. If you ever see me using it to light a subject you can almost bet that it was an emergency, there was no other choice and I'm hating life in that moment. There are two ways to combat the horrific effects of on camera flash. Either bounce it or diffuse it. When it comes to my speedlights I'm a "diffuse it" kinda guy. However, for the tiny popup flash built-in to most cameras, the options to diffuse them are less. This is probably why you never (or hardly ever) see pros using the pop-up flashes on their cameras. Heck, my Nikon D4 doesn't even have one. They probably figured if you're a D4 customer, you know better.
Professor Kobre's Lightscoop Products Aim to Make your On Camera Flash Suck Less
I reviewed their original Lightscoop way back in 2007. While it's a great product, I rarely carried it because although it was small, it was still an odd shape that took up space in my bag and there just weren't gonna be too many times that I'd be using it. Now they offer a Lightscoop Deluxe.
The Lightscoop Deluxe is a "flat" mirror that attaches to a supplied arm that slides into your hotshoe. This way you can carry it practically completely flat. That means it will be a lot easier for me to just keep in my bag for those occasions where I might use it. I did the test shots above in my studio and as you can see the bar flash of my Nikon D600 at close range in TTL mode was pretty harsh. I could have improved things by backing the subject up, but the light still would have been unflattering. The after shot directly above was taken at the same distance with the Lightscoop Deluxe attached. My ceilings are fairly high and not white so I lost a bit of light as a result. However, in the typical 8′ white ceiling setting this modifier should work great.
They make a Lightscoop Jr. Too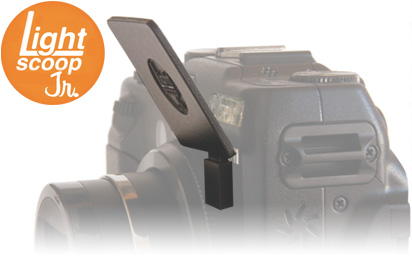 If you have a point and shoot camera, you can get the tiny Lightscoop Jr. and it adheres right on the front of the camera in front of the flash. You can detach it from the base when not in use. Again the success or failure is going to depend on ceiling height to bounce off of with these low powered flashes, but point and shoot cameras probably need this kind of accessory the most.
The Bottom Line
I can't promise you that these will make me use my built-in flashes any more than I do now. However, in a pinch at least I wouldn't completely rule it out anymore if I had a Lightscoop Deluxe or Jr. with me.
You can get the Lightscoop Deluxe here and the Lightscoop Jr. here.