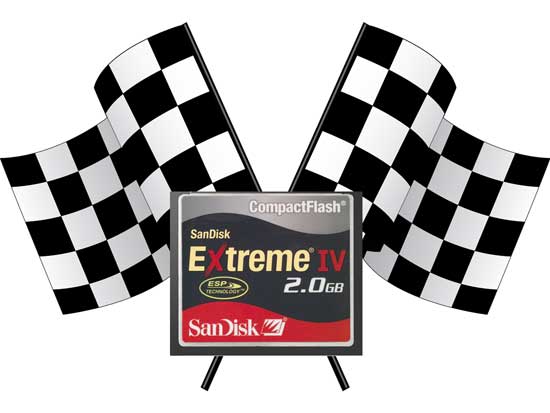 I was ready to declare the PNY Technologies card the winner in my recent Compact Flash Card Speed Tests when my buddy Scott Kelby reminded me that it's not only about how fast the card reads data, but also how fast the card writes data. So this lead me to do some more testing.
For those of you who haven't been following along, this all began with my recent purchase of the CFExpressPro+ PCIe ExpressCard to CompactFlash Memory Card Adapter 2.5Gbps. This ExpressCard Compact Flash Card Reader boasts the ability to operate at the ExpressCard slot's true PCIe speeds. My first tests with Lexar Pro media yielded horrible results in that I either have a bad card or their write acceleration is just not compatible with this reader. So I went out and bought some different cards. I bought a couple of SanDisk's Extreme III and IV cards and I bought the PNY Technologies Optimal PRO and Optima PRO UDMA cards. These cards were rated at 133x and 266x by their respective manufacturers. I was shocked that the PNY cards were much faster than the SanDisk cards on READING my 1.1GB test folder. Like I said, I was ready to declare PNY the winner until I ran some WRITE tests. The results put SanDisk back on top. Using the Sychnrotech ExpressCard PCIe Reader, here's what I got:
| | | |
| --- | --- | --- |
| Card | Read 1.1GB | Write 1.1 GB |
| PNY Technologies Optima Pro 133x 2GB Card | 40.9 seconds | 56.9 seconds |
| PNY Technologies Optima Pro UDMA 266x 2GB Card | 35.7 seconds | 45.2 seconds |
| SanDisk Extreme III 133x 2GB Card | 70.8 seconds | 71.1 seconds |
| SanDisk Extreme IV 266x 2GB Card | 41.6 seconds | 29.4 seconds |
While the PNY card did win the Read tests hands down, what really matters to a digital photographer the most (besides reliability) is the speed at which images can be written to the card and the SanDisk Extreme IV edges out the PNY card by 18% margin!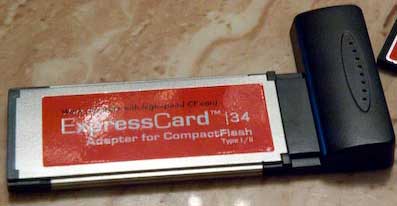 Also no matter how you slice it having the Synchrotech ExpressCard Memory Adapter ($65) blows away USB card readers. In all of my tests the fastest time I could achieve with my USB card reader was just over 2 minutes whereas with the ExpressCard adapter I achieved 35.7 seconds and 41.6 second read times. If you're a pro digital photographer and have a notebook with an ExpressCard slot, this is a must purchase. Time is money.