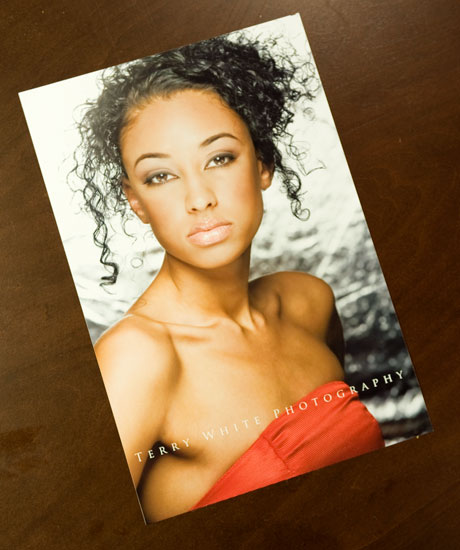 Everyone I know shoots digitally now! While I'm sure there are some folks out there that are perfectly content using film, I would dare say that there are more people shooting with digital cameras these days. I don't do much photo printing, but when I do I always wonder why I end up having to crop my photo to fit the "traditional" sizes of 5×7, 8×10, etc. While visiting another photographer friend of mine, I happen to notice that she had tons of prints that were slightly larger than 8″x10″, they were 8″x12″. The beauty of this size is that your digital file will need little to no cropping. When I asked her where she got them printed, her response was Costco! I was stunned! While I had heard that lots of photographers use Costco with much success, I just didn't believe it. 
 
Putting Costco to the test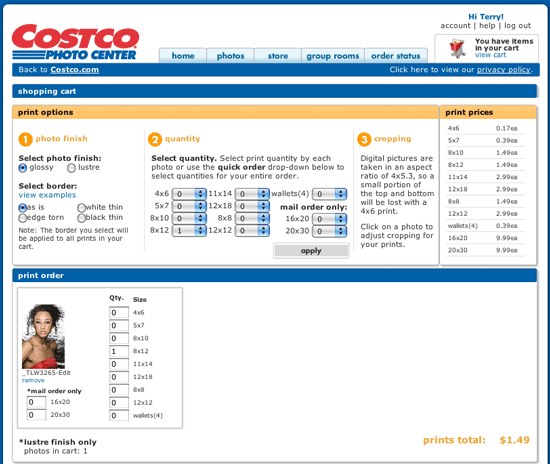 I decided to give it a try. I took one of my recent shots and exported it from Lightroom 2.1 as a high res JPEG and uploaded it to the Costco Photo Center site. A few days later, the print came back and I was very impressed with the quality. The color seemed dead on (I'm not a color fanatic, so Y.M.M.V.) and there was very little if any cropping. At $1.49 for an 8″x12″ print (membership required), I also couldn't complain about the price! Most services charge roughly $3 for an 8″x10″. The shipping prices were also very reasonable (there is a pickup option too, but I don't have time for that). By the way, the 8×12 print was on Kodak paper!
 
Same photo with an 8×10 crop
 
 
 
So why can't I do it myself?
After my very positive experience with Costco, I wondered if I could just order some 8″x12″ inch paper for my Epson printer? Like I said, I don't do very many prints, but it's always nice to be able to print a photo on the spot in a pinch. Nope! Nada! The Epson store doesn't carry this size. Then I just did a quick Google search for 8″x12″ photo paper and basically got nothing!!! I was shocked. I read a few stories about how paper is made and that "odd" sizes are more costly to produce. While that may be true, it would seem that there would be a market for this size even if the price was more. Yes, I'm sure that there is a company out there that either sells this size or will custom cut it for you, but the point is why isn't it more main stream?
 
What about frames?
Of course this also begs the question, "what about picture frames?" Sure, there are some 8″x12″ frames out there, but the selection is slim. I also doubt that the average store is going to carry them on the shelf. Why would they if no one really carries the paper? Costco isn't the only one that prints in this size. I also noticed that Mpix also does 8″x12″s ($2.99). They will also frame them for you and ship them ready to hang. It's not cheap, but it is very good quality. I recently got some 20″x30″ images done by them, framed and I was very pleased with the results.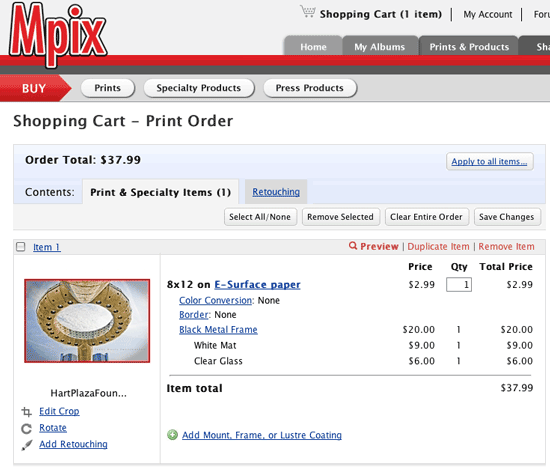 When will the industry change?
Why is the industry still stuck on these "old" formats (8×10, 5×7, 4×6, etc.)? When will we see it change? Your guess is as good as mine. However, I'm not going to wait for it to happen. When I need a print from now on it will be with a service that prints the sizes I want without losing part of my image. Perhaps Epson, Canon, HP, etc. will read this and start offering paper/print drivers in digital friendly sizes.
I can dream, can't I?