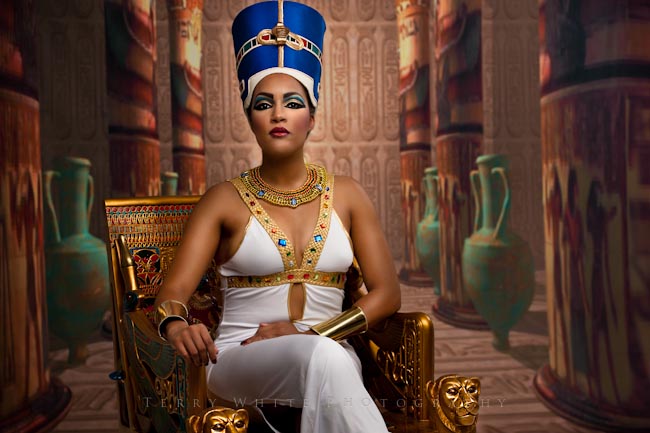 While I don't consider myself to be an artist, I can certainly relate to having a vision or concept in my head that just won't go away until I try to execute it. That's been the case for the last two years. I had this concept of doing an Egyptian Queen "Nefertari" themed shoot. I've always had a fascination with Ancient Egyptian culture. I first toured Egypt in 1990 and it left a lasting impression on me. I also went back for a short business trip last year while on the Adobe CS5 Tour. Now that you know how long I've been thinking about this, let's start putting the pieces together.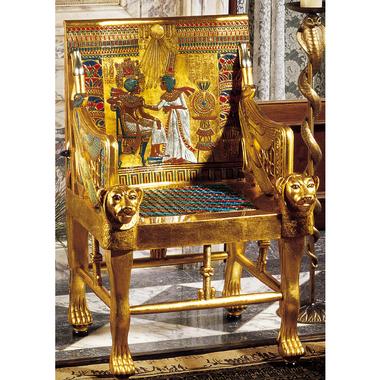 I saw the first piece of this puzzle in a Skymall catalog. It was an authentic looking King Tutankhamun throne. I ripped the page out of the catalog and kept looking back at it saying "one day."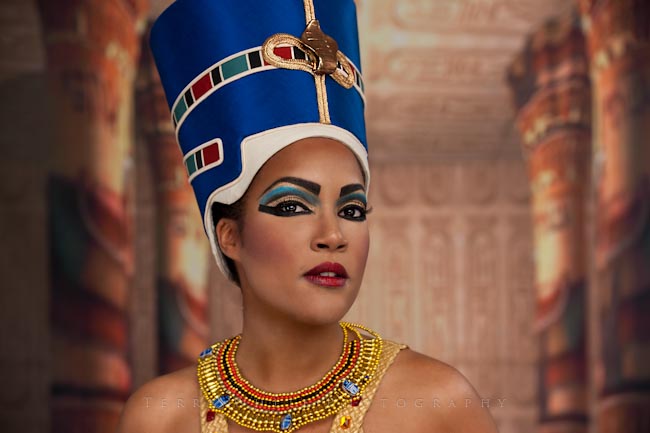 I decided that this was the year to try to pull this off so that meant finding the right model. I immediately turned to my favorite model Kandice Lynn and asked if she would be up for and of course being the superstar that she is, she agreed. She immediately began working on the wardrobe selection and jewelry.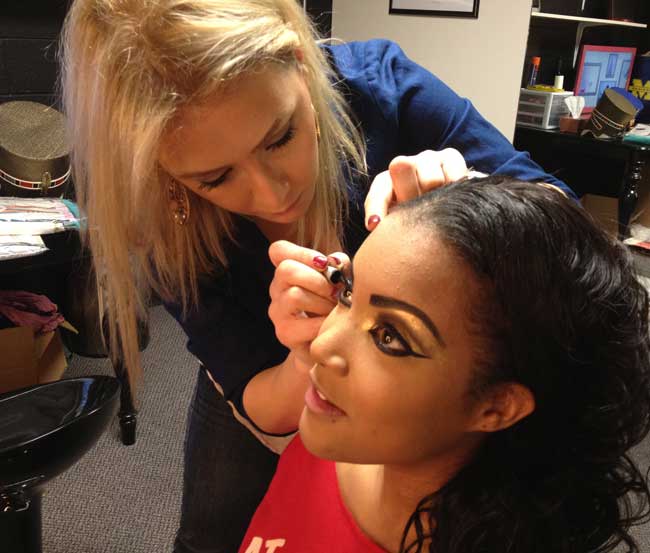 The next piece of the puzzle was having a good makeup artist. For this project we turned to Special Effects Makeup Artist Houda Bazzi. She was just as excited about the concept as I was and her wheels started spinning. We were shooting pictures back and forth via picture messaging for the next few days.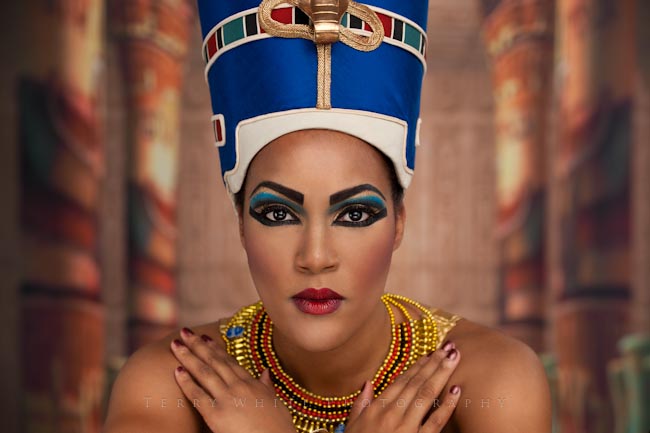 So far so good, but there was one big piece of the puzzle that I was the most worried about and actually took the longest to come up with. I wanted a "real looking" crown. While costumes are fine for the dress and perhaps the shows. The crown and the jewelry had to be REAL! I was at a dead end. My Google searches all resulted in cheap, plastic, fake looking head pieces.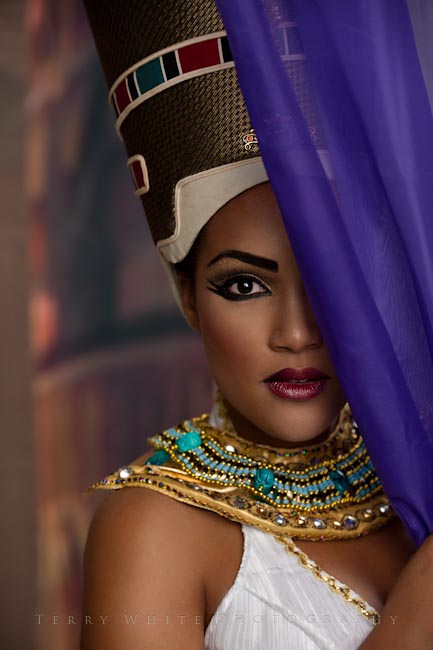 I knew that this would have to be something that I wouldn't just find. It would have to be custom made!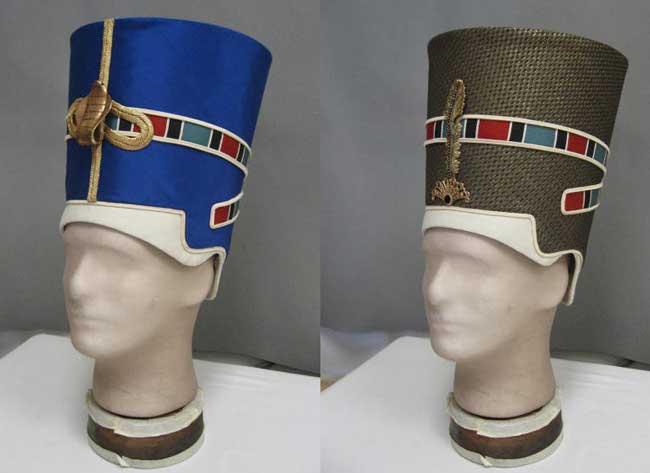 I had no clue as to who would be able to do this. Luckily my good friend and colleague Carmela Robertson is the master at finding sources for these kind of things. I showed her a picture of one that I wanted it to look like and she went to work with her sources. She did it! She found a place in Hollywood that not only wanted to do it, they went ahead and made them without my "go ahead". They figured they'd be able to rent them to movie studios. The next thing I knew she was sending me pics of two finished pieces. I was floored with the look and quality.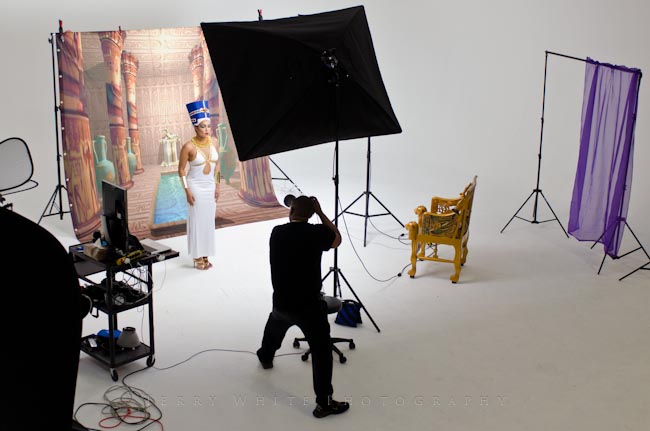 photo by Houda Bazzi
Now there was just one piece left. I had the concept, the model, the wardrobe and the gear, but what was I going to shoot it against? My first thought was that I have tons of photos from my trips to Egypt and I could just composite it. However, I kinda felt like it just wouldn't give me the ultimate look that I had in my head. This lead me to a long exhaustive search for a backdrop. Once again I was quickly becoming frustrated because everything I was seeing was fake looking, cartoonish, or just wasn't a match.
Once again, this would have to be something that was "custom". That's where visionbedding.com came in. They claim to have the largest selection of backrops on the net. They also can take your image and create one.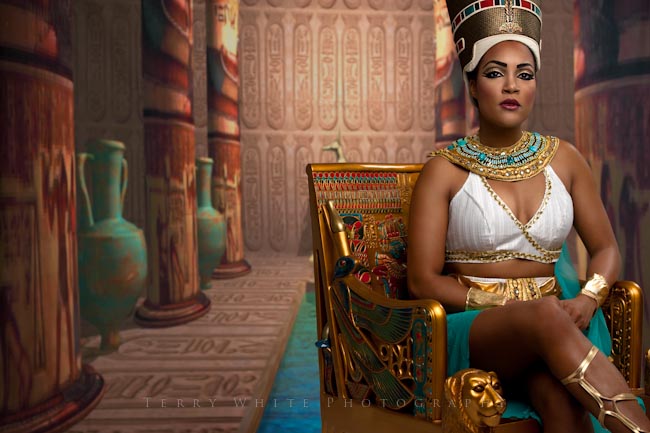 With everything in place and having a week off for the holidays, it was finally time to put it all together. I cleared the studio and started building the setup from scratch. I wanted this setting to look like a real room. This meant that everything had to be at the right angle and the lighting was crucial.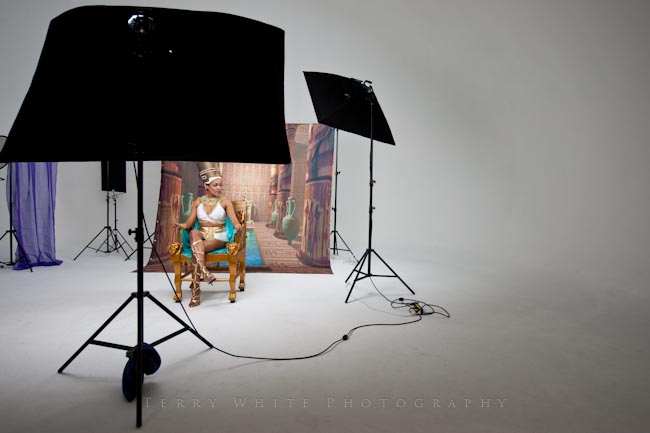 I decided to light this shoot using the Westcott Spiderlite TD6 continuos lights and large and medium shallow softboxes. These lights are big, bright and most importantly SOFT! Also since they are continuous and daylight balanced I would be able to get a feel for the light without ever firing a shot.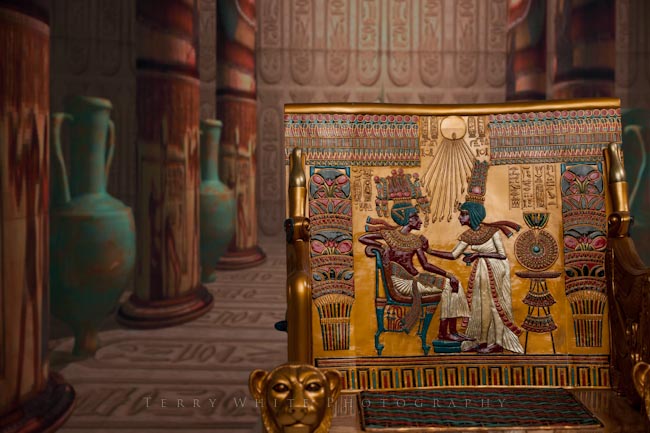 When I took my 1st test shot hours before the model and makeup artist arrived, I knew that this was going to be a great day!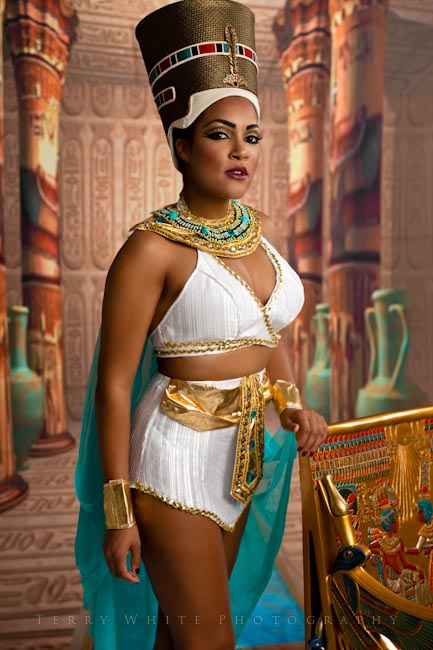 This was probably my happiest shoot ever. There's nothing like having an idea and seeing it come to life.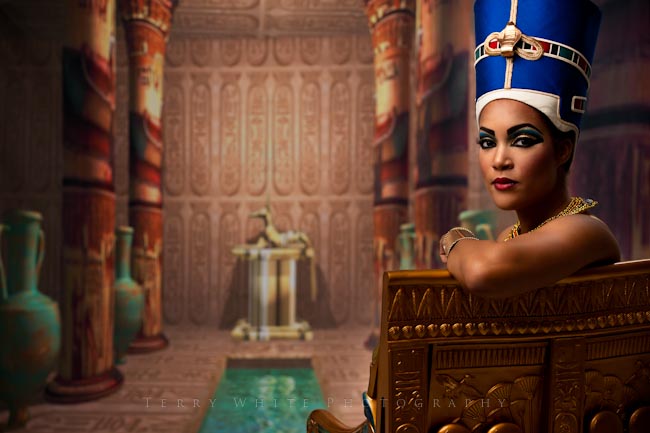 I also didn't have a single moment where I thought "gee I wish I had _________". Everything just worked!
Here's a quick behind the scenes video
httpv://www.youtube.com/watch?v=pkhaZMKoxI0
What were my camera settings?
I get asked these questions all the time, so here goes: I shot this with my Nikon D700 and 70-200mm f/2.8 VRII lens. ISO 200, f/4.5, 1/60 sec.