It's that time again. The time where people ask me, "so how was Macworld?" My response – "it was cool!" This year's Macworld didn't pack very many surprises. Most of the announcements by Apple had already been rumored (some with amazing detail). There wasn't very much at the show that blew me away. I had a good week packed with presentations and I feel personally that I got a lot done and showed some really cool Adobe technologies. So for me personally the show was "cool!"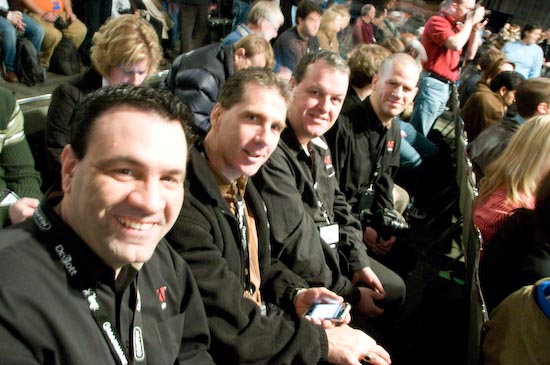 Sitting with my Adobe buddies Seb, Dave, Colin and Adam – waiting for the keynote to start.
So let me answer what you're really asking: What did I think of Steve's "4 things"? Alrighty, let's take them in the order they were announced:
Time Capsule
I think this is a cool product that complements Mac OS X Leopard and makes it drop dead simple for people to not only set up a Wi-Fi network, but also to share a built-in hard drive, backup all their Macs and share a printer if they choose to. It's hard to go wrong with this product. My only concern as a power user is the speed (or lack there of) of backing up over Wi-Fi. I tried it from my MacBook Pro to another Mac over 802.11n using Time Machine and it was just too slow to do regularly. Now keep in mind that I'm an MS Entourage user who's main identity weighs in at 3.74GB. So that's a big chunk of data to be backing up each hour. The average user won't have that problem. So I think Time Capsule will be a hit!
The iPhone 1.1.3 update
I always welcome more iPhone features that are available for free. So how can I complain about 1.1.3? I still have about 46 things on my list of 50 ways to make the iPhone better. 1.1.3 gave me SMS to multiple users and a customizable home screen. The additions to Google maps with the sudo GPS feature rock! I also like the new lyrics support in the iPod app and IMAP support for GMAIL accounts. I know this stuff takes time, however I do wish Apple would come out with these updates on a monthly basis. There are still several things I want on my iPhone. I'm also anxious to see what 3rd party developers come up with once the SDK ships next month. Things should really start to heat up then!
iTunes Movie Rentals an Apple TV Take 2
I never understood the concept of buying movies via iTunes! I'm a movie buff, but for the cost of buying a movie on iTunes, I could have a DVD and get a better experience. So needless to say, I didn't buy very many movies on iTunes (3 to be exact and the first one was a test). Renting movies is the way to go. I have already had my first iTunes rental experience and it didn't go as smoothly as I had hoped. As I reported, you absolutely HAVE TO BE CONNECTED TO THE INTERNET in order to start a rented movie. iTunes needs to connect to the iTunes store online to start the 24 hour viewing period. This is even the case if you are transferring the movie to an iPod or iPhone.
I ran into another problem. Although Steve said that rentals can be moved from device to device apparently those devices can't be multiple computers. Unlike music purchases, whichever Mac or PC you rent a movie on is the one that you have to watch it on. After I got home from Macworld, I started my movie to see if it worked. It did. The next day, I tried copying it to my Mac mini which is hooked up in my home theater (and is running the latest iTunes/QuickTime) and I got an error stating that it "Could not play the rented movie because it is authorized to play on another computer or device."

The error I got when I tried to play my rental on a different Mac.
Although the new iTunes 7.6 allows you to "transfer" your rentals to a compatible iPod or iPhone, there doesn't seem to be a mechanism to transfer your rentals to a different computer. You can only watch it on the computer you rented on. These restrictions really put a strain on the 24 hour viewing period which at first sounded OK, but If I have to put that much thought into where I rent it, when I want to watch, be connected to the internet, etc., then the viewing period should be more like 48-72 hours.
The biggest problem I see with the service besides the time limits is the fact that iTunes won't have new releases until 30 DAYS after they come out on DVD. That will seem like an eternity at times. I'm all for iTunes rentals, however in their current state I'm not ready to give up my Netflix account.
Check out the iTunes Store Movie Rental FAQ for more on what you can and can't do.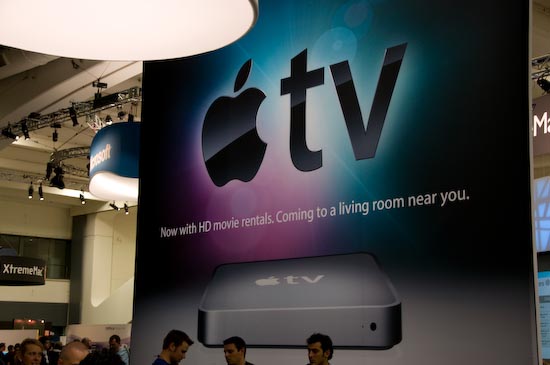 As far as the Apple TV Take 2 is concerned I was very pleased that this didn't require new hardware. The new interface looks slick and it will be great to be able to buy/rent content directly from my TV as opposed to having to download it first on my computer and then sync/stream it to my Apple TVs. I can't wait for the update!
The MacBook Air
When I saw what "The something is in the Air" was, I thought, "wow that's really neat, but not for me!" I think the MacBook Air is a phenomenal piece of engineering. However, it's just not strong enough to replace my MacBook Pro and since I don't need two laptops, it's just not for me. Some have started to knock it and complain about what it doesn't have. I say to those users, "then it's not for YOU!" It amazes me that people beat up Apple and other companies about what a new product doesn't have. Do you beat up developers for building one bedroom apartments because you have a family of four? No that would be silly. You just find a place with enough rooms for your family. So why should this be any different? The MacBook Air will be a hit with people that want a lightweight notebook that they will primarily use for internet surfing and email They're not doing a lot of heavy duty processing and they don't store tons of data on it. It would be great for someone who already has a desktop Mac as their main computer, but want a notebook for going on the road with. The list goes on.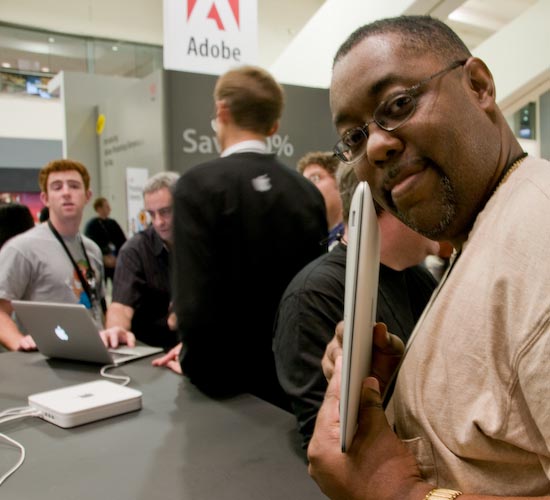 On the show floor at Macworld Expo holding the new MacBook Air – it's stunningly light!
But Terry, it doesn't come with an optical drive, Ethernet or Firewire. The hard drive is only 80GB at 4,200 rpms. Yup, you're right – and? If those things bother you, then this isn't the notebook for you. You can buy an external optical drive that is USB bus powered for $99. You can add Ethernet via a USB adapter for under $30. Sorry no Firewire.
So what do I think of the MacBook Air. I think it will be one hot seller for the market that it's intended for! Is it for everyone? nope. Am I buying one for me? Not likely.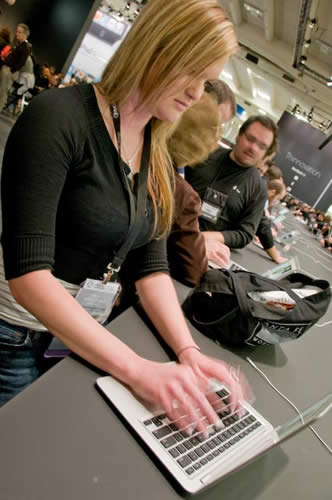 OK, what else was at the show?
Well, I gotta say there wasn't a whole lot that impressed me this year. Adobe was showing off the new Photoshop Elements Mac 6.0 and that really was cool, but you knew I would say that right. Otherwise, I got a chance to get by the Garmin booth and check out their new Mac apps for their various GPS units. All good stuff. Microsoft was there of course. They shipped Microsoft Office 2008. I'm not a huge Word or Excel user, but I do have to use Entourage for work email. So it's great having a Universal Binary of this app. There really wasn't any new hardware that was a must have.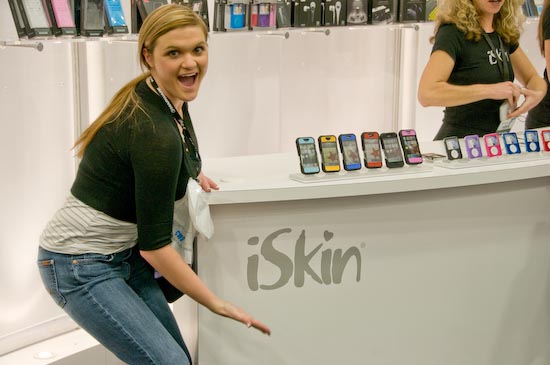 Sarah give up, you'll never find an iPhone case at this show 🙂
If you were looking for a new case or speaker system for your iPod or iPhone this was the place to be! Honestly guys, do we really need this much of a selection for iPod/iPhone cases? There was a vendor in just about every aisle selling them.
All in all, it was a good show. Last year's iPhone announcement was hard to top. I think Apple did some good things this year and I'm sure their success will continue throughout 2008! Also check out Macworld's own Best of Show winners and you'll see what I mean. Not a lot there that has a wow factor.
Here's a funny clip that summarizes Steve's keynote in 60 seconds: