It's that time of year again and many of you are about to start (or have started) your holiday gift shopping. There are several good iPhone/iPod touch apps out there for managing lists, but for holiday shopping it's probably best to go with one designed to give you more than just a check list. I used one last year and it was great because besides letting me add people and the gifts that I wanted to get them, it also kept track of the budget and total spent.
Here's what I look for in a Holiday Gift List App
The ability to easily add names from my Contacts. Chances are if you're on my list, you're already in my Contacts. So why have to type them in from scratch.
The ability to add multiple gifts per person and their estimated costs
Of course the ability to check off what I've bought
A passcode lock for the app itself to keep prying eyes out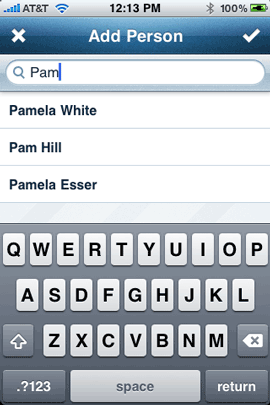 This year I went with Nice List
Although there was nothing wrong with my app from last year, I wanted to try one that appeared to have a cleaner UI (user interface). Last year I used Christmas List and again, it worked fine, but the images/design seemed a little too cartoonish. This has nothing to do with the functionality, I just like aesthetics. Nice List looks very clean. Nice List is also a 3rd the price of Christmas List.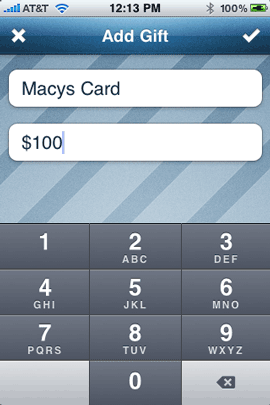 .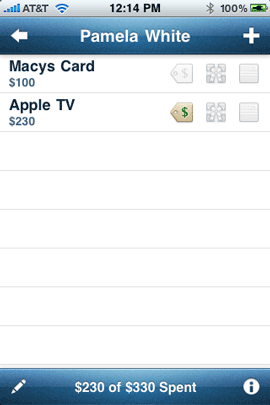 Nice List meets all of my criteria above and even allows you to not only check off if you bought an item, but also if you've wrapped it and/or shipped-delivered it. You can turn off the shipping check in the prefs if you don't need that.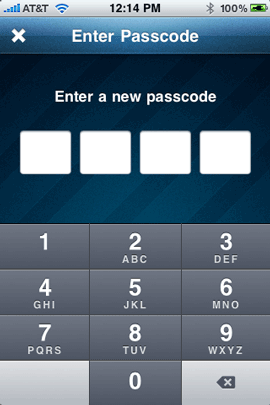 .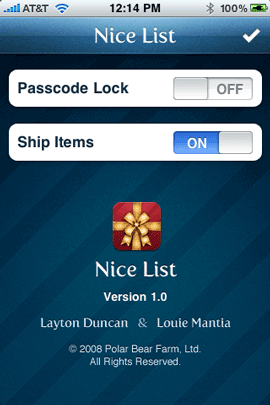 Room for improvement
Although you can put in a budget amount for an item and then change it to what you actually spent, you have to go back to the item and modify it to do so. I would like to see an option at the time I'm checking something off to put in the exact amount that I spent. Seems like that's when you'd want to do it and it would be easier than having to go back modify the item. I would also like to see a single screen "shopping list" that contains all the gifts you need to get for each person. If you're going to the mall and you're buying a bunch of gifts in one trip, the way it works now you would have to look person by person to see what's outstanding. Otherwise the app is great!
The Bottom Line
It's hard to go wrong with this app. It works as advertised. The app I used last year did have a countdown to Christmas, which was nice. However, I think if you're going to have a count down you should have the option to let people choose the holiday that you want to count down too. Nice List could be used for more than just Christmas, such as birthdays and anniversaries too. Speaking of count downs it would be nice to make the app more universal and put reminders/countdowns in for other things.
You can get Nice List here from the App Store for 99¢:

P.S. Don't forget to check out my 2009 Holiday Gadget Gift Guide for ideas!
If you want to see more of my favorite iPhone/iPod touch apps go here.