My iPhone app pick this week is the insanely great Air Sharing app. This app quite simply allows you to wirelessly transfer documents to your iPhone or iPod touch for viewing on the go. Once you download/install the app, you launch it and it immediately displays the IP address that you need to connect to your iPhone from either your Mac or PC using the standard WebDAV protocol. Once you connect from your computer, you can just drag the files over that you want to take with you. These files can be the file formats that are supported on the iPhone such as PDF, Word, Excel, PowerPoint, JPEG, Keynote, Pages, Numbers, Movie files, etc.
This is great for people who want to take complex documents with them such as spreadsheets, maps, diagrams, PDF manuals, lists and other such documents.
Once the app was running on my iPhone, I just hit Command-K from the Finder on my Mac and keyed in the URL. I was prompted to enter my user name and password (which I setup in the app on the iPhone) and bam, I was connected and saw a window with the sample files that they provide. I created a folder (an optional step – hey I like to keep things neat) and copied over my files. It's also VERY FAST!
The file below is a 1.5MB PDF file and the cool thing is that it rotated the display when I rotated my phone.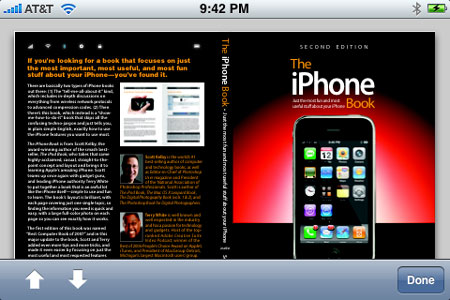 I transferred over PDFs, Excel, JPG, Movies (.m4v), and PowerPoint files. All worked perfectly except the PowerPoint file. My guess is that it was just too big (27.9MB) and crashed when I tried to view it. Perhaps it will work better with larger files with the iPhone 2.1 update (also due out today). You can also delete files directly from the App without having to connect to your computer to do so. A nice touch.
I can't get over how easy this app is to use and I love that it doesn't require you to install anything special on your computer to use it. What is there to say? It works! Now for those of you who are interested in EDITING these files, you'll have to continue to wait. The iPhone currently doesn't have a feature that allows editing of Word, Excel, Pages, files yet. Maybe some 3rd party developer (such as Dataviz) will provide an app that allows you to do this. For right now, it's about viewing.
 
The Bottom Line
There is no magic here. You can email yourself any of the above file types and view them as email attachments. However, what this app does is take the email equation out of it. You simply transfer the files over to your device and view them whenever you need to without having to find which email they were attached to. Also you'll only be able to view the types of files that the iPhone/iPod touch currently allow you to view/play. If you need to have documents on the go with you, this is your app! For a limited time the good folks over at Avatron Software are offering this app for FREE! They will start to charge $6.99 for it. So grab it while the grabbing is good. You can get it here from the App store.
I want to thank my buddy Scott Kelby for turning me on to this cool app!