Wow! There certainly has been a lot going on in the press about the iPhone 4's phone reception issues. Any time you sell millions of anything you're going to have a percentage of users that have issues with it. Especially if the something you're selling is created under a veil of secrecy that may inhibit testing under a wide variety of conditions. For the record, I can't repeat the "cosmetic" signal strength indicator problem. I've covered the little black strip areas with my fingers and I've held the iPhone 4 as tightly as I can and at the most I saw a brief one bar drop in signal on the display that I couldn't even repeat. However, although I can't repeat what others are saying is happening doesn't mean that there isn't a reception issue! It also doesn't mean that just because I can't make it happen that others aren't having a real problem. I will say that out of all the iPhones I've ever owned (all models up until now), that prior to putting the "Bumper" on my iPhone 4 I dropped more calls on my iPhone 4 than all my other iPhones combined in the same locations that I always call from and calling the same people that I always call! I've also had random disconnects and reconnects using my Jawbone ICON bluetooth headset that I never had with my 3GS. So there is definitely something going on there and it's not just how the bars are displayed on screen. Again, you may not be having a reception issue at all and you may have the best signal strength and call quality that you've ever had, but that doesn't mean that it isn't happening to others. So please don't tell me about how just because it's not happening to you, the problem doesn't exist!
Speaking of problems that not every iPhone 4 is having:
Is there a White Balance Issue with the iPhone 4's Camera?
On my iPhone 4 there definitely is a problem and I'm not alone. If I use the camera outside, the pictures are great! No complaints. However, depending on the lighting situation inside my pictures will have an extreme yellow tint to them. As a photographer and video enthusiast one of the main reasons I upgraded to the iPhone 4 was to get the better camera AND HD video recording. Since the problem is in the way the rear camera interprets the light it also affects any video shot too. Once again, this isn't happening to everyone. My buddy Jack Beckman has NOT been able to reproduce this with his iPhone 4. Even on mine it doesn't happen in all cases. For example, I took a shot in my dining room the night I got my iPhone 4 and it was pretty much unusable as everything and everyone was YELLOW. However, the next day when more sunlight was coming in the window, the pictures came out great. Using the camera flash doesn't seem to matter much. I took this shot in complete darkness and for the most part, except for the Sony label on the tripod the white balance is fine.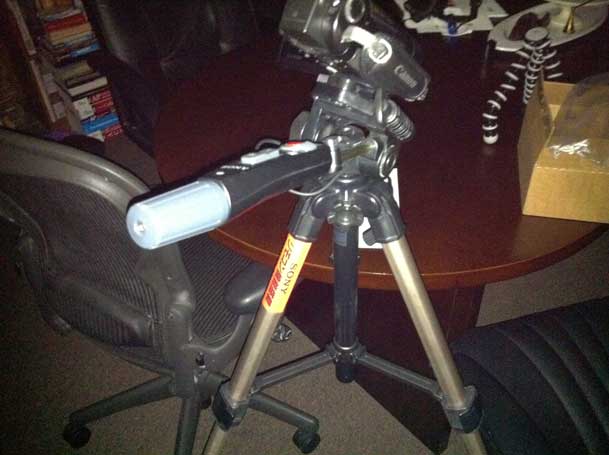 However moving down the hall, with the overhead lights on I'm getting yellow city.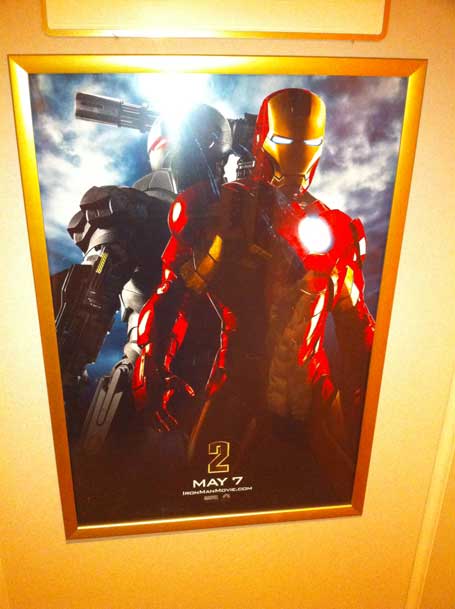 The sign above the poster by the way is supposed to be white.
It's not happening on both cameras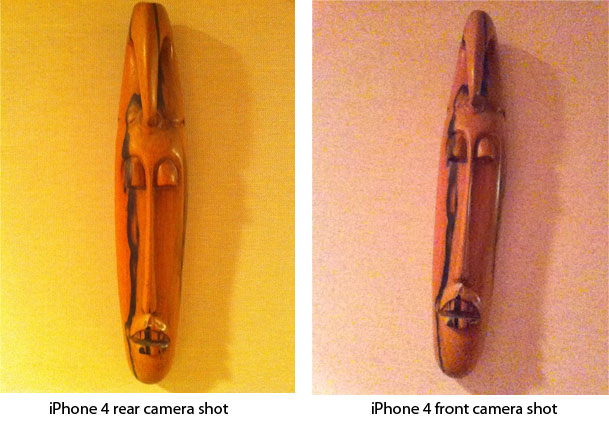 The weird thing is that this is only happening on the rear (5MP) camera. If I take the same shot with the front facing camera, the shot is fine.
It's not just me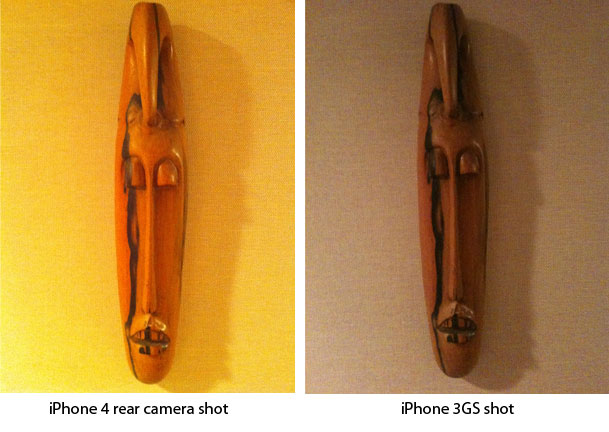 Like I said, this is not unlike the reception problems. Some are having it, others aren't. However, Macworld published this report on the issue and you can check out this discussion thread on Apple's support forums.
Here's another example taken in a different room with the artwork laying on grey carpet. The iPhone 4 does better here, but the iPhone 3GS is closer to the right color/white balance: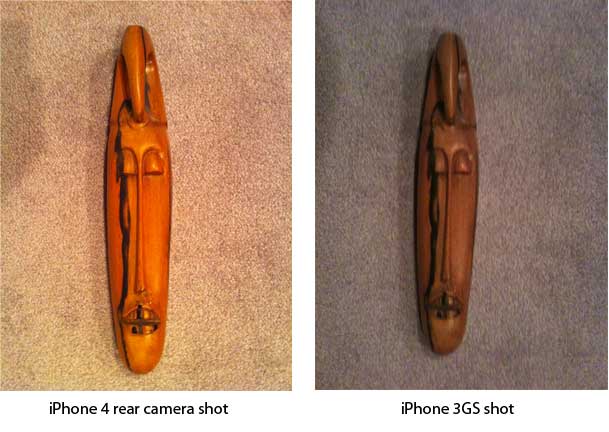 Can't you just correct it on Photoshop?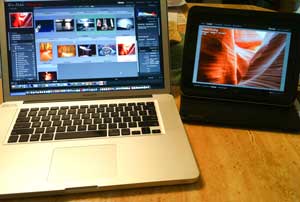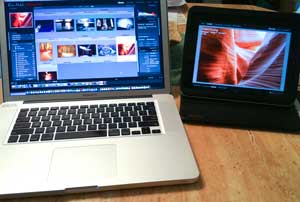 Absolutely. I can correct these shots usually with one click in Photoshop CS5's Camera RAW or Lightroom 3. However, that's not a solution and what about video? The camera should have either a better auto white balance out of the box or at least allow me to change the settings. Since Apple will unlikely give us that kind of control (after all Apple knows best), then they need to fix this for the people that are affected by it.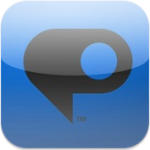 A Quick Tip: Using the FREE Adobe Photoshop.com Mobile App for iPhone you can fix most of this by lowering the saturation of the shot . Again, I don't view this as a permanent fix, but if you're needing to take a shot and send it immediately from your iPhone 4, it's better than living with the Yellow. Grab it here from the
Why not just return it for a replacement?
Usually when you have something that is defective you just return it for a replacement right? However, it's not so easy in this case. If this were just a camera, I'd walk up to the counter at the camera store and say "take one out of the box and make sure it works right before I leave the store." With the iPhone, you can't test or use it until it's been activated. While that's not too big of a deal I also discovered upon visiting my local Apple store recently on another issue when I took my iPhone 4 out just to check for the problem, it doesn't exhibit this behavior under the stores lights. So it would mean leaving the store to test it, or bringing a light box and setting it up to test the replacement. Looking at the discussion forum on Apple's site, some have gone back and forth as many as 6 times and still not gotten a working one, where others either never had the problem or got lucky on the first replacement. Honestly, I just don't have that kind of time. I'm hoping that this is something that can be addressed in a firmware update. However, if it's not addressed within my 30 day purchase window I will bite the bullet and make as many trips to the store as it takes to get a working camera. Nonetheless I'll also make an official report of this issue to Apple Care so that they have another user on record with the issue.
Oh and yes I did remove the protective film from the back of the iPhone. I can't believe you were going to ask me that.

It's a camera phone! As a pro photographer why do you even care?
If you think that you can't get good shots from a "camera phone", think again and check out this link to see what can really be done with an iPhone camera. They didn't even use the iPhone 4. It was a 3GS.
httpv://www.youtube.com/watch?v=TOoGjtSy7xY
Forget the velcro, use this iPhone tripod mount for the 3G/3GS.