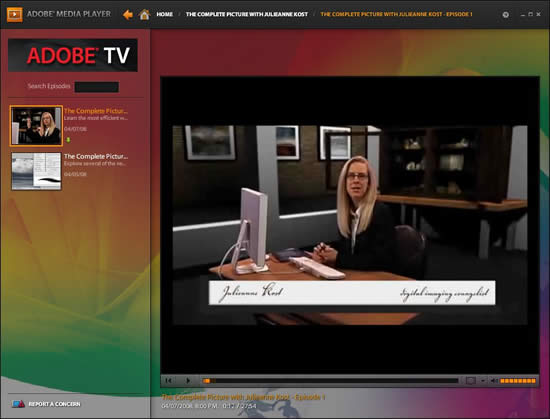 One of my favorite Adobe people, Julieanne Kost has her own show (The Complete Picture) on Adobe TV showing tips in Photoshop and Lightroom.
You may have seen the announcement last week that Adobe has released the FREE Adobe Media Player. This Flash based player allows you to watch all kinds of streaming content from the internet right on your Mac or PC. You can also build your own favorites list. Well that's cool, but what you may have missed in the announcement is in addition to the Adobe Media Player, Adobe also rolled out Adobe TV. This is content that is produced by Adobe evangelists, solution engineers, product managers, product specialists and partners. This content is PACKED with useful tips on all of Adobe's creative tools which of course includes the Adobe Creative Suite line. As a mater of fact episodes of my very own (insanely popular) Adobe Creative Suite Podcast are there for your viewing pleasure.
Adobe TV features four channels, each targeting a specific audience: Photographers, Designers, Video Professionals, and Developers. Each channel features programming from Adobe evangelists, leading trainers, subject matter experts, and luminaries who pull in the crowds at industry events around the world. More than 200 videos are currently available on Adobe TV, with programming that mixes how-to information, case studies, personality-driven shows, and workflow deep-dives. The first set of videos offers secrets about Photoshop® software, podcasts and design tips for Creative Suite, techniques for Photoshop Lightroom®, tips on Adobe Flash® Professional software for beginners, approaches to taming the Web, and information about video and audio production.
How do I get the Adobe Media Player?
Well that's easy, just download it from this link.

How do I get content from Adobe TV?
There are a couple of ways. You can do searches right in the Adobe Media Player (AMP) or you can go right to the Adobe TV page and watch the content in your browser. It is Flash based after all.