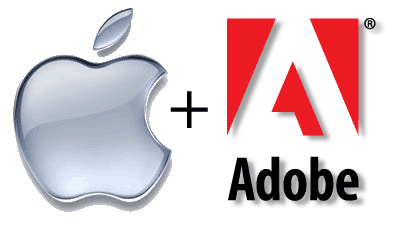 It's the news you've been waiting for and speculating about for years now! That's right Steve Jobs and Adobe's CEO Shantanu Narayen have announced that they are merging the companies. Although they haven't settled on a name for the combined company yet, the new acronnym for the combined company will simply be "A.A."
The question on everyone's mind is what will the new product line up look like? In the press release today, they gave a list of their top products to be sold and there are a few surprises:
Acrobat MacBook Pro iCS3 Connect Pro Hosted Edition Public Beta
iPhone 2.5 Flash iCS3 Developer's mini
iPhotoshop Express for .Mac take 3 – includes 11GB of space for $101/yr or Free with a new aMac
Big Mac mini Master Collection iCS3
iPod hi-fi take 2 with iPremiere Pro enabled visualizer
Final Cut Studio now with iPageMaker 7.5.6.take2 for laying out your Blu-ray DVD covers
MacPro now with Blu-ray support, however this will only play movies burned with A.A. Encore CS3
These products are available and shipping today! Also now no matter what you purchase, you will receive a FREE iPhone case.
It is uncertain as to the fate of the Windows versions of the existing products, however both CEO's said that they remain customer focused and that Windows customers shouldn't be concerned. Steve went on to say that the Mac is a great platform and that he would give the Windows versions serious consideration, "no, really I will". They also announced that since they've now created the world's largest software/hardware monopoly outside of Microsoft that prices will be raised immediately across the board by 25%. Shantanu went on to say that "the decision to raise prices across the board was not taken lightly. However, it was necessary to cover the cost of all the new package designs and trademarks of the new company and to hire a top legal team to continue to fight the mounting lawsuits that both companies would now be facing."
All in all I'm happy that this merger has finally happened and I can't wait to see what the combined company does in the future.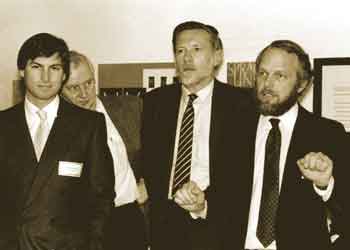 Steve jobs pictured with Adobe co-founders Chuck Geschke and John Warnock. Steve was quoted back then in saying "I think you will see our companies do more than ever together in 2008!" What a visionary. He was right!