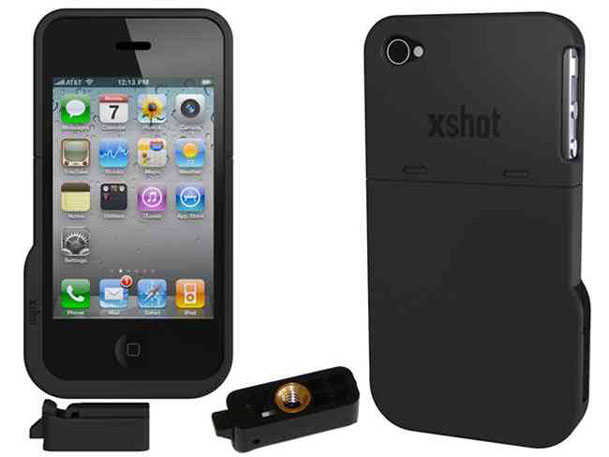 I love it when a company puts a lot of thought into a problem and then comes up with a solution that is so simple you smack your forehead and say "why didn't I think of that?" I've reviewed various iPhone tripod adapters in the past. When XShot asked to send me their new one, my 1st thought was "ok, whatever. sure." I was already in the mindset of "been there, done that." That all changed the minute I opened the box. XShot not only designed the iPhone 4 adapter that many of you have asked me for (one that works both vertically AND horizontally" but they did it in a stealthy way that I didn't even get at first glance. The first thing I thought was "cool". Just put your iPhone 4 in and you can attach it to your tripod in either orientation. I thought that was going to be the end of the review. Problem solved. Moving on… Then it really hit me as to what they did. They didn't just design an iPhone 4 tripod adapter. They designed an iPhone 4 CASE that can be attached to a tripod.
It's a case stupid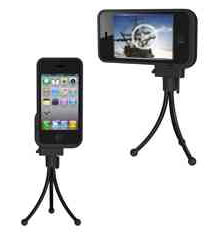 I truly had a "duh" moment. I was thinking that while the adapter was nice I'd have to take my iPhone 4 out of my existing case and put into this "adapter" each time I wanted to use it. It's better than that. This was designed to be an iPhone 4 case first. It's a hard case offering protection to your iPhone 4 and the very necessary cover over the exposed antenna gap. There are two low profile slots on the bottom and the size that allow you to slide on the supplied tripod mount "quick release" clip. AWESOME! You get two clips in the package. This also means speedy changes from portrait to landscape by leaving the clip on the tripod and just sliding the iPhone on or off in the orientation you want.
Well done XShot! You really were thinking on this one.
You can get the XShot iPhone 4 Case here.