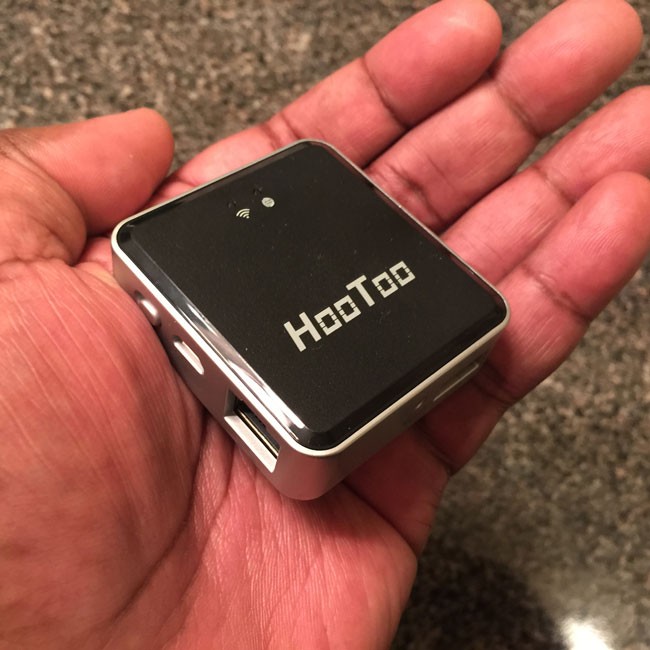 Late last year I declared that the Netgear Trek300 was my new favorite travel router. (that was sooooo last year 😉 ) However, it didn't take long for one of my readers to point me to an even smaller travel router with many of the same features as the Netgear at half the price. I like the HooToo TripMate Nano for many of the same reasons that I like the Netgear:
Provides an 802.11n WiFi hotspot for all of your devices to connect to on the road.
Works with either Ethernet in your room or public WiFi
Powered via USB
Small lightweight and inexpensive
As I stated in the Netgear review, I was used to carrying around a bigger much more expensive AirPort Express Base Station, but the one thing the AirPort can't do is allow you to share a public WiFi connection. In other words many hotel rooms now don't have ethernet jacks anymore. This renders the AirPort Express pretty much useless because it requires an Ethernet connection to share. The HooToo has a small (everything) switch on the side that lets you toggle to either a wired connection or a wireless one. There is another feature that the HooToo has that the other ones I use don't and that is the ability to plug in a thumb drive or other USB drive and share files wirelessly.
What's it lack that the Netgear or AirPort has?
Well with a small size you do give up a couple of things. First off there is only one ethernet port. This means that you can only use it to connect to a wired connection (in wired mode) and not share to another device that requires a wired connection. This really isn't an issue for me as I rarely ever need to plug in a second device that only has ethernet. The next thing is that the Netgear can be powered over USB or plugged directly into an AC outlet. The HooToo only has a micro USB port for power. Again I'm fine with that as I just plug it into my Anker 60W 6-Port Desktop Charger along with the other devices I'm charging at night. Lastly the HooToo can't extend the range of an existing network. Again, not something I need on the road and this feature is more for home users.
Some other limitations: TripMate is Powerful, BUT:
– Cannot bridge an iPhone hotspot
– Cannot be used for IP camera FTP path
– Cannot work as a proxy server
– The Ethernet port can only be used as a WAN input port
– No app for Windows Phone OS
– Supports NTFS/FAT16/FAT32 formatted disks
The Bottom Line
The HooToo Tripmate Nano is the smallest, lightest most functional WiFi travel router that I've seen to date and it has officially kicked the Netgear out of my bag. I used it on my last trip with no issues (other than the bright blue LED that can keep you up at night). I stayed in an Embassy Suites hotel which only had WiFi. I was able to configure the HooToo via the iOS App or the web browser on my Mac. Once I connected I joined the hhonors hotspot and then from my Mac I got the regular Hilton logon screen to accept the terms and connect (the WiFi was free). From that point my devices were connected to my secure network in my room. Now if only Hilton would speed up their internet services across their hotel chains I would be even happier.
Get the HooToo Tripmate Nano here for a ridiculously low price.
Get the iOS app here from the