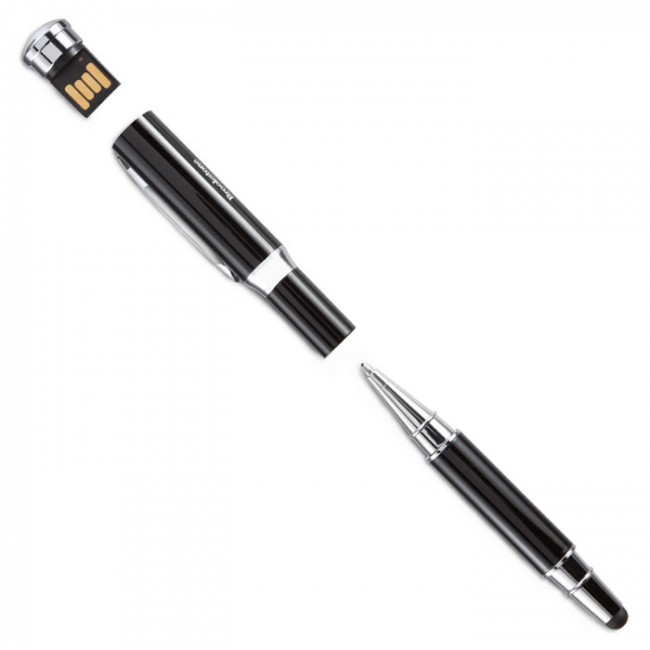 I usually carry my Wacom Bamboo Duo Stylus or Wacom Creative Stylus when I travel for business. The Wacom Bamboo Duo Stylus is a great general purpose stylus for touch screens and the Wacom Creative Stylus takes it up a notch by adding pressure sensitivity with supported apps such as Adobe Ideas. However, on a recent trip to Boston I forgot to pack my usual gear and decided to pick one up from Brookstone in the airport. I really was looking for something basic, but I couldn't resist the Brookstone 3-in-1 USB Tablet Stylus. Like the Wacom Bamboo Duo it serves both as a stylus for touch screens AND a regular ink pen, but they added a 4GB USB flash drive on the end. I don't use flash drives much these days, but it's nice to know I have one for a quick file transfer to a client/colleague.
The Brookstone 3-in-1 USB Tablet Stylus feels good in my hand and definitely allows me to draw and sign more accurately on my iPad/iPhone. I guess my only small nitpick is that if you're going to including a USB flash drive, it's probably best to make it at least 8GB these days. 4GB seems so small. Otherwise this was a great emergency buy and I will continue to use it along side my other ones.
You can get the Brookstone 3-in-1 USB Table Stylus here.