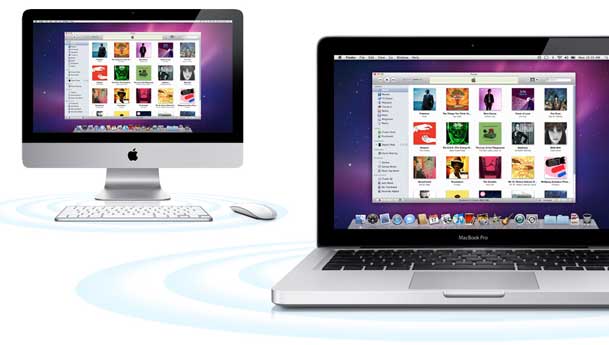 It was Wednesday afternoon last week and I was packing to head out on a business trip. This usually involves syncing my iDevices so I have the latest tunes, Apps, movies, etc. that I want to take with me on the road. All of this syncing works great between devices, except when those devices happen to be computers! My main music library is on a shared family iMac in a central part of the house. It has music on it from each family member according to their tastes in music. As you might imagine I really don't want to bring a bunch of music with me that I have no interest in listening too. This isn't a problem on an iPod, because you simply sync only the playlists you want to take with you and only those songs will go onto the device.
So why does Apple exclude computers from all this syncing "magic"?
I have iTunes 9.2 on my MacBook Pro. I have iTunes 9.2 on my iMac. Both Macs are authorized on the same iTunes account and therefore can legally play the same songs. However, when it comes time for me to get songs from the iMac onto the MacBook Pro it's a very MANUAL process. iTunes 9 introduced Home Sharing. However, Home Sharing is essentially just a network copy feature and nothing more. Although Home Sharing DOES automatically add purchased songs to the other computer, there's no syncing and no duplicate management for playlists or anything else. Grab 10 songs and drag them over and 5 minutes later you can grab the same songs and drag them over again. iTunes will not warn you about any duplicates and it will just copy them AGAIN. This problem got a little worse back when Apple moved to iTunes Plus because although you could "upgrade" your songs and iTunes would replace them with the new DRM free versions at a higher bit rate (keeping your ratings, metadata, play counts, etc.), your other computers would be out of luck for this automatic replacement. You would have to do it all manually. I guess from time to time you could wipe your library on one computer and copy over again, but the question becomes why is there no automatic way of keeping two iTunes libraries in sync?
Is there a 3rd party solution out there?
I've looked and so far I haven't found the perfect app yet (or even one that's close). Sure there are some Apps out there that will attempt to keep your iTunes libraries in sync. However, from what I've seen so far either the user interfaces are HORRIBLE and overly complicated or they simply don't do enough. For example, I haven't found one yet that syncs "Smart Playlists". Let's say I have a Smart Playlist of my "Best of the Best" songs. They are the ones I've rated 5 stars. So technically it's not a "real playlist", it's a dynamic one that updates automatically based on the song ratings. None of the Apps I've tried to date will handle this. Yet Apple has been able to sync Smart Playlists to the iPod since day one.
Ideally what I want is pretty simple – I want to be able to choose a few playlists on my iMac (including Smart Playlists) and have those SAME playlists sync to my MacBook Pro. If I change the rating of a song on the iMac, then that song's rating should get changed on the MacBook Pro too and therefore it would appear in the proper playlists automatically. If I have manual playlists that I move songs in and out of, this should happen on the MacBook Pro too.
Yes, I'm very willing to pay for such a solution. Have you guys seen anything out there that really works? It's sad that Apple hasn't built this in directly to iTunes for computers like they have for iDevices.