A while back I did a guest post on Scott Kelby's blog about my photography workflow. In that post I also talked about backup and offsite backup. At the time my offsite backup method was simply rotating two external hard drives to/from my safe deposit box at the bank. While this method certainly works, it does require me to actually make the trip to the bank. As much as I would have liked to do this on a weekly basis it was turning more into a monthly or bi-monthly trip. Although an old backup is better than no backup I wanted something a little more automated. It was suggested in the comment section of that post that I look at cloud backup, so I did. The first company I looked into at the time was Carbonite. However, Carbonite was a non-starter for me because of their stupid policy (at the time) of not allowing you to backup an external drive from a Mac. Really? Seriously? What difference does it make if the data is on the internal drive or an external drive? Charge for the amount of data being backed up and be done with it! I confirmed this stupid policy with their customer service and ended up going with CrashPlan instead.
CrashPlan gets it right
My initial experience with CrashPlan was excellent. I had no problem getting setup with their CrashPlan+ Family Unlimited Plan. This allows me to backup every computer I own and there are no silly limits on which drives the data has to be on. I knew going in that backing up TERABYTES of data over the internet would take a long long long time and well it did! It took MONTHS to backup my two servers. These two Macs (with Drobos attached) contain all my photos, music, movies, documents, etc. In other words, my digital life.
How long did it really take?
I signed up for CrashPlan on January 13, 2011. I set it to backup both computers, but I did limit the bandwidth that it uses AND I set it to only run at night while I was sleeping. This way it would have no impact on my day to day internet use. By having it run only half the day and at a limited bandwidth, it took about 6.5 months to complete the backup of 1.7TB. Now I have it backing up another computer now that the main backup is done.
There are other options for the initial backup and restores
I was in no hurry for this backup to complete because I already had an offsite backup solution in place. However, if you want your initial backup to not take weeks or months then you could pay for them to send you an external hard drive. This way you could backup your data in a matter of hours instead of days,weeks or months. Once you return the drive to them they will add your data to their servers and give you instructions on how to connect your account to that data for continued backup.
What's the advantage of cloud backup?
Now that my initial backup is done, my new/changed files are backed up every night automatically and OFFSITE. If a disaster strikes my home (flood, fire, theft, etc.) I would be able to get my important data back once I'm up and running again on a new computer/hard drive Yes they offer the ability to send you a drive with your data on it so that you can be backup and running sooner). Another advantage is having web access to ALL of my files no matter where I am in the world. If I need an import file off my server at home I could of course access my server via the internet because I have remote access setup. However, even if I didn't have remote access available I could always log into my CrashPlan account via the web and download any file that I want.
The Bottom Line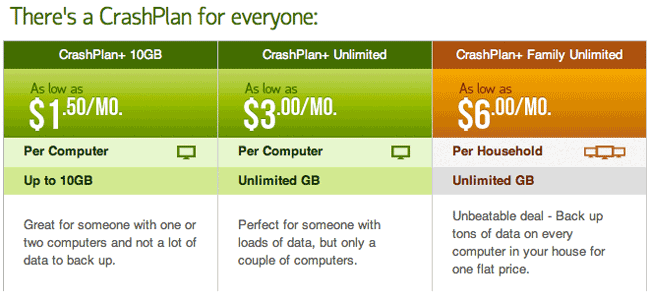 There is no such thing as being too backed up when it comes to irreplaceable files such as digital photos. I backup my computers internally with things like Time Machine and SuperDuper!, but I also like having a backup that is offsite too. CrashPlan offered the most bang for the buck with unlimited data plans and no restrictions on where my data had to be stored in order to back it up. You can find out more about CrashPlan here.