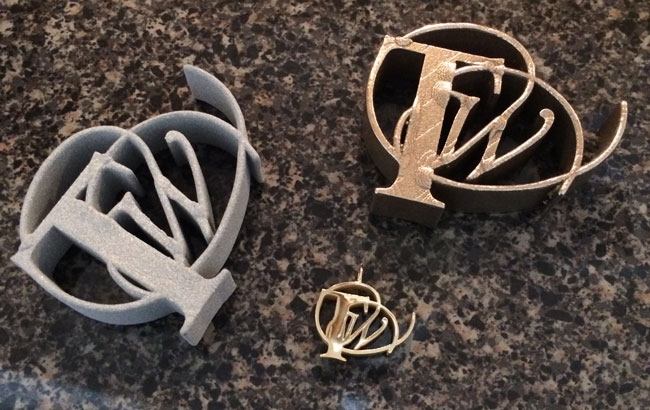 I will be the first to admit that when I saw that Adobe Photoshop CC had 3D printing capability I thought "oh cool", but I never thought that I would actually use it. I couldn't think of a single thing that I wanted to have printed in 3D. It's great for architects, designers, modelers, and anyone else that wants to turn their concepts into real objects. Again, COOL! However, I just couldn't think of anything that I wanted to have printed from my own designs.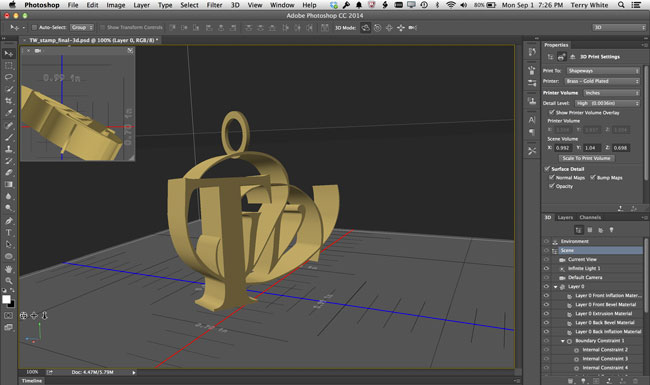 Then I had to give a presentation on it. Anyone that knows me knows that I don't like to speak on a subject that I really don't have first hand knowledge of. So it was time to have something 3D printed and I figured my logo was as good as any other object. I opened up my logo in Photoshop and removed my name from it. I just wanted the "TW" part of it as 3D print. Next I used the 3D Workspace and simply converted my logo into a real 3D object simply by using the Extrusion feature. I added a metal material to it and it was ready to go.
This is when I got excited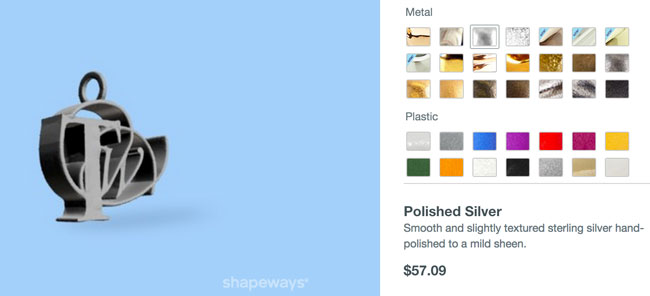 I wasn't excited to have my logo in plastic. However, once I saw all the material choices that Shapeways (one of the service providers that you can send things to directly from Photoshop) offered I was blown away. I knew they had metal, but I had no idea that you can get bronze, copper, gold plated bronze, 14K gold, silver and even platinum. Wow! Suddenly 3D printing became very very COOL! I would have never gone into a jewelry store to have a custom piece of jewelry made for myself. I like jewelry, but not that much. However, knowing that I could do it myself and have it 3D printed and shipped to me made me excited. I started thinking of all the custom gifts I could make for loved ones.
How much is it?
As with anything custom, the price will vary by the size and complexity of your object. The prices for my 3D prints were more than reasonable for what I was going to be getting. Since it was my first one I wasn't quite ready to step into precious metals yet, but I did go with a small gold plated brass version with a loop that I added in Photoshop so that I can put it on a chain.
My prices were:
IN: 0.999 w x 0.702 d x 1.04 h – Polished Brass (Jewelry) $39.88
IN: 2.761 w x 1.852 d x 2.269 h – Metallic Plastic $37.89
IN: 2.761 w x 1.852 d x 2.269 h – Stainless Steel $172.37
How long did it take?
I submitted my order on August 7th and received them via UPS on August 19th (originally estimated as September 4th). They came much quicker than I expected.
The Bottom Line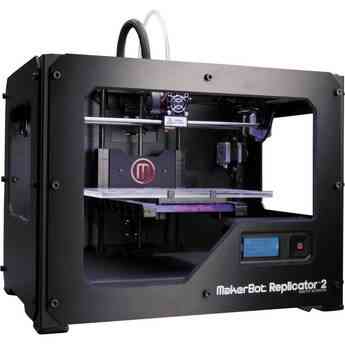 Photoshop CC is allowing people more than ever to realize there visions in physical form. The ability to design something in Photoshop and have it 3D printed and shipped right to your door is amazing. If you're lucky enough to own a 3D printer you can print right to it from Photoshop. As a matter of fact you can even buy one here. Photoshop 3D is not hard to use and it takes about 5 seconds to do simple extrusions. Give it a shot!