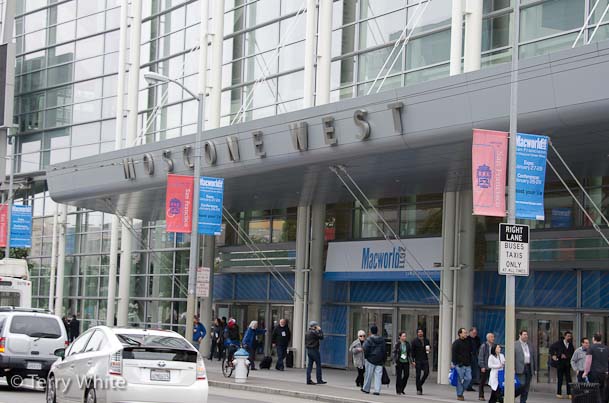 It's been two years since I attended Macworld Expo. I missed last year due to being out of the country. I also have to admit that I didn't really expect the show to last after Apple pulled out two years ago. However, to my pleasant surprise the show is still strong. It's hard to gauge the show's actual success because trade shows in general are down. With the economy, internet and live webcasts of press briefings people don't feel the need to go to trade shows as much as they use to. I was asked to speak at this year's conference on "Digital Publishing from InDesign to the iPad." My class was on the last day, Saturday afternoon and while the class wasn't overflowing, there were a good number of attendees that were very interested in the topic. So much so that even though I ran over about 10 minutes, no one moved. Everyone stayed til the very end and many participated in a good Q&A session. I was happy with the class overall and have no complaints.
What about the show floor?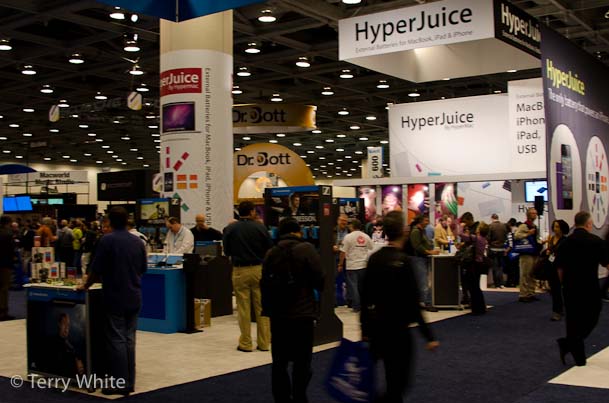 Macworld is both a Conference and an Expo. The show floor was open throughout the entire show. Walking the show floor is always a treat for me because I always find at least one product that I'm very interested in and had no idea it existed. It also gives me a chance to meet with developers/vendors face to face that I've corresponded with over the months/years. I can't compare this year's show to last year's show because I wasn't there last year, but this year's show was definitely up beat. On some days it was actually hard to get through the aisles because of all the people.
Isn't it just iPhone/iPad Case World now?
There have been many jokes made about Macworld becoming "iPhone Case World". I certainly have felt that way in the past as in years past there were a ton of vendors on the show floor selling nothing but cases for iPhones and iPods. While there were certainly several options to get a case or holder for your iDevice this year too, it didn't feel like one big case tradeshow. There was a good mix of solutions for the Mac and for iDevices too. While most of the big companies don't exhibit anymore, HP was there with a sizable presence showing off their printer line including their AirPrint capable printers.
5 Cool Things
Whenever two Macworld attendees meetup the question usually comes up "did you see anything cool?" While there wasn't anything that totally blew me away, there were lots of little things. I look at this show as the show you would goto to get "accessories" for your Apple product or iDevice. In other words without Apple you won't be learning about the NEW Apple ________, but you will see many nice add ons in terms of hardware and software. In no particular order, here are 5 things that I saw that got my attention:
Dolly Drive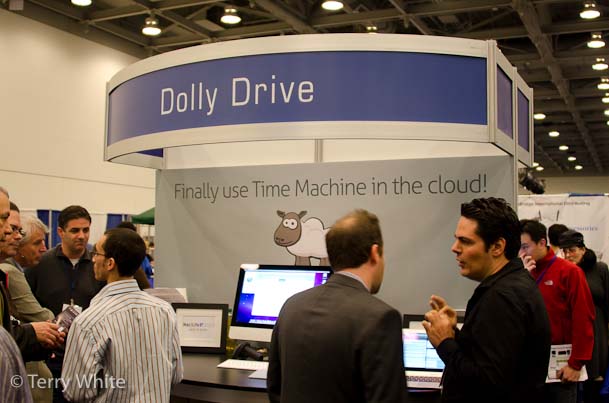 There was a lot of buzz online and in person about a new Cloud based backup service called Dolly Drive. What makes Dolly Drive unique is that they have figured out a way to allow you to use Mac OS X's Time Machine backup feature to the cloud. Now you can do your hourly backups offsite. There are of course a lot of questions that come to mind and the company is new. I spoke with them and will be working with them on testing and reviewing the service. Stay tuned for that. However, it does look promising for those looking for a way to be able to backup and restore files while on the road.
Learn more at their site here.
LensPen for your Laptop or Mobile device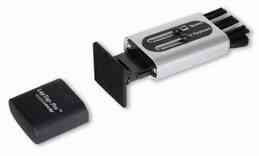 I was already a fan of LensPen for my camera lenses. However, I had no idea that they offered solutions for cleaning my laptop and mobile device displays. I picked up a Laptop Pro and ScreenKlean
See their products here.
iFusion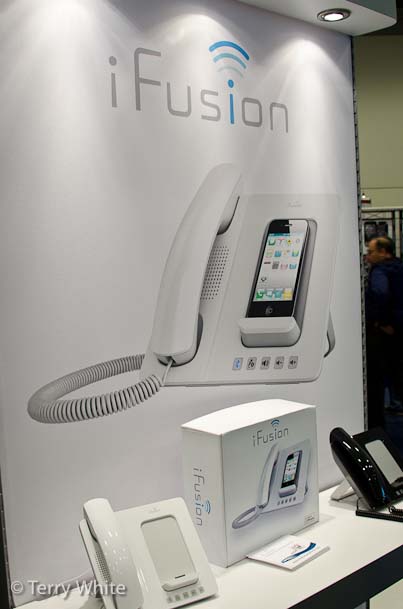 More and more people are giving up their landlines and just using their mobile phones. Certainly this is not the first product of its kind, but I liked the aesthetics of it. iFusion lets you dock your iPhone and use a standard handset while you're at your desk to make/receive calls. It's unclear how well this will work or not work, but It caught my eye. I also pinged them about a multiple handset wireless solution to replace what I have now.
Learn more here.
OWC SSD Solutions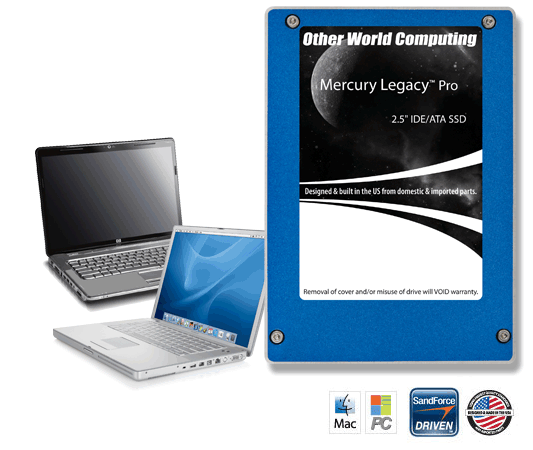 Other World Computing was on hand with a fairly large presence and while they sell a lot of things that I'm already familiar with this was the first time that I got a chance to check out their SSD replacement hard drive solutions. The one that caught my eye is Data Doubler solution that replaces the optical drive in your MacBook Pro with a second hard drive such as an SSD. With a Solid State Drive you could use it to load your operating system and applications while keeping your original drive for the bulk of your data. This would drastically reduce boot times and application start times.
Learn more here.
Check out their shootout here:
httpv://www.youtube.com/watch?v=shVhpKnzfp4
iGrill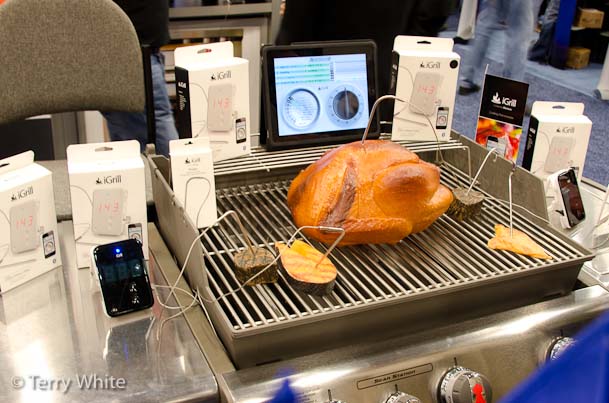 Whenever I see devices hooked up to (fake) raw meat I have to stop and look. 🙂 The iGrill aims to provide a temperature monitor for you food that has a bluetooth connection to your iDevice/App to let you know when your meat is done or needs to be turned over. Wow! OK, um I guess. I have no interest in this product as I don't grill, but I gotta give 'em credit for providing the ultimate geek device for the home. The iPod toilet paper dispenser looks on with envy 🙂
You can learn more about iGrill here.