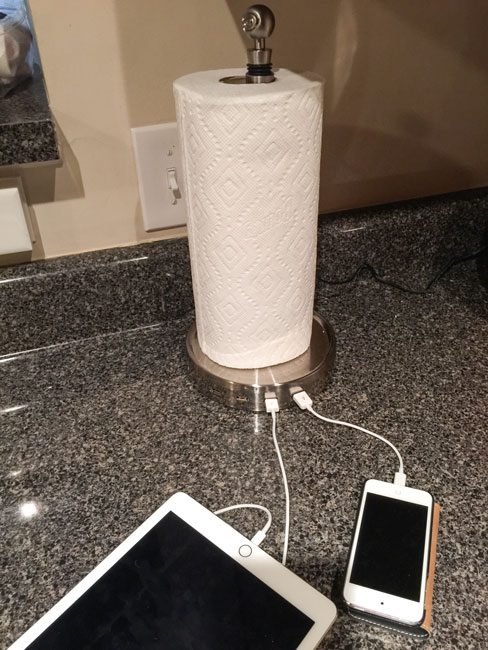 Here's a clever idea for a gadget that looks cool and serves multiple purposes. The Towel Hub is a standard paper towel dispenser. However, at the base you'll find 4 USB ports to charge your devices. The kitchen seems to be the hub in many homes and now you have a cool way to charge your mobile devices while you hang out at the bar, kitchen table or breakfast nook. You probably have already guessed how this product works. just plug in the AC adapter to a wall outlet, put your roll of paper towel on it and you're done. You can now plug in up to 4 mobile devices and they will charge. There's enough juice to charge your smartphone and your tablet. If this was all it did I would be happy. However, there's more. The decorative top also servers as a topper for your wine bottles. If you want to take things up a notch you can opt for the model that also has a built-in bluetooth speaker for music playback.
I'm really happy with this addition to my kitchen and it would also make a great gift for the holidays.
You can get the standard model here.
You can get the model that includes a built-in bluetooth speaker here.
You can also get SHORT Lightning cables here.