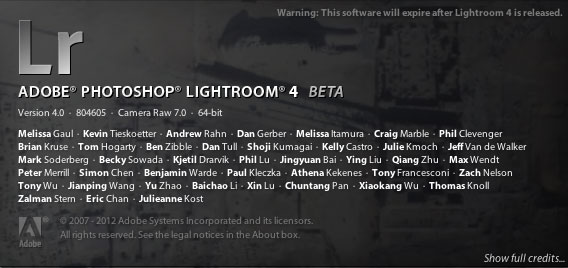 My colleague Julieanne Kost has been doing a daily series on her blog where she's been outlining the small, but important enhancements in Lightroom 4 that could easily be overlooked. These are the kind of enhancements that would probably never make the brochure, but will impact our use of Lightroom 4 everyday. I thought she did such a fantastic job that I copied them and posted them below. 🙂 However, you shouldn't let that stop you from checking out her blog directly. She has a TON of Lightroom and Photoshop information there. See Julieanne's blog here.
Enhancements to the Library Module
• In the Folder panel, you can now move and/or delete multiple folders at one time.
• In the Collection panel, Option -drag (Mac) | Alt -drag (Win) a collection to duplicate it. More specifically, if the collection is loose (it's not in a Collection Set), Option -drag (Mac) | Alt -drag (Win) until a thicker line appear between two items (indicating that the collection will be duplicated), and release. To duplicate a collection within a Collection Set or to duplicate the collection into a different Collection Set, Option -drag (Mac) | Alt -drag (Win) the collection on top of the Collection Set icon (watch for the highlight) and release.
• Stacking is now available in Collections.
• At the top of the Filmstrip bar, the selected image's folder or collection is displayed. (This is really handy when in other modules.)
• The Flag attribute is now global.
Terry's Soapbox WARNING! – If anyone has ever attended one of my Lightroom sessions at Photoshop World or other workshops you'll know that I've made it a point to say that "I didn't like the way Flags worked in LR 2 and LR 3." If we go back to LR 1 when you flagged an image with a Pick Flag, that flag would be present no matter where that image went (say you dragged it into a collection for example). In LR 2 (I think it was 2) the Pick flag behavior got changed so that the Picks would only be present in the location that you assigned them. For example if you Flagged an image in a folder and then dragged that same image to a collection the Pick Flag would NOT be there in the collection. I thought this was a bug at first and complained about it to the LR team repeatedly. Eventually someone explained to me that this "new" behavior was intentional and that Picks should be local. I got the logic of this as it gave the user the ability to have Picks in one place that were different than another place. Although I got it, I never really liked it! I always felt that a Pick is a Pick and that at a minimum it should be a preference "Picks are Local or Global". For this reason I started using Color Labels more because they were Global! It would appear that this decision has been reversed in Lightroom 4 and now Picks are back to being Global again ala LR 1. Woot! …stepping down from my soapbox now.
• You can filter and/or search images based on their Metadata status. Images will be assigned one of several different statuses including Changed on Disk, Conflict Detected, Has Been Changed, Unknown and/or Up to Date).
• You can also search/filter on Map Locations and GPS Data (GPS Location or No GPS Location).
• That folder structure that you carefully crafted in the Develop module to hold your presets is now maintained both in the Import dialog box as well as the Quick Develop panel.
Enhancements to the Develop Module
• Snapshots now auto name with a time/date stamp.
• The White Balance Selector Tool's sample area is dependent on zoom level. (Zoom in to sample a smaller area.)
• Noise reduction adjustments are always displayed (regardless of the zoom viewed).
• The Navigator panels in both the Library and Develop Module have two new options for zooming 1:8 and 1:16.
• This one isn't new, but when using the Adjustment Brush, clicking on the disclosure triangle to the right of "Effect" displays an amount slider to increase/decrease all of the adjustments applied to that adjustment at one time.
Enhancements in the Output Modules
• Settings in the output modules (Book, Slideshow, Print, and Web) are "sticky". When you leave a module and come back to it – even if you change the folder of images – the settings will remain as they were the last time you visited the module. This is an excellent addition if you're working with one set of photographs and then move to another set of photographs and want the same output settings.
• In order to save output settings with a set of photographs, click the Create Saved Book, Slideshow, Print etc. button in the bar at the top of the creation's preview area.
• Flash Galleries in the Web Module are now color managed.
Enhancements to the Export Options
• When exporting files, in the Metadata section, you can choose to Remove Location Information. Note: this option is only available when choosing either "All" or "All Except Camera and Camera Raw Information" as it doesn't make sense with the other options.
• It is now possible to export images directly to Adobe Revel to be used on your mobile phone or tablet device. Use the "Export To" pull-down menu at the top of the Export dialog.
• Export to DVD is now available on 64-bit Windows machines.
• In the External Editing Preferences, you can now choose to "Stack with Original". Or not. : )
Enhancements to Publish Services
• In the Lightroom 4 Beta, only the Facebook and Flickr plug-ins are installed in the Publish Services panel by default. However a button has been added directly underneath them to easily "Find More Services Online". Although it might seem like added work to have to install a plug in, there is an advantage – if a plug-in is not baked into the application, it can be updated by the developer at any time.
• Publish Services (collections) can now include video.
• After making small changes to images (such as adding a keyword etc.) in Publish Services (collections), you may not want to republish the images, If you do not want to republish, simply select the images and Control -click (Mac) / Right Mouse -click (Win) and select "Mark as Up-To-Date".
Additional Preferences
• On Mac, in the General preferences, you can now choose your preferred Language.
• Under Presets, several features have options to Restore Presets and Templates to their defaults. This may be very useful in teaching environments.
• In the External Editing preferences, you can now choose to "Stack with original".
• Under the File Handling Preferences, be sure to keep the "Embed Fast Load Data" checked on for DNG. This can enable DNG files to load up to 8x faster in the Develop module and will only cost you approximately 200K per image!
You can download your copy of the Lightroom 4 Public Beta here for FREE