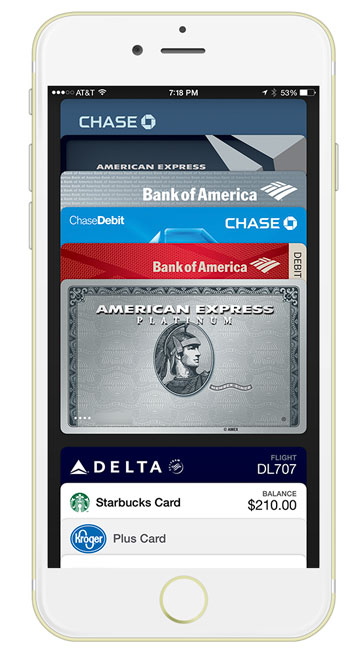 Sadly it seems pretty common place these days to hear of big companies being hacked and having thousands, if not millions of credit card numbers stolen and resold. When Apple announced Apple Pay, I was very interested to say the least. The idea of a payment system that breaks away from all the traditional pitfalls of credit/debit card payments is something that we can all appreciate. The concept behind Apple Pay is simple. If you have an iPhone 6 or iPhone 6 Plus then you have the necessary hardware (NFC – near field communications) to allow for wireless transmission of data from your phone to a payment terminal at the cash register. However, instead of sending your credit card number, name, phone number, email address and card ID, a token is sent instead. The token itself is USELESS to hackers. Therefore if the merchant is hacked they never had your credit card number or information about you to lose. Sign me up!
Setting up Apple Pay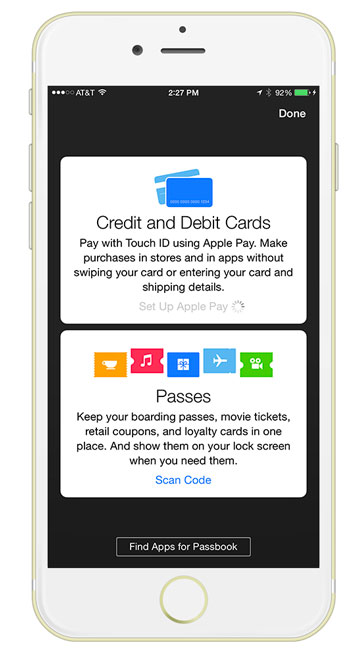 This past Monday iOS 8.1 was released which allowed for Apple Pay to be setup on the iPhone 6 and iPhone 6 Plus. The setup process is very easy. Apple Pay is now a part of Passbook on your iPhone. First off if you have a credit/debit card on file with your Apple ID, you can immediately add it. All you'll need is the card ID from the back for verification. You can then proceed to add additional cards by simply hitting the + sign and either using the built-in camera to OCR the card info or you can key it in manually. The camera worked for all but one of my cards. I was able to easily add four additional cards. The only one that gave me trouble was a Chase Slate credit card. While the card was easily added, I had to call them to actually activate it for Apple Pay. The number displayed during the setup process and I was able to tap and call it right from the Apple Pay area of Passbook. It took three calls as I was disconnected twice to get through the process. Actually I ended up deleting that card and re-adding it and it was then approved immediately.
Using Apple Pay with other Apps on your iPhone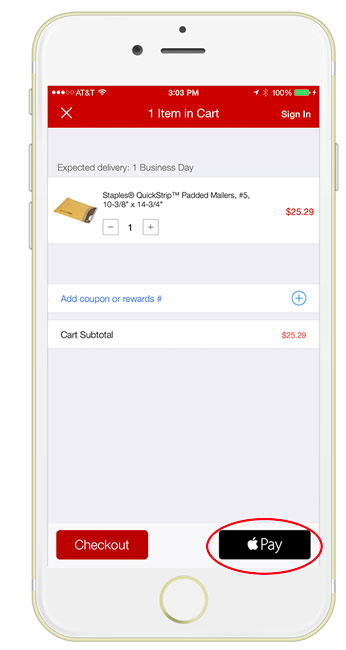 Although I could have gotten in my car and headed out to one of the merchants that supports Apple Pay, I decided to test it first right from my office chair by placing an online order. Several apps got updated on Monday including Staples, Target, Uber, Apple Store, Hotel Tonight, Groupon, Open Table and others. Since there was an office supply item I needed I decided to order it with the Staples app and pay with Apple Pay. I fired up the Staples app and searched for the the item I wanted. I added it to my cart and tapped check out. Once I got to the checkout screen I had the option of either signing in to my Staples account, checking out as a guest or tapping the Apple Pay button. Once I tapped the Apple Pay button I was able to then choose which card I wanted to use, which address I wanted to ship my order to and which phone number and email address I wanted to use for shipping the order. I later found that in the Apple Pay settings in iOS 8.1 you can set all the defaults you want to use. I tapped pay and put my finger on the finger print scanner and that was it. My order was placed. I didn't have to key anything in. It was awesome as online ordering on a phone can be a pain in the butt.
Using Apple Pay at a retail location.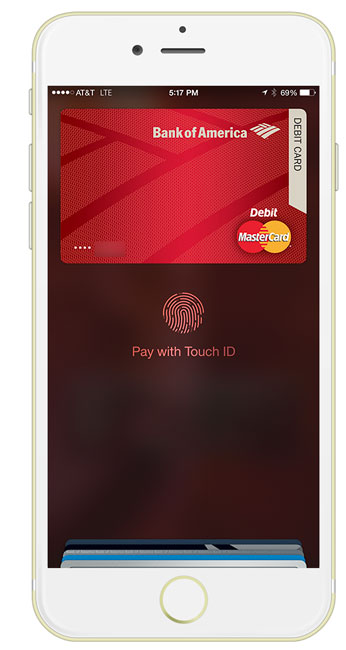 Yesterday I decided to give Apple Pay a try at my local Walgreens. It was the closest store to me that accepts Apple Pay besides McDonalds. While the  process was relatively quick, it wasn't as "touchless" as I imagined. The first thing that I learned from the Staples experience above is that by not signing in, I didn't get any Staples Rewards. Well the same thing applies at the register. You will still need to present your store loyalty card if you want points/discounts. Luckily my Walgreens card is also in Passbook. I handed the clerk my iPhone so that she could scan the barcode on my Walgreens card first. Then she rang up my two items. Once she was done I put my iPhone up to the sensor to start the Apple Pay process. My default debit card appeared on the screen and I used my finger to approve the transaction. AWESOME! Done right? Well not yet. Once I saw the "Approved" appear on my iPhone I put my iPhone away, but I still had to tap Credit vs. Debit AND approve the amount on the terminal. I assume that had I used a credit card vs. a debit card then I would have probably bypassed that first question. However, it was still odd that I had to tap that I approve the amount after the fact. Nonetheless, she handed me my receipt and I was out the door.
A short video of my first Apple Pay at a retail location:
The Bottom Line
Apple Pay will definitely move us one major step closer to replacing the traditional wallet. Instead of physically carrying 3, 4 or 5 cards now I may only carry one or two because the others are in Apple Pay if I want to use them. It was also a good feeling knowing that Walgreens didn't just get my debit card number and If I wanted to be totally anonymous then I could have not given my rewards card. If you have an iPhone 6 or iPhone 6 Plus I can't think of any reason not to use Apple Pay. It's certainly much more secure than handing over your physical card. Apple Pay can't be used by someone else even if they steal your phone because of the required finger "touch-ID". You can also remotely wipe all your information including pay information from a lost or stolen iPhone via the Find My iPhone feature. Apple also has the clout to bring over most of all the major players, so they are likely to succeed where others have failed at this.
As of today you can use Apple Pay with the following Bank Cards (AMEX, Visa and Mastercard) from: American Express, Bank of America, Capital One, Chase, Citi and Wells Fargo with more banks coming this year like barclaycard, Navy Federal Credit Union, PNC, USAA and US Bank. Apple says that you can use Apple Pay at 220,000 stores and counting, including: Aeropostale, American Eagle Outfitters, Apple Stores, BabiesRus, BJs, Bloomingdales, Champs, Chevron, Disney Store, DuaneReade, ExtraMile, Foot Locker, FootAction, Macy's, McDonalds, Meijer, Nike, Office Depot, Panera Bread, Petco, Radioshack, Six:02, Sports Authority, Subway, Texico, ToysRus, Unleashed, Walgreens, Whole Foods or anywhere else you see this icon: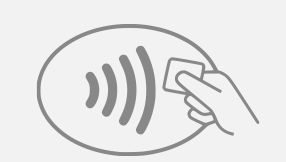 Some are reporting Apple Pay working at stores others than the ones Apple lists, so give it a shot if you see the wireless pay icon above. See Apple's list here.