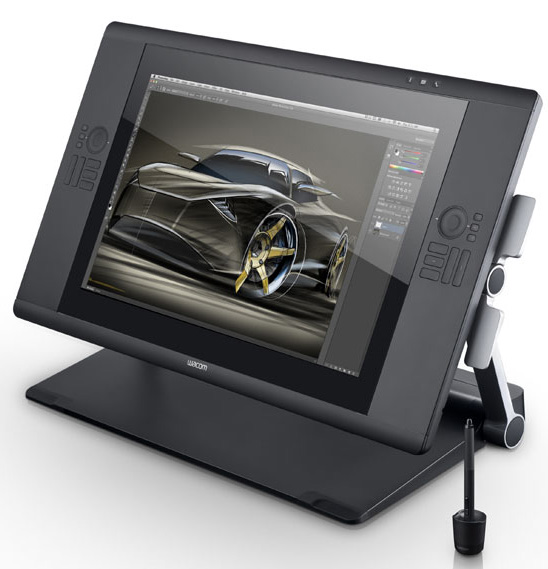 I can't imagine doing photo retouching in Photoshop without using a Wacom tablet. As a matter of fact I refuse to retouch without a tablet unless it's an emergency. I've been a serious user since the Intuos 3. I've enjoyed the Intuos4, and Intuos5 as well as the Wacom Cintiq 12wx and Cintiq 21ux. Although I've owned a couple of Cintiqs I find that I used the regular Intuos tablets more often. The Cintiq line has been great and it's awesome being able to draw/retouch right on screen, but the problem has always been "positioning". While I could hold the Cintiq 12wx in my lap it still required some finesse to be able to hold it, draw, and have a hand free for occasional trips to the keyboard. The Cintiq 21 ux amplified this issue with no real way to bring it to my lap and I couldn't really get an angle that I enjoyed more than a few minutes. So I used my regular Intuos tablets more often.
The Wacom Cintiq 24 HD changes everything!
It's easier to show you rather than tell you. See my video below:
Not only is the Cintiq 24 HD a work of art, but they figured out a way to give me the angles that I always wanted. With the innovative new stand I can position the this 24″ HD display off the table and down into my lap to work. However, I don't have to bear the weight of it actually on my lap. It floats there where I want it to be. The Wacom Cintiq 24 HD has all the bells and whistles you would expect. It has a gorgeous LCD HD display with 2,048 levels of pressure. It's like having a large Intuos 5 built into a large display. You get 5 touch keys and a touch ring on each side. Each of these keys and rings can be programmed with different functions in different apps.
The Only way the Cintiq 24 HD could be better is to have multi-touch gestures! Oh, by the way, Wacom did that. The Cintiq 24 HD Touch is everything above with multi-touch gestures. They also make a less expensive 22 inch model too.
Wacom has knocked this one out of the park. From the moment I sat down with one of these beauties at Photo Plus East last year, I knew I wanted one! Now that I have it I can't imagine not using it.
Get the Cintiq 24HD here
Get the Cintiq 24HD touch here
Get the Cintiq 22HD here
Get the Cintiq 12wx here