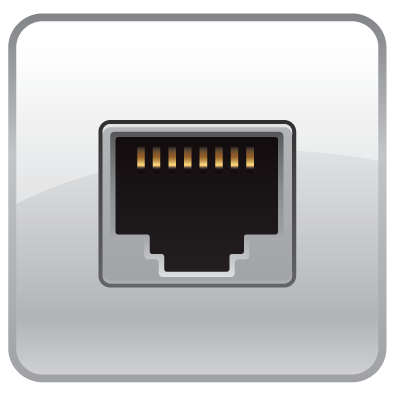 i'm currently traveling on the 2012 Adobe Nordic Design Tour. This means a different hotel each night or so. I spent the weekend in Sweden and my hotel (Radisson Blu) offered FREE WiFi throughout the hotel. All you need to do is confirm your room number, last name and accept the terms/conditions. Great! However, there was one major problem. The internet was almost unusable in the evenings because (and I'm guessing) that it was saturated with hotel guests. My connection dropped constantly and when I could get connected the speed reminded me of dial-up. Sadly, it wasn't until my last night at this particular hotel that I noticed an Ethernet port on the desk under the TV. Lately it has been my experience that when a hotel offers WiFi, that they pull the plug on the Ethernet ports in the guest rooms. However, i figured I had nothing to lose by plugging in and giving it a try. Not only was the port active, but it was about 10-20 times faster than the WiFi network!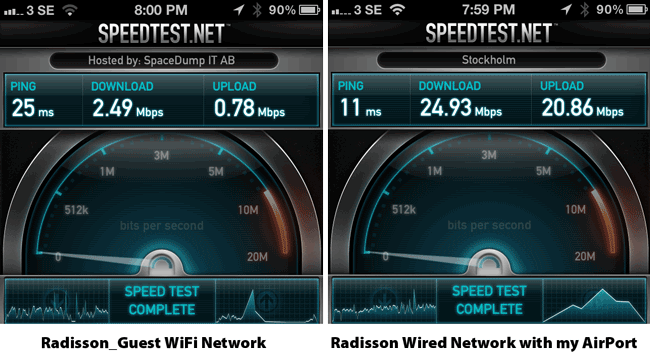 Get the SpeedTest.net App I used above here from the
Yes, I still want wireless!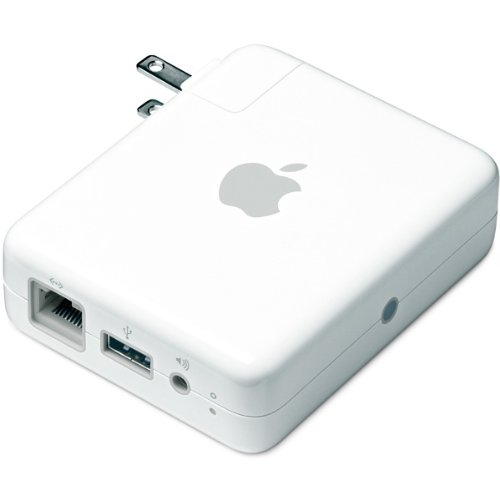 I carry an AirPort Express Base Station as part of my "always packed" travel gear. I plugged it in and in about 15 seconds I had my own private WiFi network that was way faster than the Radisson one and best of all I could put all my devices on it without having to do the terms and conditions setup, dropped connections, etc. on each one.
You can get the AirPort Express Base Station Here. You might also want to carry a short ethernet cable as there wasn't one anywhere to be found in my room.
The Bottom Line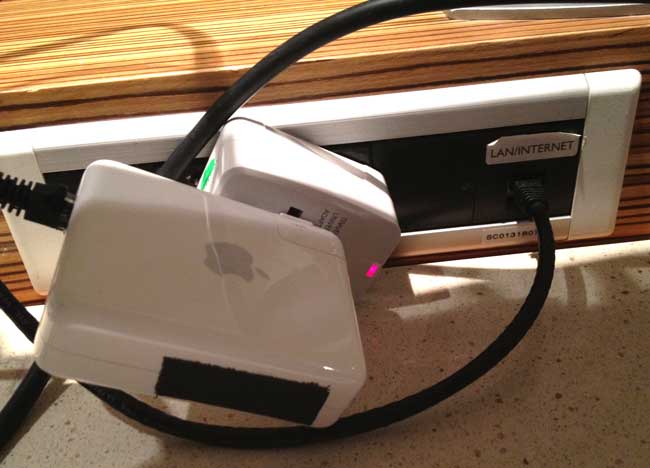 If you have the option of going wired vs. wireless, give it a shot. You'll probably get better performance not only because wired is faster, but because most people are going to connect to the public WiFi (overloading the routers) rather than the wired option. By having your own WiFi hotspot you still get the benefits of WiFi too! And yes, the wired connection in my room was also FREE.
The other benefit of a faster connection is faster VoIP calls, FaceTime, Skype, Netflix, Slingplayer, etc. I was able to get so much more done with the faster connection, not the least of which was this blog post. 🙂