Acrobat.com has added two new services. Actually these services are up for testing at labs.acrobat.com. The first one is "Presentations". Presentations allows you to create slide presentations online right from within your web browser. The cool part of this is that you get to collaborate with others if you need to. So instead of passing the Powerpoint file back and forth. You and your colleagues can log on and work on the presentation whenever you want.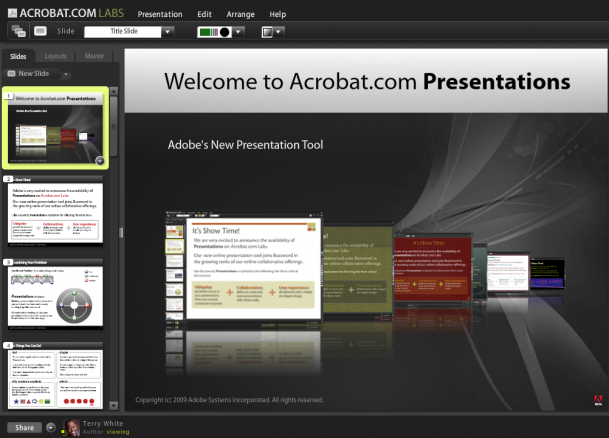 You get to do things like change themes, work with images and movies as well as objects. Once your presentation is built you can present it online cross platform or export a PDF to your desktop. The services at Acrobat.com are Flash based which means that the average internet user already has everything they need to participate.
Tables
Tables offers users basic spreadsheet functionality online. Like Presentations you can share your table documents with others as well as collaborate. Let's say you made a presentation for your non-profit organization. Then you needed to share the budget details during a conference call. You could do it all with Presentations and Table online and the best part is that both of these services are FREE!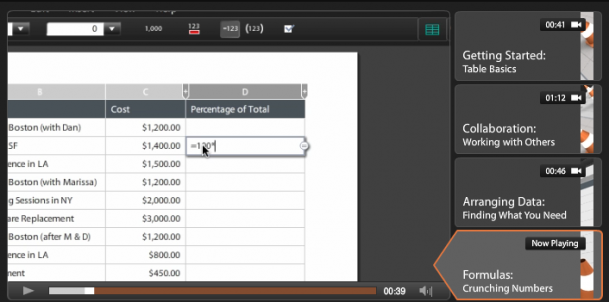 The Bottom Line
Acrobat.com already offers quite a bit for free. You can collaborate with others via Buzzword (word processing). You can do online presentations with ConnectNow. You can share large files with Acrobat Share. Now you'll be able to round out these great services with Presentations and Table (spreadsheets). If you have an Adobe ID already you can just login and get started. If you don't have an Adobe ID, no problem because you can create one on the fly. Check out Acrobat.com and the two new services Presentations and Table at labs.acrobat.com today!