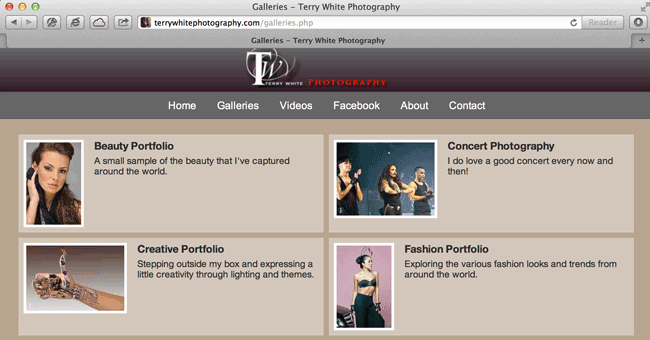 I've talked about and raved about the Lightroom Plug-ins from The Turning Gate here before. I use their Lightroom Plug-ins to build and maintain my photography website. I also use their awesome Client Response Gallery to provide my clients proofs via the web. I've been in contact with the developer on many occasions and I often beta test and give feedback on what he's planning next. There was one plug-in though that caught me completely off guard. It isn't often that something comes along that revolutionizes my entire workflow! The new TTG CE3 Publisher has done just that!
The old process of updating my galleries
I maintain my web galleries in Lightroom as Collections. So I have a Fashion Collection, Travel Collection, Beauty Collection, Fitness Collection, Recent Work Collection, etc. When it comes time to update one of those Collections, the process in Lightroom is very easy. Just drag in new images and delete old images. It takes all of a few seconds to do it. After updating the Collection then the time would come to update my website. This would involve a trip to the Web module and selecting one of my Gallery presets. This would choose the appropriate TTG gallery and restore all my settings for color, styles, text descriptions, etc. Great so far! Now I would either hit the Upload button in Lightroom or the Export button so that I could upload via my own FTP client. While this procedure wasn't hard, it was time consuming. Each time you update a web gallery in Lightroom, Lightroom has to upload the entire gallery and all of the images from scratch. It has no way of just adding the new images and deleting the old ones.
The NEW process of updating my galleris via the TTG CE3 Publisher Plug-in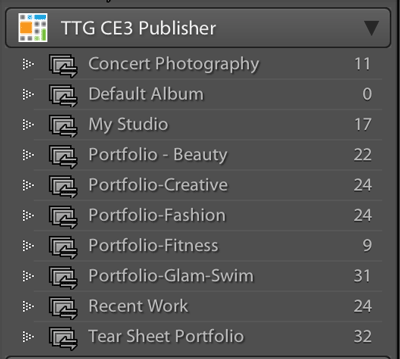 Lightroom has a great feature called Publish Services for updating galleries on various sites like Facebook, Flickr, etc. Once you set it up you merely add new photos to the collection under the Publish Service that you setup and remove old ones. Click the Publish button and Lightroom uploads just the new photos and removes the old photos. Sounds great right? Well TTG has figured out a way to do this for YOUR web galleries too. Admittedly I just couldn't wrap my head around this at first. The developer asked what I thought of it and I admitted that I hadn't tried it yet because I just didn't get how it was going to work. He referred me to this post that walks through the setup. Basically you start by building a template using one of his web galleries (I was already using them) and publish one gallery the old way just to get it all styled and setup. This setup gallery can then be exported as a folder. Now upload the special Publish folder that comes with the plug-in to your web host as well as the setup gallery in that folder in the templates folder. You'll also need to set a password in one of the text files in that folder. That's it.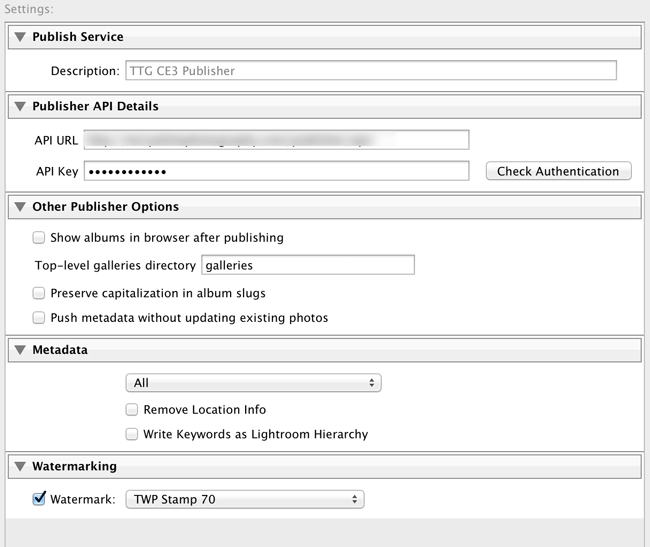 Now go back to Lightroom and setup Collections under the TTG Publisher in the Publish Services area of Lightroom. You can setup your galleries to use the template you created earlier. Drag your photos into the collections under this TTG Publisher and then click the Publish button. All of your galleries on YOUR website will be built using the images you chose and the template you designed. From that point forward you update your website by simply dragging new images into the respective Collections and hit Publish. It will upload just the new images and delete the old ones that you remove from the Collection.
The Bottom Line
These are plug-ins that I just couldn't live without now. As a photographer I'd rather spend my time behind the camera or editing in Lightroom/Photoshop, not learning how to be a web developer. Lightroom is a natural place for this work to take place since that's where your photos live anyway.
You can learn more about The Turning Gate here. You can see my photography website that was built 100% using Lightroom and The Turning Gate Plugins here.