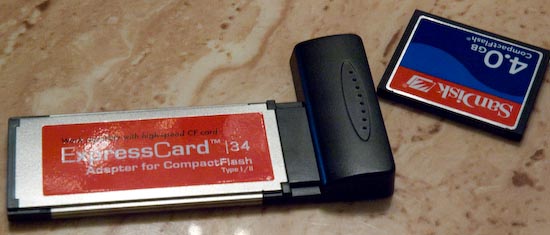 As our images continue to grow with 10-12MP cameras becoming the norm in the pro world of digital photography, it has become even more important than ever to be able to download our images as fast as we can. When Apple introduced the MacBook Pro, they made one important change that had the photography community grumbling for months. They eliminated the PC Card slot that we had all become accustom to in favor of the new (smaller) ExpressCard|34 slot. The excuse was, "this is where the industry is going" and Apple likes to be on the cutting edge (most of the time). The biggest problem with this slot is that it's not as wide as a Compact Flash card and therefore any adapters would require the card actually pert rude out of the side of the notebook.
As time went on ExpressCard adapters started to show up for all the various card formats. However, the one thing that these adapters had in common is that most, if not all of them operated at USB 2.0 speeds. Where was the promise of the super fast ExpressCard slot? So when I saw the CFExpressPro+ PCIe ExpressCard to CompactFlash Memory Card Adapter 2.5Gbps I was intrigued! This was the first adapter I had seen that promised to operate at the native PCIe speeds of the slot. So I ordered one.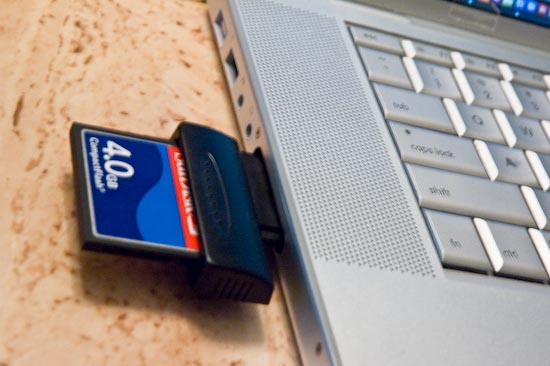 The adapter arrived the day after I had upgraded to Mac OS X 10.5 Leopard and although I know better to install drivers that don't specifically say that they are compatible with the OS I'm running, I did it anyway and that was a mistake. Come to find out that Leopard already includes the driver for this card. There was no graceful way to revert back from what I had done (although the manufacturer tried really hard to help me get back to a state before their driver), so it was Archive and Install Time of Leopard to get the native driver back. NOTE: If you're on Leopard DO NOT install the drivers that come with the adapter!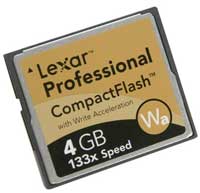 I started my tests with a Lexar Professional CompactFlash 133x Speed 4GB card and the results were shockingly bad! I thought that there must still be a problem with the driver and the manufacturer went off to try to solve the problem. In my initial tests the card copied the data about ten times faster using my old SanDisk USB 12-in-1 reader. So today I decided to try a different approach. I used a different MacBook Pro that still had Tiger (Mac OS X 10.4.10) on it and installed their driver and the results WERE THE SAME! The problem seems to be with the Write Acceleration (or some other factor) that Lexar uses on this particular card. I tried a test of 2.72GB of data and the USB card reader copied the data in 6 minutes 8 seconds. I stopped the ExpressCard copy after 6 minutes because the Finder reported that there was still 49 minutes left!
When I reported these findings to the folks at Synchrotech, they asked me "which card" was I using? I told them, but this question prompted me to think that the issue may be with the Lexar card itself. This lead me to conduct more tests with my older (slower) SanDisk card which gave me results more in line of what I was expecting.
Speed Test Results
| | | |
| --- | --- | --- |
|   | ExpressCard | USB 12-in-1 |
| SanDisk Card/Leopard Driver (1GB of data) | 1:58.0 | 2:22.7 |
| SanDisk Card/Synchrotech Driver in Tiger (1GB of Data) | 1:55.9 | 2:26.1 |
| Lexar Card/Synchrotech Driver in Tiger (2.72GB of Data) | Too Long! | 6:08.3 |
Testing environment:
Both MacBook Pros are 2.33GHz Intel Core 2 Duos with 3GB of RAM. One running Mac OS 10.4.10 and the other running Mac OS 10.5. Both with 5400 rpm internal drives.
The Bottom Line
The Synchrotech ExpressCard PCIe adapter goes for $65 and seems to have about a 21% speed increase over my USB 2 Card Reader. However, the one thing that has to be ironed out is compatibility with the very popular Lexar Pro Compact Flash cards with Write Acceleration. I do plan to do another test as soon as I can get my hands on a FAST SanDisk card or a newer Lexar card. And I expect the speed difference with a high speed card to be even greater over USB. So stay tuned…