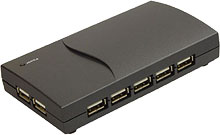 You may remember that I put out a call to the readers of this blog for recommendations on a good USB hub. Most readers came back with Belkin as a suggestion and well, I took your suggestions and standardized on Belkin USB 2.0 hubs throughout my house. In most cases the Belkin 7 port USB 2.0 hub provided enough ports for most of the computers in my house. However, my main production desktop computer (Mac Pro) has a LOT of peripherals attached. On this one Mac I have a USB  scanner, Bravo Pro DVD duplicator, SoundSticks USB digital speakers, Epson R1800 Printer, Wacom tablet, Epson P3000 Multimedia drive, Maxtor Hard Drive, ShuttlePro 2 video controller, SanDisk 12-in-1 Card Reader, APC BackUPS, Griffin PowerMate, 3D Space Navigator, NuLOOQ Navigator, USB keyboard and mouse. Yes, I'm a peripheral junkie, but you knew that. With this many USB devices I had to string 3 Belkin hubs together just to have enough ports to plug in all my gear.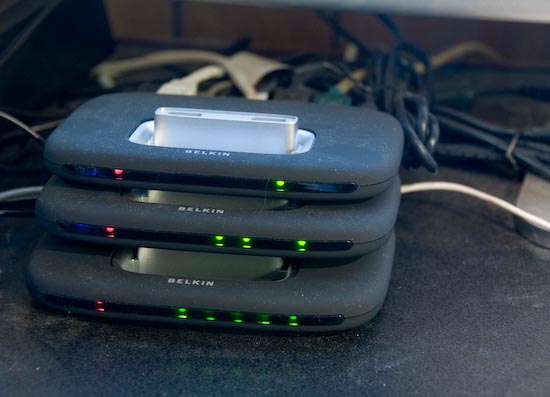 Although this solution worked, it was not ideal. There would be times where the last two hubs wouldn't wake up when the Mac Pro woke up from sleep. While this was rare, it was still frustrating. It generally meant that I would have to unplug and re-plug the last two hubs back in.
Well the good folks at Synchrotech have come through for me once again. They make a 13 port USB 2.0 hub. That's right! This one hub expands one of your USB 2.0 ports into 13 ports. So I was able to replace my 3 Belkin hubs with one 13 port hub.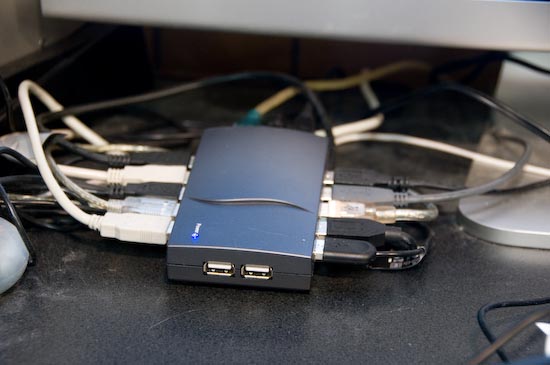 While this hub provides me with enough ports (I have one left over now), there is one issue and that is the design of the hub itself. I'm not a fan of the "octopus design" where cables are coming out from all sides. The AC adapter, USB to Computer port and a single USB port are on the back. Then you have five USB ports on both sides and two in the front. This can make your desk look even messier. However, there is no requirement that the hub actually reside on your desk. So if the sight of cable clutter bothers you, simply relocate the hub under your desk. In my case I still like having access to the two front USB ports, so I simply relocated the hub under my Cinema Display. Now it's time to do some dusting 🙂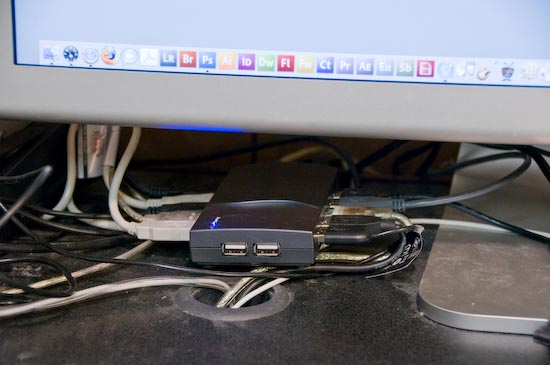 If you have two or more hubs that you would like to consolidate down to one, then I highly recommend the Synchrotech 13 port USB 2.0 Hub. It's $45 and comes with a USB cable to attach to your computer as well as the AC adapter to provide power.