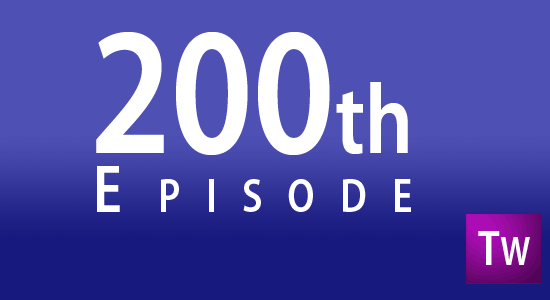 Time flies when you're having fun! Not long ago I posted an entry to celebrate a major milestone of the Adobe Creative Suite Podcast hitting Over 5 Million Downloads. Well today I'm very pleased to announce that we hit our 200th Episode! That's right, there are now 200 episodes of the Adobe Creative Suite Podcast (with yours truly as the host) available for your viewing pleasure. These episodes cover just about every aspect of the Creative Suite and with more episodes to come.
Today's episode is done by special guest Kevan O'Brien, the rock star from the Creative Suite 3: Creative License Tour and he details "The Making of the Johnny L Episode" in which he uses the latest and greatest Panasonic P2 camera and new editing capabilities in Adobe Premiere Pro CS3.
I've had a blast doing this show and the response has been phenomenal. This grass roots effort has reached thousands and thousands of viewers world-wide and many of you have walked up to me at tradeshows and seminars to tell me how much it has helped you in some way. Truly it is your continued support that keeps me motivated in doing these. So thank you!
Subscribe via iTunes for FREE or watch on the web.