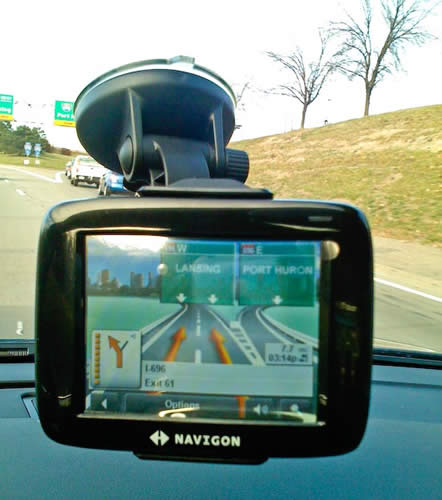 Although I'm a fan of Garmin GPS units I keep coming back to the one feature I like best about the Navigon 2100 and that's the 3D Reality View (pictured above). With the Navigon there is no guessing about which lane I should be in.
Good just got better
Navigon quietly released their 1.2 firmware update which provides the following fixes/new features:
Improved routing
Updated ZAGAT SURVEY Ratings & Reviews
Improved user interface
Revised voice prompts for highway entrances & exit ramps
Improved accuracy of ETA information
Updated Maps
The 1.2 update weighs in at a hefty 2GB's! However, it's very worth the effort and time to download. I noticed right off the bat the Navigon 2100 is now more responsive and while I've used it this week while traveling in Portland, it's been a real joy. You can download the 1.2 update by logging in to your My Navigon area of their website. Be sure to backup your existing SD card data first!
With the update and performance I've been getting so far this week, this little low cost GPS unit may just become my first choice when I travel!
You can buy the Navigon 2100 for $151.71 at Amazon.com.