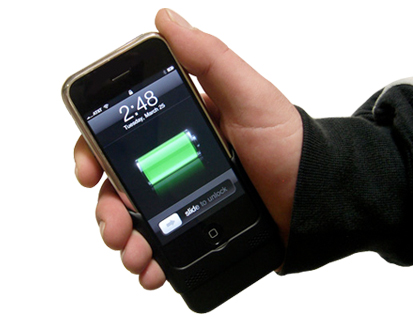 Although I certainly get a full day's charge off my iPhone 3g on most days, there are times that I might not make it a full day if I'm using a lot of apps on it. If I'm near my computer or an AC outlet no problem, just plug it in. However, If I'm on the go like traveling through an airport on in the back of a cab, I don't always have access to power to charge my iPhone 3g.
iV for iPhone, TruePower
I was introduced to the iV for iPhone at Macworld Expo this past January. Fastmac was one of the vendors showcasing iPhone and Mac accessories. Now this is not the first iPhone battery I've seen. However, what makes this one better is simply the versatility in the design of it. First off the iV is a cradle/case for your iPhone/iPod touch. Some batteries actually clip on to the bottom and therefore limit their use to just charging and maybe talking on the phone as long as you don't move around much.
The iV is also Dock friendly. Because of the design of the base, you can simply Dock your iPhone into an Apple Dock (or 3rd party solution) without having to first remove the iV from your iPhone. This brings me to the next advantage and that is no third party charger required. You can either dock your iV with iPhone into a charging dock or simply connect your existing USB cable to the bottom of its 30 pin connector. The same connector on the back of your iPhone. Since the iV charges using your existing cable, that's one less thing you'll have to keep up with.
What kind of juice do you get?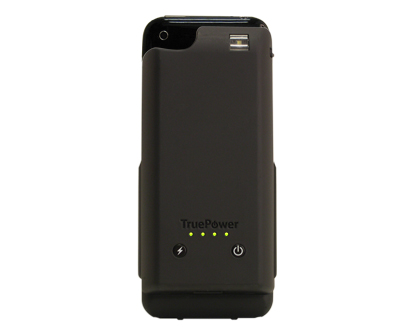 The iV will charge up an iPhone that is in the red. It has an on/off button on the back so that the battery is not trying to charge an iPhone that is already charged. There are even LEDs on the back to let you know how much juice is left. So effectively the iV doubles your iPhone's battery life. It's also not just for iPhones! There's a standard USB jack on the bottom too. You can use this battery to charge up your other USB powered devices.
An added bonus for iPhone photographers
There's even a light on the back that you can turn on/off as needed when you're taking pictures with the iPhone's built-in camera. Since the iPhone doesn't have a flash, this light certainly can't hurt.
The Bottom Line
If you find yourself running out of power before the end of the day on your iPhone or iPhone 3g and want an external battery, this is one of the best I've seen. There are a couple of downsides: the first is a basic one and that is with the iPhone in the iV Battery chances are it won't fit in your existing case. I use a DLO Hipcase and there is no way that the iPhone and iV will fit in it. Also since there is no belt clip on the back of the iV, I'm out of luck there. The next downside is simply the price. The iV retails for $99.95. Luckily for me they were selling them at Macworld Expo for only $59. I didn't realize how much of a deal that was until now. At $99.95 (half the cost of a new subsidized 8GB iPhone 3g), I'd really have to think twice. However, now that I have one it has become a permanent part of my bag. If you need one, Amazon has them for $99.95.