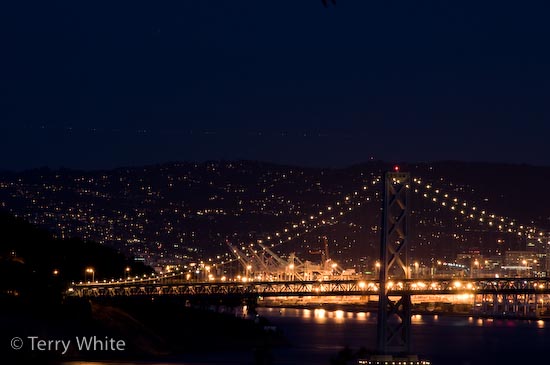 San Francisco Bay Bridge taken from Coit Tower (download the image, it has GPS data in the metadata)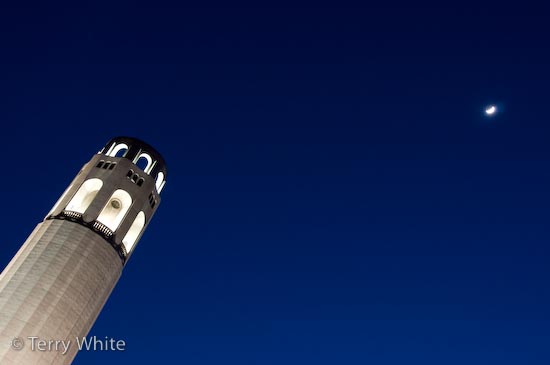 Coit Tower – one of the coolest vantage points in the city – Thanks CZ for turning me on to this location!
I made it into San Francisco yesterday and got a chance to do a little shooting with my buddy Sarah K. before all the Mac (iPhone, iPod, Apple TV, etc.) madness kicks off.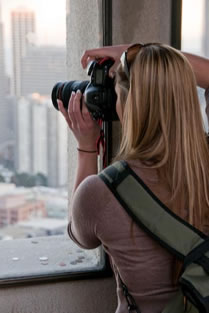 Sarah grabbing some shots from atop Coit Tower.
I'm looking forward to the show and Apple has already put up a few teaser banners "2008: There's something in the air". I've already given up speculating on what that could mean because we'll all know by tomorrow. 🙂
Today is my first ever hands-on lab training session at Macworld. I'll be doing Adobe CS3 tips and tricks from 2-4PM PST today at the conference. From 4-7PM PST I'll be at the User Group reception at the Westin.
Tomorrow is the big Steve Jobs keynote address and I'm going to attempt my first ever live blog update. I'll be putting the iPhone to the test and updating my blog live from the keynote. So check back tomorrow and refresh the page Keynote Coverage Page (which will go up in the morning) from 9-11AM PST for my updates as fast as I can tap them out on the virtual keyboard (please no wise cracks about typos and mispellings OK? 🙂 ).
After the keynote, I'll be on the show floor hanging out and checking out the latest and greatest advancements.
On Wednesday, be sure to check out my Adobe Photoshop Lightroom Workflow session at the Adobe booth as well as my iPhone tips and tricks session at the Peachpit booth at the end of the day.
If you're here at the show and see me, holler!
Don't forget to check out my Adobe Photoshop Elements 6 Walkthrough Video!