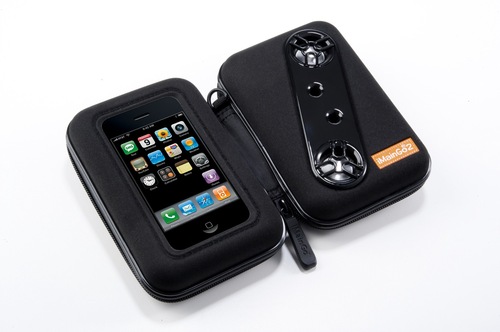 As a frequent traveler I'm always on the look out for a portable (smallest I can find with decent sound) speaker system for my iPod/iPhone. My main interest is personal listening in a hotel room. Although there are lots of small speakers out there, the problem is if you make it too small it sounds like crap! I'm a fan of the AirCurve acoustic speaker by Griffin, but I also like powered speakers too. My continuous search led me to the iMainGo 2 Handheld Speaker Case for iPhone and iPod. First off, there is nothing really iPhone/iPod specific about this case. It should work fine with just about any phone or MP3 player. There's a standard mini plug that goes in your device's headphone/line out jack so it should work with just about anything including your laptop or iPad.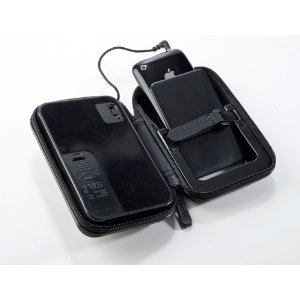 What I like best about this speaker is that it's powered by standard AAA batteries that last about 30 hours on one set/charge. It would be nice if it were AC powered and had a dock connector to charge your iDevice, but I can live without that for portability, battery power and price. It's already hard enough finding enough plugs in a hotel room. Not having to plug in the speaker to use it is actually a good thing.
It sounds good too
One of the things I was most impressed with is the sound of this speaker in comparison to other portable systems I've tried that cost more and are bigger.
If you're looking for something small that sounds good and works with just about any device you carry, this is it.
You can get the iMainGo 2 for about $39 here.