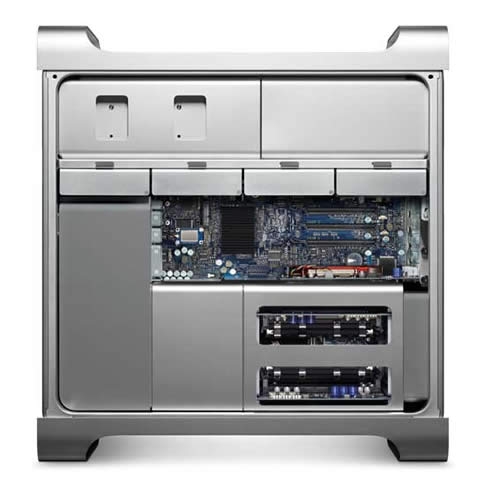 Yesterday, Apple rolled out faster Mac Pro systems now with 8 cores standard starting at $2,799. I generally skip at least one generation of Mac towers and lucky for me that was the last one. So that means I'm up for a new desktop Mac this year and these new systems are screamers. However, I just configured the one that I would buy and it tipped the scales at over $6,000. So I will at least wait to see what comes out next week at Macworld before making a final decision and placing an order. My current Mac Pro is pretty beefy and I'm not feeling any slowness, but I'm always up for faster render times for video editing. Usually by skipping every other update, I end up with one that is at least twice as fast as the one I had and this one should be no exception.
It's no surprise to me that Apple decided to roll these new systems out before Macworld Expo. Although I'm sure they are blazing fast and all, they are just speed bumps. No new case design takes the excitement down. Nothing really significant that would warrant time during the annual Stevenote. So of course this begs the question: What will Steve have to introduce at Macworld? I've given up on this guessing game for the most part. It's just more fun to sit back and watch from my chair in the keynote address. However, let's look at some of the speculation and see where everyone's head is at:
iTunes Movie Rentals – I would say this one is probably a go
Updated Apple TV – I'm all for it if it has 5.1 surround sound support!
New sub notebook – possible, but I don't really care. So for those that do, I'm pulling for you.
New MacBook Pros – Yes, these are due, so bring them on!
Blu-ray drives and support in the OS – I'm less likely to believe this now that the new Mac Pros are out without that option, but who knows? This is another reason I'm waiting.
16GB iPhone – possible, but not keynote worthy – unless there is more to it.
3G iPhone – possible, but I think it's too soon yet. I hope I'm wrong!
iPhone 1.1.3 software update – this is a good bet to keep the momentum going.
iPhone update for business users, syncing with MS Exchange and being able to add them to AT&T business account plans – I can only dream!
Something NEW that no one is thinking of – this is always a good bet
As with most rumors, they are more wishful thinking than based upon fact. So just like every year we'll have to wait and see as to what actually comes out of Cupertino this year. I'll be on the spot delivering the news to this blog. As usual my goal will be to seek out the really cool and useful items that don't necessarily get all the fanfare.