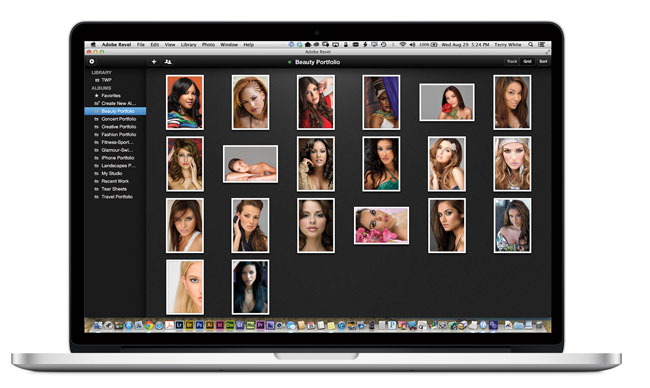 Adobe Revel is Adobe's Photography Cloud Service. There's currently a desktop Mac version and an iOS Version. With the Revel Service you can add photos from any device, do non-destructive enhancements and see those photos on any device. While Revel isn't new, the 1.5 update adds the one feature that I've been waiting for – ALBUMS! Now that I can organize my photos in Albums (I know, simple concept right?) It just became much more useful to me.
The Lightroom Integration is the Key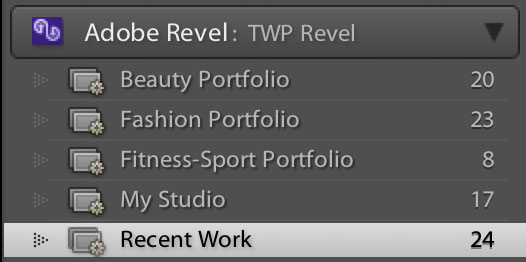 Adobe Revel as a stand alone product/service isn't that interesting for my workflow. However, with the updated Lightroom 4.2 (RC) Publish Collection plug-in I can now create Smart Published Collections that mirror my Portfolios (Collections) in Lightroom.

This means that when I update any of my portfolios (collections), all I have to do is press the Publish button in the Revel area and those portfolios are sync'd to the cloud and therefore my iPad, iPhone and other Macs.
The Syncing is the Key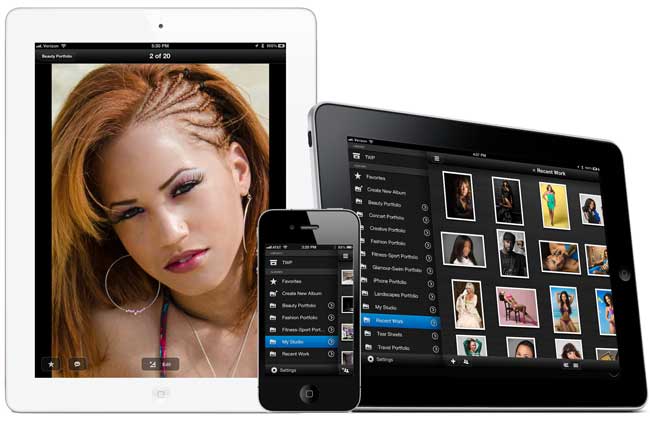 There are some really great Portfolio apps for the iPad out there that do all kinds of cool things. Many let you customize them with your own brand, they have nice transitions and they allow for music to play during the show. GREAT! However, where most of them fall down is the difficulty in updating or keeping the portfolios current. For example, one of my Portfolios called "Recent Work" It has 24 images in it and after each shoot I put 1-3 images in and remove the oldest ones keeping it at 24. This takes two seconds in Lightroom. Now getting most Portfolio apps to reflect that update is often a very manual process. With Revel, I hit the Publish button on my "Recent Work" smart collection and my iPad is updated!
Is it perfect?
Well no! Most things aren't perfect. Revel on iOS was not designed to be a portfolio app! It doesn't have branding, music, transitions, etc. However, those kinds of things are much easier to add over time than getting the workflow right and getting the workflow right is the most important thing for me. Lightroom 4.2 with Revel 1.5 Album support is just about there.
You can download the Lightroom 4.2 RC build from Adobe Labs. It also includes:
New Camera Support in Lightroom 4.2 Release Candidates
Canon EOS 650D / Rebel T4i
Canon EOS M
Fuji FinePix F800EXR
Leaf Credo 40
Leaf Credo 60
Panasonic DMC-FZ200
Panasonic DMC-G5
Panasonic DMC-LX7
Pentax K-30
Sony DSC-RX100
Also tethering for the Nikon D4 and D800/D800E
You can learn more about Adobe Revel here. Please note that Adobe Revel is a paid service and you can try it for 30 days at no cost.
Get Revel for iPad, iPhone and iPod touch here.

Get Revel for Mac OS X here.