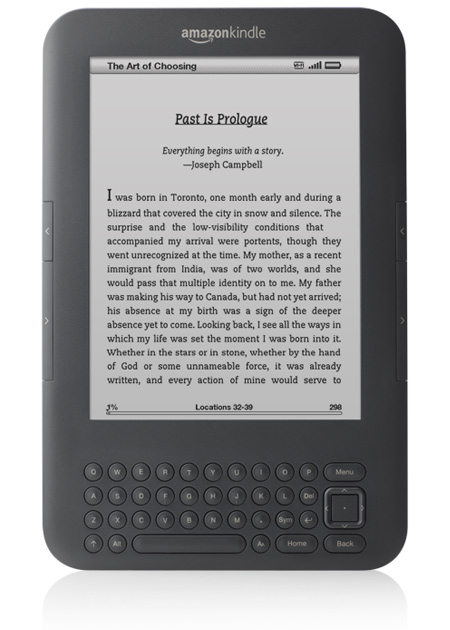 I've admitted before that I'm not a big book reader. I read all the time, every day, just not novels. I read magazines, news stories, blogs and even certain chapters in instruction manuals. Therefore I've never had any real interest in eBook readers. I remember when the iPad was announced in January and shipped in April that some were predicting that it would be the end of Amazon's Kindle. After all, certainly no one would be interested in a "one trick pony" if you could get a device that did almost everything and in color to boot. Fast forward to December and Amazon continues to report that Kindle sales are stronger than ever! So it would appear that there is still a healthy market out there of people that want a lightweight, low cost eBook reader. As a matter of fact my college age daughter is a prime example. She has absolutely ZERO interest in the iPad or any other "tablet". She has a MacBook, an iPhone and a 3G Kindle. She's completely satisfied reading books on her Kindle and doing everything else on the other two devices. Some of my relatives opted for the Barnes and Noble Nook this past holiday season. They preferred color and some of the built-in book sharing (LendMe™) features of the Nook as well as being able to check books out from their local library via the device.
The battle is just beginning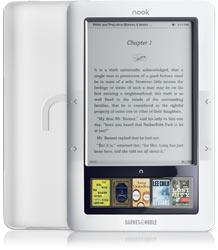 I think we're a long ways away from seeing a clear "winner" in this category and I think the one thing that's going to keep this market going is PRICE! The Kindle starts at only $139 and the Barnes and Noble Nook starts at $149. While the iPad starts at $499. If all you care about is reading, then a stand alone eBook reader makes sense over a tablet like the iPad. If nothing else from a sheer cost savings and lighter weight. I think it was also smart of Amazon to make the Kindle App available for multiple platforms (Mac, PC, iOS, Android, etc). It's clear that Amazon has more to gain by selling their titles/content than they do the hardware. By allowing you to buy and read books on just about any device including smartphones, you'll feel more comfortable building a library in that format.
Which one do you prefer?
Since I'm not a "book reader" I'll leave the floor open to you in this case to make your recommendations to my readers. My daughter has a Kindle and loves it. I've played with it and while it's fine for her, I would probably want color. When I do buy eBooks I'm more than likely going to buy them in Kindle format and read them on my iPad.
What I think it would take to kick this market in to high gear
EPUBS are designed to reflow based on the device's display size. That's cool, but I would love to see the option to see the book in it's original printed layout too.
While you can technically put video/audio in an EPUB, it's not currently part of the EPUB spec. I'm sure it will be in the next rev of the spec in 2011, but we need to see more multi-media "options" sooner rather than later.
B&N has the right idea with their book sharing feature. This option should be standard across the board.
Lower costs for the titles. As an author I hate to say it, but eBooks can't and shouldn't cost as much as the printed versions.
These things will come over time, but the market it ready for them now!