One of my favorite travel management website is tripit.com. I discovered TripIt when I reviewed the iPhone App FlightTrack Pro.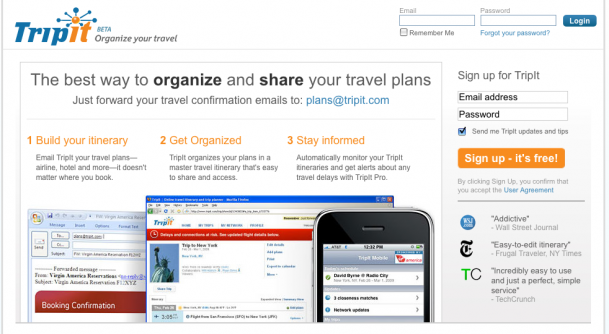 How does it work?
What makes TripIt so cool is that it doesn't require you to manually enter the information about your trip. You simply forward your itinerary from your airline, hotel, rental car company, etc. to plans@tripit.com from the email address(es) that you registered from and TripIt.com will automatically add all of your travel information to your online itinerary. I was blown away that this even worked with the PDF itineraries that I get from my work travel agent.
Now what makes this even sweeter is that they have a Free iPhone App. The TripIt iPhone/iPod touch app allows you to see all the pertinent information about your upcoming trips.
TripIt also allows you to subscribe to an iCal/Outlook calendar of all your trips.
Social Networking Aspect
If you have friends, family or colleagues with TripIt accounts you can (optionally) connect with them on TripIt.com. This will allow you to know about each other's upcoming trips. Now of course it doesn't divulge the exact details of your trip with your "network", but it does show you who's gonna be in which city when.
TripIt goes Pro!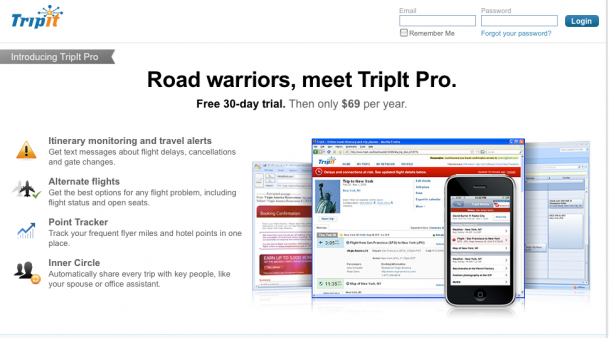 While you can still get all the benefits of your FREE TripIt account, if you're a frequent traveler you may want to checkout TripIt Pro! TripIt Pro offers:
Itinerary monitoring and travel alerts – Get text messages about flight delays, cancellations and gate changes.
Alternate Flights – Get the best options for any flight problem, including flight status and open seats.
Point Tracker – Track your frequent flyer miles and hotel points in one place. This feature is pretty cool in that you can register all your frequent flyer/stay programs and see a summary of all your points in one spot on the TripIt Pro site.
Inner Circle – Automatically share every trip with key people, like your spouse or office assistant.
With TripIt Pro you'll automatically get alerts about any delays or problems with your travel plans.
Knowing from past experience, it really sucks to show up to airport on time only to find out that the flight was cancelled and that there are no more flights going out that night.
The Bottom Line
If you travel, but don't travel often then the FREE account offered by TripIt.com is a must have! However, if you're a Frequent Traveler and you don't have a dedicated travel agent monitoring every aspect of your travels, then you might want to try out Trip It Pro. It's $69/year.
Whether you go with TripIt or TripIt Pro, you'll want to download the TripIt iPhone App here. Also if you only need to monitor your flight status, then you should check out FlightTrack Pro for iPhone, which integrates directly with your TripIt account.