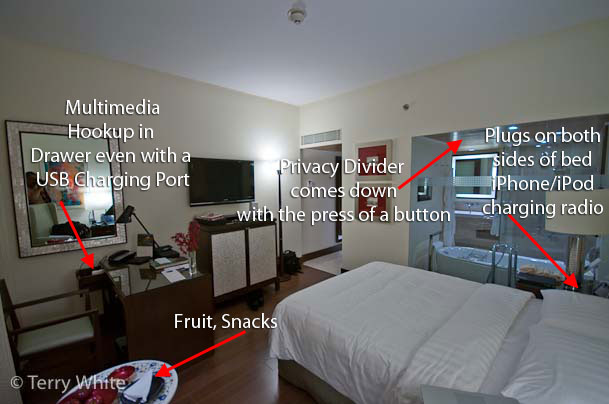 Since I spend a good deal of my time traveling for business, I get to stay in a lot of different hotels all over the globe. Many times I have a choice in hotel properties and sometimes I don't. Sometimes I have to stay at a particular location for logistical reasons based on the event or meeting that I'm attending. However, when I have a choice in hotels I'll always remember the ones that met my "tech" needs first. It's a given that we want a clean, safe and quiet room when we're away from home. So that's where I would start the scale at zero. After that, for me it's all about the availability of connections in the room itself. Here's what I demand:
Nothing ticks me off more than not having enough power outlets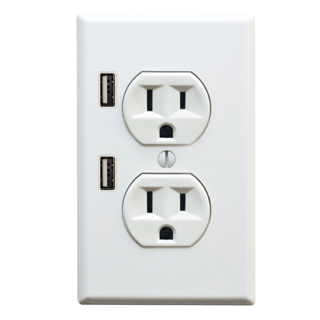 I'm still amazed that some of the most modern hotels in the world only have one or two available outlets in their guest rooms. At a minimum I want to be able to plug in my notebook and charge my phone SEPARATELY from my computer. So yes, that means an outlet with TWO available plugs. It's fine if you don't want to rewire your rooms, but for God's sake at least put in a power strip. Marriott Hotels typically do a good job of providing lamps in the room with power outlets built right into the base. More and more hotels are doing this as a way of making it so that you don't have to crawl around on the floor or worse, move furniture to plug something in. You should definitely be installing these outlets as soon as they are available. I'm also finding lots of hotel rooms these days that have iPhone/iPod dock compatible alarm clocks. It could care less about playing music through these (although it is nice at times), it's more important to me that they give me an easy base for charging. Of course this sucks if you don't have an iPhone. My travel power solutions are here.
Outlets near the bed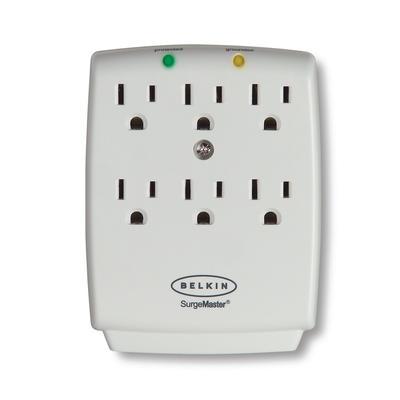 Even if you have lots of outlets in the room, I need some near the bed! As much as you might have that "desk" well connected, the reality is I work more from the bed than I do the desk. My notebook sits on the nightstand and I wake up in the morning and one of the first things I do is check email. I'm not going to get up and go over to the desk to do this. So power near the bed is really where I want it. Stop making me choose between having a lamp and having a clock (the clock will lose every time) plugged in.
Wireless vs. Wired Internet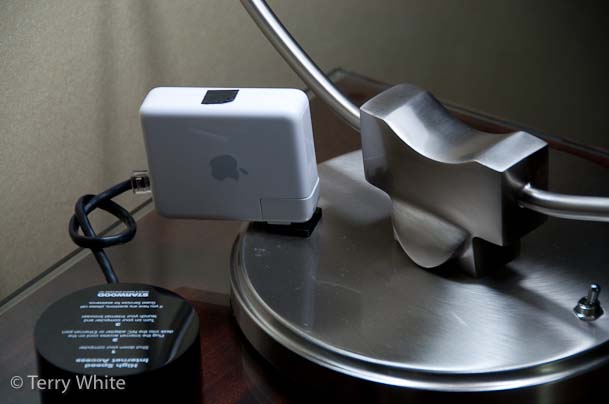 It's common these days to find Wired internet in hotel rooms and WiFi in the lobby. I actually prefer wired internet in my room. This way I can plug in my travel AirPort Express and setup my own WiFi hotspot to share the cost of ONE connection with my multiple devices or family/friends that are traveling with me. So unless the WiFi in room is FREE, Wired works out best for me. Yes, that's a piece of black tape over the LED on the AirPort Express because I HATE bright lights on at night when I'm trying to sleep. It floors me that Apple doesn't provide a more high tech way of turning these indicators OFF. Which leads me to my next point:
Keep me in the dark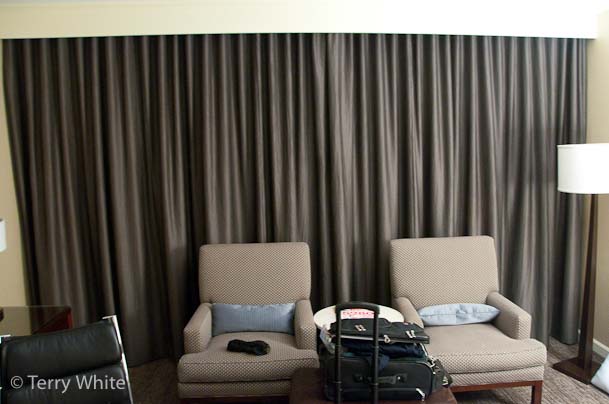 Sometimes I fly all night and arrive to my room in the wee hours of the morning. So I want to CRASH when I get to my room. Therefore I want the room to be TOTALLY DARK! I don't want ANY sunlight coming in when I close the drapes. There are a few hotels that get this and they install the proper window darkening drapes/linings. If I don't have to be up first thing in the morning, I don't want the sun to be my alarm clock. I don't like wearing eye masks either.
Water, minibar and late night room service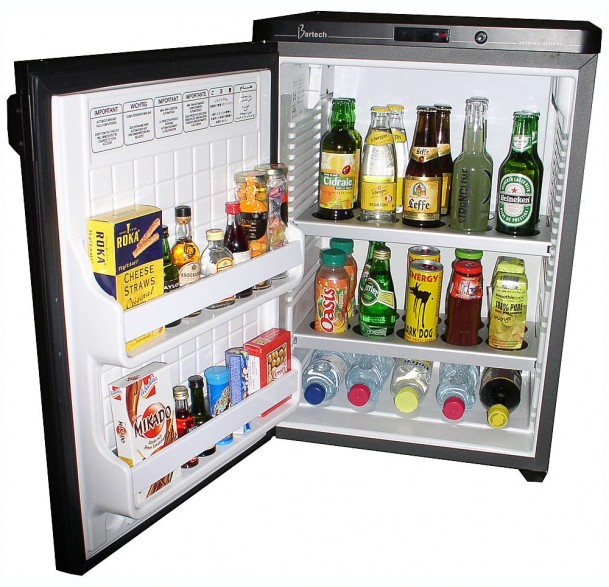 At this point, I EXPECT a couple of bottles of drinking water to be in my room. Free or not, I expect them to be there. Just do it. Also If I get there in the middle of the night because of some travel delay I may not have had time to grab dinner, so I either want a late night room service/restaurant option (limited menu is fine) or at a minimum decent snacks in the minibar in the room. They usually charge an arm and a leg for these snacks anyway so why not provide them? By the way, the last Westin I stayed in had the room service menu posted on the in room TV entertainment system. The only indication of this was a sticky note on the TV itself. OK, fine. I get it. Let's save paper and printing costs. I'm all for it. However, the menu system to go through the room service menu was horrendous. There was no freaking back button. If you wanted to go back to a previous page, you had to hit the main menu button and start all over again. Seriously? Why not put the menu on your website ALSO? That way at least I'd have a better navigation experience.
A little bit of overkill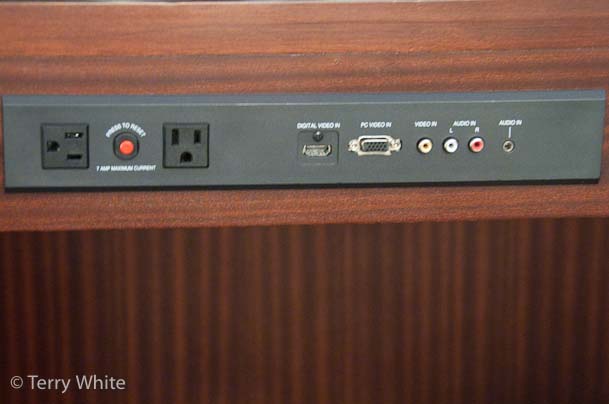 A few places I've stayed in have gone all out with multi-media hookups in their room to tie in to the HD TV's in the rooms. Yep, that's right you can hook up an HDMI cable, stereo audio and pipe it right into the HDTV. As geeky and techie as I may be, I have very little use for this. I don't hold meetings in my room very often and therefore I don't need to do presentations there. However, once I did hook up my notebook and ran SlingPlayer to watch my DVR from home on the HDTV in the room while I ironed a shirt. Again, this was overkill but hey, it worked. By the way this same hotel pictured above (a Westin) didn't have any plugs near the bed. I'd much rather you invest in that first before all the cook HD hookups.
Having a Starbucks on site never hurts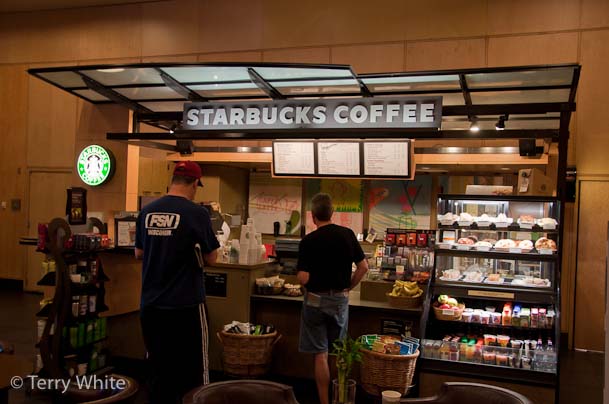 I'm not big into the whole designer coffee thing. As a matter of fact I've had less than 5 cups of coffee in my entire life, but the point here is that Starbucks is a well known brand around the globe and when a traveler encounters one they already know the menu. They already know what they want and they can get their fix on the spot painlessly. I bet if I asked you what you wanted from McDonald's you'd be able to tell me without asking me "what do they have? or can I see their menu?" See my point.
The Bottom Line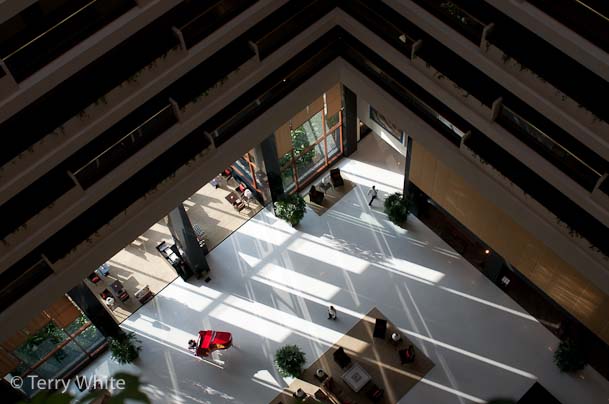 The most well connected, techie's dream room that I ever stayed in was actually in India of all places! It was the Oberoi Hotel in Mumbai. I could live there! Although the Oberoi is a highend chain, they're prices were in line with most places abroad and their "standard" room was better than most suites I've stayed in. They got 5 stars on every single point above and should be the model for any modern hotel room today. If I ever go back to Mumbai, guess where I'm staying?
Hotel owners/managers that may be reading this. You have LOTS of competition out there and I'm going to give my business whenever possible to the properties that nail the list of things above. I'm also going to come back to those properties over and over again. I may even pay more per night to do so because, you guessed it, those things are VERY IMPORTANT to me. As far as hotel chains go, I would have to give the nod to Marriott for getting most of this right with Hilton being a close second. I'm finding myself in more Hiltons lately because they're more of them abroad. My loyalty is only as far as you're willing to go to meet my needs. A year ago I hardly ever stayed in a Hilton, now…