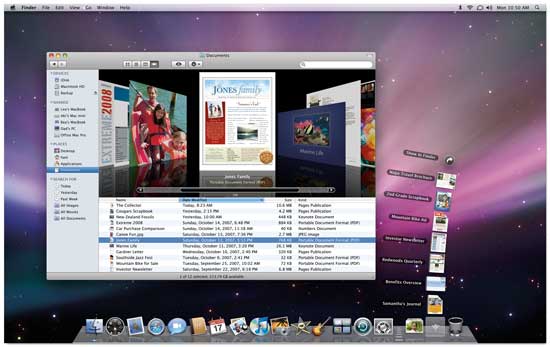 I've been installing and testing Leopard since about 10AM this morning and I'm happy to report that compatibility and stability seem to be very high. So far I've only run into one peripheral (driver) that simply will not work on Leopard and that is my Dymo Labelwriter 330. Now keep in mind that I haven't tested every little thing, but what I have tested has worked surprisingly well. As a matter of fact I would say that this has been the smoothest Mac OS X upgrade since the original Mac OS X. I'm having far fewer initial issues than I did going from Panther to Tiger.
Now for the news that many of you have been waiting for: Adobe Creative Suite 3 compatibility is GREAT! A few of the apps (Acrobat 8 Professional, Premiere Pro CS3, After Effects CS3, Soundbooth CS3 and Encore CS3) will need dot releases and those dot releases are in the works. The dot releases are mostly to fix minor issues. For Adobe's official Leopard statement complete with timelines for the updates click here. You'll be happy to know that the rest of the CS3 products have no known Leopard issues.
Does Adobe recommend running Production Premium or Master Collection before its updates are available?
A. Yes, we are comfortable recommending this. Our testing revealed a few issues in specific workflows when running the video professional applications on Mac OS X Leopard. Many video professionals would not encounter these issues on a day-to-day basis, but we want to provide updates in December 2007 to address these issues and meet our standards of quality. You can evaluate the issues by visiting www.adobe.com/go/support and searching the online knowledgebase for more information.
So for right now I officially give Leopard a GREEN LIGHT! I still highly recommend that you follow my upgrade strategy from Part 1 earlier today (below). I can't possibly know about all the apps, utilities and peripherals that you rely on every day, so you'll need to test Leopard for yourself.
UPDATE: If printing from Lightroom is critical to your workflow, then you might want to hold off a bit until the Lightroom dot release is available. Currently under Leopard switching to the Print Module in LR 1.2 is not possible!
What's improved so far
Like I said, it's been a day of mostly watching progress bars. So I haven't had a lot of time to explore the new features. I wanted to get in and test compatibility first. However, there are a few things that I couldn't help but take notice of. The first one is how much easier it is to set up FileSharing between multiple Macs. Each of my family members has their own Mac here and I do have a Mac OS X Server running. However, I wanted to set up my older Power Mac G5 as a networked "Time Machine" backup server for the rest of the Macs (not the server, it already has its own nightly backup routine). So I took two 500GB drives that I had from a previous upgrade and put them in a dual bay enclosure. Then I partitioned them to match the drive sizes of each of the Macs that I wanted to backup. Next I shared each partition to its respective user and this was as easy as it can get. Then I simply went to each Mac and selected the networked partitions as the Time Machine drive for each user. Now each Mac is backing up REGULARLY and automatically behind the scenes. Before this I was using ChronoSync to just sync their Users folders to the server. Now I'm getting their whole drive with incremental changes every hour.
The next area of improvement seems to be around performance. Everything seems much snappier. I know that it's usually perception, but I would swear that Leopard is faster than Tiger in most operations.
I'll have more to report on Monday after I've actually had some time to do my day-to-day tasks, but Leopard is looking like a winner!