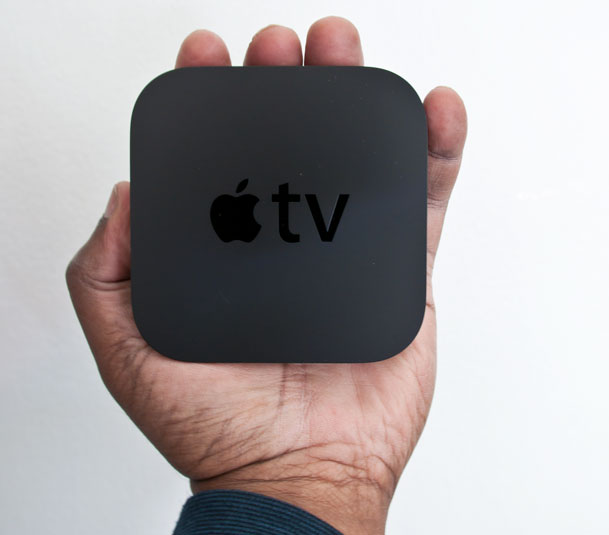 I've been a fan of Apple's "hobby" Apple TV since day one! I've got more than a couple of them around the house. 🙂 When Apple had their annual iPod event this past September it was rumored that we might see a smaller, more affordable Apple TV and the rumors were true. Apple introduced a much smaller and more more affordable Apple TV. This new box is sooooooo tiny. It's also less than half the price of the model it replaces. As we know, that's rare for Apple products. When the announcement happened I was traveling on business, so I had to rely on various web reports during my breaks to follow the news. The one thing I kept trying to figure out from the scattered reports was, "what did this new one offer that my existing one didn't?" After all we're used to new technology having more bells and whistles to make you want to upgrade. I kept seeing the reports on size, price and Apple's new TV show rental prices as well as Netflix and AirPlay streaming, but that was it. Yes, that was it! This new Apple TV seems to take away as many features much as it adds. Now don't get me wrong, I'm still a fan of Apple TV and I think they will sell more NEW Apple TVs than ever before at the new price point, it's just that I'm not compelled to run out and replace the rest of my existing ones. Let me tell you why…
What you get
Like I said, it's SMALL and it runs much cooler than the previous model. One of my Apple TV's is located in a cabinet (this is the one that the new one replaces for me) and I often wonder if the heat build up will fry it? So I'm pleased to see the new one take up less space and run cooler. You also get the new shinny silver aluminum remote. I didn't even take mine out of the box because my Harmony One Remote works just fine with this new model too. On the back you'll find an HDMI port, Optical Audio, Ethernet (there is also built-in 802.11n WiFi) and a USB service port. There is one LED indicator on the front and the power supply is built-in so there is just a power cord and that's it. Nice!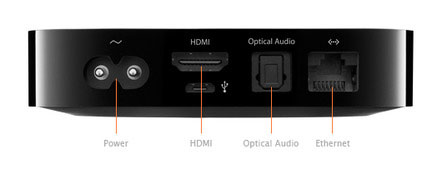 Once you have it setup this is where you'll find the biggest differences from the old to the new.
Out with the OLD Apple TV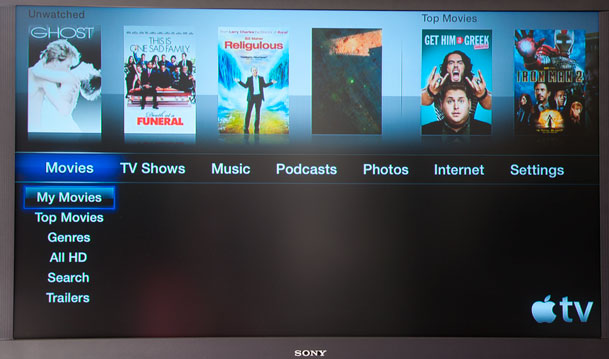 The original Apple TV with current interface above
The New Apple TV is all about Streaming!
There is no user accessible internal storage. Rumor has it that there is 8GB of flash memory, but I imagine that it's reserved for buffering streaming content. So unlike the previous models there is no way to store TV shows, movies, podcasts or music on the device itself. You'll either have to stream it live from the internet or a Mac/PC on your network (see AirPlay below).
In with the NEW Apple TV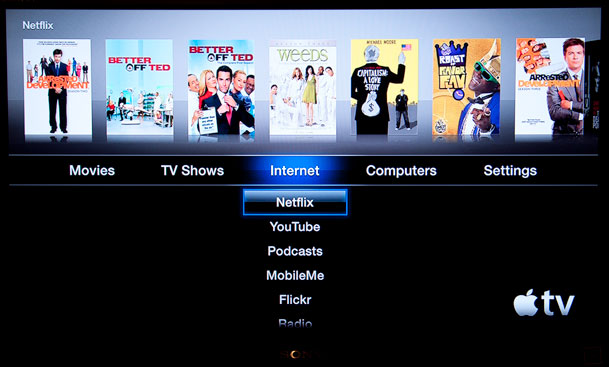 The NEW 2010 Apple TV above
As a matter of fact Apple has made it clear that it's all about streaming in the new menu structure. YOUR content is now buried under "Computers" instead of being mixed in with the other media choices like TV shows, Movies, etc. Also since there is no storage, there is no requirement to "Sync" with a computer. Unlike the previous model, this new one relies on iTunes Home Sharing if you want to stream your content to the device from your computer. So as long as you are logged in with your Apple ID on your computer and your Apple TV, your content will appear under the Computers section. This is not the end of the world, it will just take some getting used to for previous Apple TV owners. New Apple TV users won't think twice about it.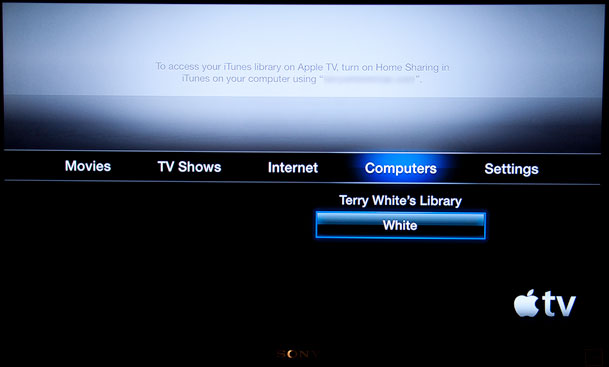 It seems so un-Apple like to not see any imagery from your library on this screen above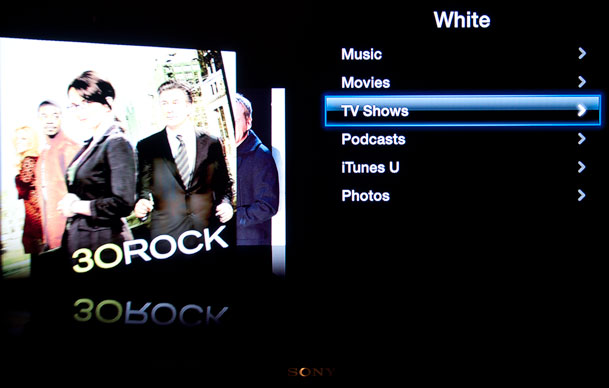 Once you drill down into your computer you will then see your content stream by as usual.
Rent vs. Buy
Renting makes sense and that's what the 2010 Apple TV is all about. There is NO option to "Buy" content directly from your Apple TV. This will be another thing that existing users would have to adjust to. You can rent movies and TV shows (currently only from ABC, ABC Family, Fox, Disney Channel and BBC America). TV shows are only $0.99 to rent the HD versions as opposed to buying them for $1.99 for the Standard Def version or $2.99 for the HD version. I really really like this model because the only reason I ever bought TV shows in the past was because there was no option to rent them. I usually only watch them one time after buying them and only buy them because I forgot to TiVo them. As far as movies go, I also rent 99% of the time and this has not really changed on Apple TV. The only thing you can't do is BUY a movie (or any other content) on Apple TV. You can still buy iTunes content on your computer and stream it, but not directly from the Apple TV itself. While many would argue that if it's (a movie) good enough to buy, you probably want the Blu-ray version anyway. Nonetheless, I'm still surprised that Apple doesn't at least allow a "Buy" option of any media they sell and have that content download on your computer instead. Clearly this is possible via Home Sharing since both devices are tied to the same account. So why have to get up go over to the computer to buy something and then go back to the Apple TV just to watch it or listen to it? This would be especially useful for things like music and music videos. By the way, there is no option to access the iTunes store from a Music perspective at all on the new Apple TV. You can only access the music sitting on your computer.
Netflix, YouTube, Flickr, MobileMe & Radio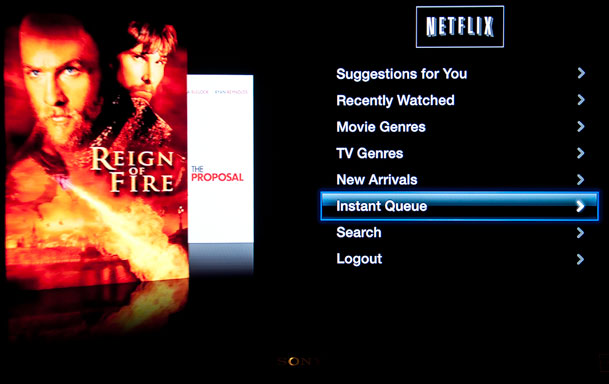 I'm not only happy to see Netflix integration here, but I'm very pleased with the way it's been integrated. There are two ways to stream Netflix to a device/computer. You can "register" a device like a TiVo HD or Wii for example, or you can just log in to your Netflix account with a computer and stream. The problem is that you can only register a limited number of "devices". So you may hit your limit if you have more than a few rooms with TVs. Luckily Apple integrated Netflix using a "computer" like log in approach. This means that as far as Netflix is concerned you're logging in with a computer like device and therefore you're not going to hit the limit as you don't have to "register" the device. It was great seeing my Instant Queue and being able to do searches to watch movies. I already had Netflix streaming via TiVo HD, so I wasn't all that thrilled when it was announced, but I do like the Apple TV implementation better. Apple TV also allows you to stream videos from YouTube. You can also log in with your account. Strangely though, once I logged in I could only access my Favorites, but not "My Videos". They made it really easy to see your online photos and online photos from your friends. All you need to know is their Flickr or MobileMe names and you can then access any public albums and view the photos on your big screen. There is also a nice large list of internet Radio stations to stream from. Sadly if you hear a song that you want to buy, you'll have to either remember the name of it or write it down and then go to your computer/iOS device to buy it.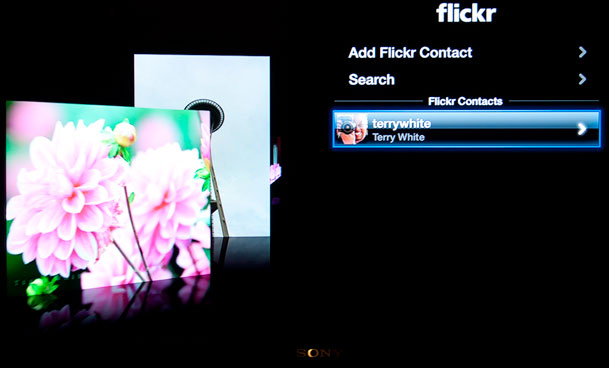 What about AirPlay?
Any one that says anything slightly negative about the new Apple TV is quickly reminded by an Apple Fan that AirPlay is the killer feature! So let's talk about AirPlay. AirPlay is the evolution of AirTunes and will allow not only computers to stream content directly to an Apple TV, but also iOS devices running iOS 4.2 or higher. Cool! I think this is a nice feature, but I'm just not sure how often I'd use it. In a perfect world a friend comes over with their iOS device and says "hey, let me show you this" and they stream that content directly to your Apple TV via AirPlay. Yes, that is very cool! Again, just not sure how often it will happen for most users. As far as my own iOS devices, there is rarely anything on them that isn't already on my computers. If I shot a video or some photos, I'm probably going to edit it first or retouch the photos first on my computer before showing them to people. Therefore they would be on my computer anyway, which can already stream today. Where I could see this being a big deal is in a presentation scenario, say a conference room with an Apple TV hooked up to a big screen TV or projector. Presenters could then just wirelessly stream their presentations from their iPads. So while I think the technology for AirPlay is cool, I don't think it will be the feature that pushes this product over the success rainbow.
What you don't get
I've spent a lot of time talking about what you get and even mentioned some things that have gone away along the way. So just a quick recap for an existing Apple TV owner, what you don't get – from a hardware perspective: there is no hard drive, no component video or RCA audio ports. You also can't buy any content directly from the device. So if your TV doesn't have HDMI or your receiver doesn't have Optical Audio, you're not going to like this new box. Luckily any TV sold today meets these requirements.
Use your iOS Device as an Apple TV Remote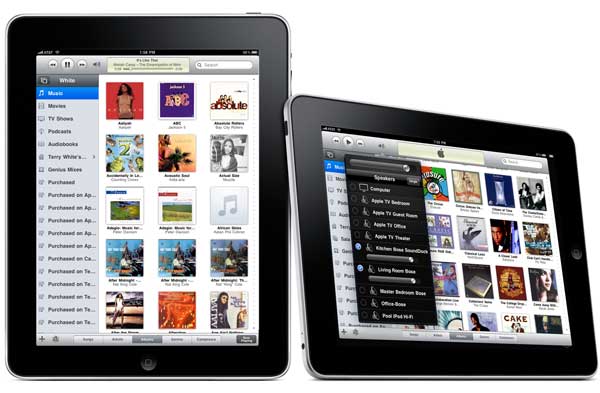 Apple has updated their FREE Remote App to work with the New Apple TV (it works with Macs/PCs too) and in the process they made it a Universal App that takes advantage of the iPad. It's GREAT and very useful anytime you need to do on screen text entry (user names, passwords, searches, etc.) because you can use your device to type it in wirelessly.
You can download Remote for Free here from the
The Bottom Line and Why you'll either Love it or Hate it
New users that have never had an Apple TV will undoubtedly love the new model. It provides a low cost way to stream content from your computer and the internet (YouTube, Netflix, Flickr, Radio & MobileMe). If you want to know just how inexpensive this new model is, let's draw a quick comparison Apple sells Apple TV complete for $99. TiVo on the other hand charges $90 just for their external 802.11n network adapter! Do the math here on parts.
Existing users: I can't really tell you to run out and buy one. If your existing Apple TV is up and running and you're happy with it, there wouldn't be much of a reason to buy this new one. The only reasons would be to get TV show rentals (as far as I can tell Apple has made no mention of doing any software updates to allow existing users to "rent" TV shows), AirPlay and a smaller cooler box.
For me Apple TV doesn't replace the existing ones I have. It's great for new owners, but I'm not quite ready to give up my storage and buying abilities just yet. Also for most people looking to cut the cable/satellite bill Apple TV will be a great option if and when more television networks come online for rental prices.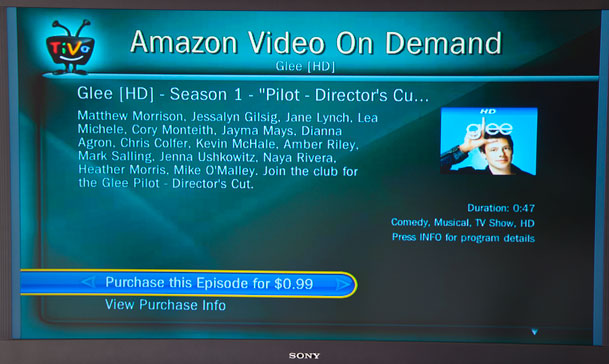 Speaking of which, as cheap as $0.99/episode sound, Amazon (on TiVo HD) already SELLS shows for that price. So Apple still has some price work to do here.
What I would have liked to have seen is: Hulu integration! After all if it's an internet streaming device connected to my TV, why not allow me to stream Hulu? Oh yeah, that whole iTunes store thing. I forgot. How about some basic things that could come from the internet instead then? Things like a "my page" that would have my local weather forecast, sports scores, favorite RSS feeds, twitter feeds, facebook status updates, all at a glance? Think Flipboard for Apple TV. Maybe even, dare I say it, the people I follow on Ping? This is something that could be integrated in as a screen saver. There's a lot that could be done with an internet streaming device that wouldn't totally wreck Apple's iTunes store model. While we're at it. If this thing does really run iOS, then Apps would be a natural. However, for that you'd need some kind of user storage. Oh yeah….
Luckily most of the things I'd like to see can be added via Software Updates. So here's for hoping!
You can get the Apple TV here for $99