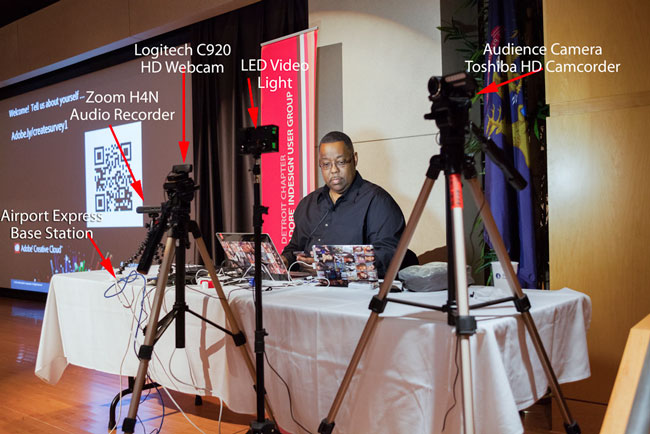 I got a few questions regarding my setup for recording my last Adobe Creative Now Tour Event.
Here's what I used:
I did the presentation on my MacBook Pro 15″ Retina. I was connected to the 1080p in house projector via the built-in HDMI port. I had my Wacom Intuos 5 tablet plugged into one USB port and my Logitech C920 HD Webcam plugged into the other one. While the Mac has a built-in FaceTime HD camera, it's only as good as the angle of your display. By using the C920 I'm able to put it on a tripod and therefore position it anywhere I want.
Networking
I always travel with both a MiFi and AirPort Express. This way I can create my own network either by using the venue's ethernet cable or via 4G. This is important for when I show Touch Apps and DPS SE so that I can mirror both my iPhone 5 and iPad to the same screen as the audience is seeing AND being recorded with Screenflow. I used Reflector on the Mac to Airplay from both my iOS devices at the same time.
Audio
As my buddy Jason Levine would say "It doesn't matter how good your video is, if your audio sucks no one will care about your video." This means using either a really good USB tabletop mic OR a audio recording device. In Cleveland I used a Blue Yeti USB mic and the audio was good. However, I had a Zoom H4N on order that arrived in time for Detroit and I decided to use that instead since it has legendary audio quality. As a backup I had Screenflow recording from the built-in mic on the MacBook Pro since I hadn't used the H4N before. The H4N records to an SD card in WAV format or MP3 at various quality settings. It uses 2AA batteries and can also be mounted on a stand/tripod. I mounted it onto a Gorillapod and set it on the table.
It's all about the Light!
More often than not the venues lower the lights so that people can see the screen better. However, this often leaves the presenter in the dark (literally). In Cleveland I noticed how much I appeared to be speaking from the shadows (although there was an overhead spotlight), and I decided to bring a light for Detroit. This LED light is designed for video. Small, light weight and runs on battery or AC. It's very bright and white balanced for 5000K.
Audience CAM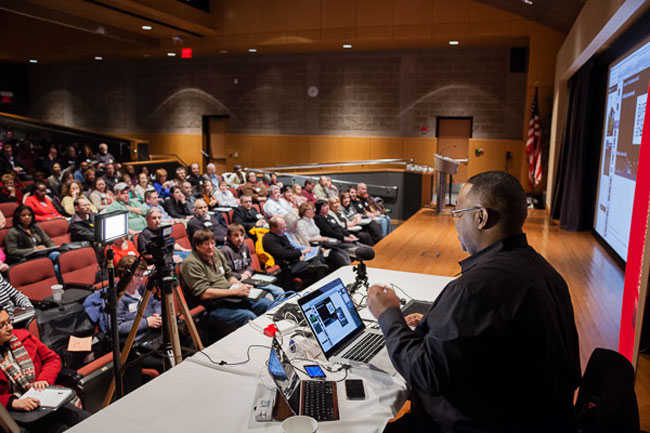 I used a low price Toshiba HD 1080p camcorder on a tripod aimed at the audience the entire time. This camera was a one day Woot.com special for like $100 (thanks to Dave Helmly for alerting me to this deal). I wasn't expecting much and while it's not the greatest quality by any means, especially in low light. It's small, creates MP4 files that are easily edited. Traditionally I'd use my Nikon D600 DSLR for video, but for something long like a seminar, DSLRs can only capture 10-30 minutes at a time. With a regular camcorder I was able to just leave it running the whole time and record over 2 hours to a 16GB SD card. By the way, I wouldn't recommend this Toshiba model and the only reason I got it was because it was on sale for so cheap.
Editing
I was torn between editing this in ScreenFlow or Premiere Pro CC. I know both editors well. I ended up doing it in ScreenFlow simply because the screen capture and webcam of me were already there and I would have had to go through and do all the edits of me on screen anyway before exporting out a video just to take into Premiere to add the audio and audience cam. ScreenFlow had no problem importing in the audio WAV file and the MP4s from the Toshiba.
P.S. – Staying on time
I couldn't present without a timer. Even with one I tend to go over a bit because we have so much to show. I worked with a developer (Shawn Welch) a couple of years back to get Presentation Clock built. The one thing it does that none of the others out there back then did, was show you how much you're actually OVER your time.
You can watch the video here in full 1080p HD: