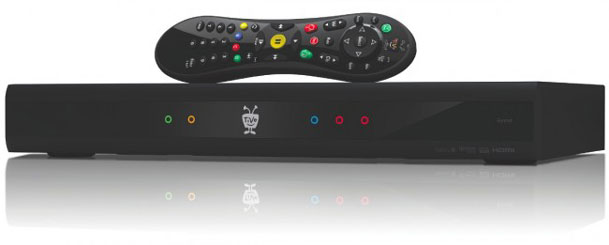 If you've followed my blog then you know that I'm a BIG FAN of TiVo HD! I just LOVE the TiVo interface and I have a few of them in my home (ok more than a few). However, I got an email from a few buddies asking if I was going to upgrade to the NEW TiVo Premiere unit. Quite frankly I said "no". I had heard about the New TiVo Premiere and I had read some of the info, but there wasn't anything that jumped out at me as a must have. Now don't get me wrong. If I was in need of another unit for another room or if one suddenly died I'd be getting a Premiere in a heart beat. However, I didn't see anything that would justify the hassle of selling my old one, figuring out a way to transfer/keep the lifetime service and dealing with Comcast to come out and install the new one.
TiVo posted a $10.2 million quarterly loss
Although TiVo has THE BEST product in the DVR category, they are still not winning. They just posted a $10.2 million quarterly loss. The way I see it is that TiVo suffers from two problems and neither of them has anything to do with the product. The first problem and probably the biggest one is that TiVo competes with the Cable Company's "good enough" DVR. Think about it. If you get Cable TV, your cable provider will happily bring a DVR to your home, install it for you and even spend a few moments showing you how it works. The DVR itself is functional and for most people that have never experienced a TiVo they will think the experience is fine. On the other hand If you go with a TiVo, you have to buy it (cash upfront), then have your cable company come out and install a CableCARD in it (a hit or miss process with most Cable installers ie. contractors), and then you still have to sign up for TiVo service and pay either a monthly, annual or one-time lifetime fee and you still won't have access to the cable company's pay-per-view content. The average consumer that doesn't know what TiVo is and they're going to take the easy route of going with the "free" or cheap (inferior) cable company DVR.
The second problem is that TiVo doesn't market well. Here's why I say this. Every time I bring up TiVo to a friend, the first thing they ask me is what does TiVo offer that the Cable Company DVR doesn't. Once I rattle off:
I can set it to record over the internet
I can transfer shows from it to my computer to watch on the road
I can transfer shows from it to burn to a DVD or put on my iPod/iPhone
I can transfer shows from one TiVo in my house to another one via my Network
I can easily put it on WiFi in rooms that don't have internet
I can access Amazon on Demand content
I can access Netflix Streaming Content
The interface is a million times better
They usually say OH! The problem is it's not my job to tell the world why TiVo is better, it's their marketing departments job and I have yet to see much of any of these benefits advertised.
The Bottom Line
As much as I LOVE TiVo DVRs, if they don't fix these two problems they will go the way of the Apple Newton.
Hey TiVo: Just a thought, but you have this really cool comparison info on your site if people go to find it. How about turning this into an Ad campaign, TV commercials, etc.? Just a thought….