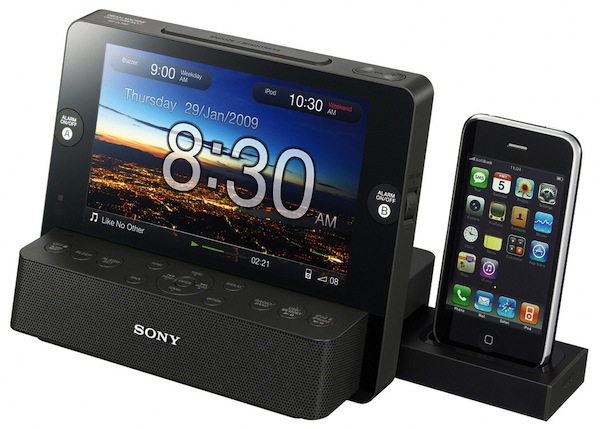 How's that for the longest product name in history? Oops, I forgot to stick in the model number: ICF-CL75iP. Ahhh, that's better! Wait, I forgot Dream Machine. OK, that's it.
A couple of months back I saw a pre-announcement that Sony was coming out with an Alarm Clock that had a built-in iPod/iPhone dock – YAWN! I know, who cares right? There are so many options out there, what's Sony going to bring to the table? Well there was one thing that got my attention and that's the built-in digital picture frame. This clock radio, iPod dock has a nice big 7" display.
Rather than spending a lot of time trying to describe it, here's a video I recorded:
httpv://www.youtube.com/watch?v=WE0otgu9UWQ
What Sony Got Right
I think Sony got the size right. I think it's just big enough for what it does. It's not designed to be a stereo replacement, so the sound output is adequate. I like the dual alarm feature as well and the fact that either alarm can be set to any one of the many sources such as radio, iPod, or the nature sounds. I also like the fact that it has a built-in memory so that you can load music, video and pictures on it without having to have your iPod or iPhone connected to view them/play them back. I really like the fact that you can sleep the display at night, yet with one button see what time it is without bringing the brightness all the way back up (blinding level). Another really nice feature is while it can't transfer the photos directly from your iPhone/iPod (huh?), it can playback your photos, videos and movies. Speaking of iPod/iPhone support the dock itself is a standard universal dock so your existing and future inserts should work just fine.
Fun Wake-up is a cool feature that let's you record up to 3 of your own alarms. You can even assign pictures to them. So if you like to wake up to the sound of your kids or other loved ones, just have them speak into the built-in mic and you're all set.
The Automatic Daylight Savings Time Adjust and backup battery are nice too. As a matter of fact it comes already factory set to EST. All you have to adjust is your Time Zone. The big time display is very readable from across the room. I should also report although you probably assumed this, that yes it does charge the latest generation of iPods and iPhones that charge over the USB pin. I tested it with my iPhone 3GS with no problems.
Dimming the Display at Night – This was my FIRST concern when I walked in the Sony Style store. I asked the reps to show me how it dims and once again I was reminded of a quote by a friend "these are the guys that work at the mall." After about 15 minutes of trying to show it to me, they were hopeless stuck in "demo mode" and couldn't get it out of that. Guess they lost the sticker. Anyway, yes you can dim the display by hitting the Snooze/Dimmer button and you can even turn it all the way off. Sadly, if it's off and you want to know what time it is in the middle of the night you would have to press the…..wait for it……OFF button. Pressing the OFF button will bring up a dim display of the time for about 5 seconds and then you can roll over and go back to sleep. Pressing the Snooze/Dimmer button again will bring the display back to full brightness.
Where Sony missed it
Too many steps to do simple things. For as many buttons as this thing has, you would think there would be a button to get to the things you're going to use the most. It's sometimes confusing trying to figure out do you need to control things from your iPhone/iPod or from the buttons/menus on the clock radio. I can't for the life of me figure out why the dock doesn't lock in place when it's extended. It kinda just floats there in the wind.
The next limitation is probably one that Sony didn't have much control over. While you can import images from your computer, a thumb drive or flash memory card, you can NOT import images from your iPod/iPhone. Seems like you would want to be able to simply copy your images that are already on your device, but you can't. Again, this may be an Apple imposed limit as Apple doesn't let developers have 100% access to all of the iPod/iPhone's I/O. However, I just expected MORE iPhone/iPod integration than the "basics" that are included. It would have been nice to not only allow importing of images from the iPhone/iPod, but also over Wi-Fi. Even though you CAN play a slideshow from your iPhone the iPhone's built-in slideshow feature doesn't automatically play music with it. So to do it right you would first have to go to video mode on the Sony clock radio, then to the iPod app and start a playlist playing. Next you would have to go to the photos app and find and album and start the slideshow. While this does work, it's very cumbersome. Even if you do it this way, it's very distracting having both the iPhone's display and the Sony display showing the same thing at the same time. So press the power button (yes another step) on your iPhone to turn off it's display. So you're probably going to either want to just copy your images over or play them directly from a memory card/thumb drive.
Although you can copy over up to 1GB of data, there is no album organization on the Sony clock radio. So they all end up in one big folder. You play back all or none of your photos. If you want to playback individual groupings you'll have to do it from cards or the iPod/iPhone.
Now there is one more thing that I haven't been able to figure out yet. The ICF-CL75iP has 6 photos built-in. I haven't found a way of either deleting them or disabling them. For example, when my slideshow was playing in the video above, I noticed that a couple of those images aren't mine. Again, I would think that these default images can be turned off. I just haven't had enough hands-on time to figure out how yet.
Although you can dim the display manually, it would be nice if it either could be timed or had a built-in light sensor. This way the display could adjust automatically to the ambient room light.
Perhaps one of the biggest misses is that there is no audio input jack for your other devices such as AirTunes, your laptop or ahem, any other Sony music players.
The Bottom Line
If you're looking for a good blend between having a clock radio/alarm that can also be used as a digital picture frame and iPod/iPhone charger, playback device, then this is it! I haven't seen any other device that can do all that this one does. It's not the easiest to use, but once you get used to it, it does work! The built-in memory here is key because that means that the device is still very useful when you don't have your iPod or iPhone docked. You can find out more about it or buy it, list price $149.95, or less here.
There's an app for that
Wanna just use an iPhone/iPod touch app instead? While this Sony device is cool, if you have an iPhone or iPod touch and Apple's Universal Dock and USB Power Supply, you've got all the hardware you need to do exactly what the Sony device does. All you need are a couple of apps.
The Digital Picture Frame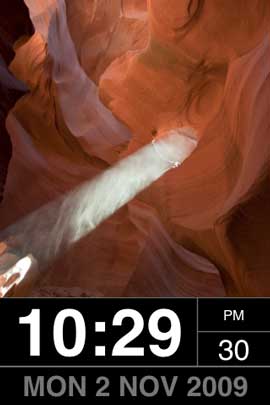 Check out Chilli X's PhotoFrame app, which will turn your iPhone/iPod touch into a nice digital picture frame while it's docked. The app keeps the display on while it's running.
You can get it here from the App Store:
The Night Clock and Alarm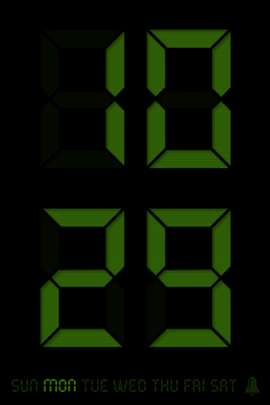 Check out Chilli X's NightTime Plus, which will turn your iPhone/iPod touch into a nice nighttime clock with a large dim display. It also features an alarm. You can get it here from the App Store:
With these two apps, you're gonna get about 95% of the functionality of the Sony device. Your display won't be as large, but it works.