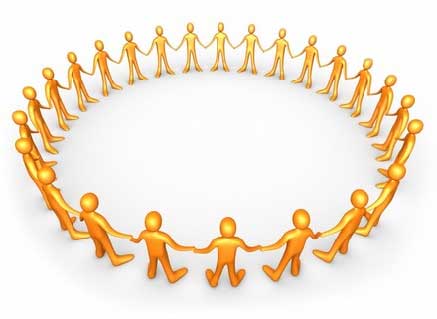 I'm a fan of social media. I think it's fun connecting with long lost friends via sites like Facebook and Linked In as well as keeping up with buddies from high school and distant relatives. I remember when I first setup my Facebook account, my goal was to only "friend" people that I actually knew. I was looking at Facebook as being "personal" and sites like Twitter and LinkedIn being for business. Unfortunately this strategy didn't last very long at all. My Facebook inbox was inundated with friend requests from fans, people that I may have met once at an event and other total strangers that may have been friends of friends. At first I just ignored them until I could figure out what to do.

The problem with sites like Facebook is that if you decline a friend request, there's no ability to tell the person why you're declining their request. So you end up with potential "friends" that will have hurt feelings. If I could have had an automated response that says something like, "thanks for the friend request, but I'm using this account to connect with close friends and family. Please see my Facebook Fan page here", then I would have done that in a heartbeat. Once the request piled up to a point that I could no longer ignore them, I finally gave in and decided that my Facebook account can't be used for personal stuff. So I let everyone in. I decided that I would keep the personal information to a minimum and not post family pictures and not give my exact whereabouts in real-time (sometimes the latter can't be avoided for big events). I had suggestions from others that I should setup another account with a fake name and picture so that no one would know it's me and then I could interact with close friends and family in a more personal manner, but that just didn't feel right

I don't really care what you're doing
Don't get me wrong, if I know you then I probably have an interest in your day to day activities if nothing else just for the occasional smile when I read a funny status update or see a cool pic. However, if you're a total stranger I could care less what you're doing and I'm sure the same goes for you about me. So I found myself using Facebook less and less because I didn't want to have to sift through the status updates of hundreds of strangers to see the ones from people I actually knew.

Then along came lists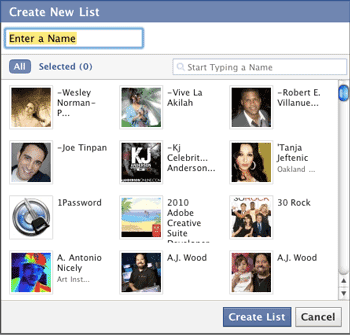 One of my favorite Facebook features is called "Lists". The lists feature allows you to put your "friends" on various lists and then use those lists throughout the site to filter out the information (noise) that you don't want to see. The first list I created was called "People I actually know". The list is self-explanatory. I added all the people that were my Facebook (FB) friends to it that I actually know. Then I simply filtered the status updates to that list so that I'm not seeing hundreds or thousands of updates from total strangers. This helped quite a bit, but didn't solve everything thing.

I don't want to chat with you
Well actually it's more like I don't have time to chat with you. FB has an Instant Message feature that when "friends" see you online they can popup a chat message and you can chat back. This is cool when I have the time, but in most cases my FB browser window is in the background and then people were getting pissed off thinking I was ignoring them. So I created a list called "Chat" and that list has less than 10 friends on it. Those are the few people that I will stop doing what I'm doing to chat with. Otherwise send me an email or call me. If you are a close friend or family member, you already have my number. I was thrilled when I figured out that you can limit the chat feature to a list(s) or simply turn it off.

Nothing personal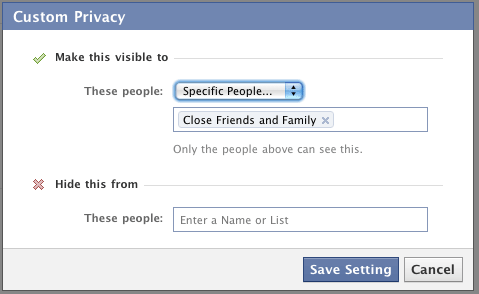 While this solved most of my incoming intrusions and interruptions, it didn't solve the fundamental problem of, I'd share more on the site if I could limit it to just my close friends and family. I had a friend tell me that she went to my FB page in hopes of keeping up with me while I was on the road and was quickly discouraged when it seemed all cold and impersonal. That got me thinking about this problem again and i went looking for answers. I found out that the Lists feature had made its way into the privacy settings of FB. I got very excited! This meant that I could potentially have the best of both worlds. I could use the one FB account for both personal stuff and general stuff for all. I created TWO lists: "Nothing Personal" and "Close Friends and Family" Using the Privacy Settings I can either choose to share information with only the people on the Close Friends and Family list OR Hide information/albums from the people on the "Nothing Personal" list. Yay!

The Bottom Line
It's nothing personal. I'm sure you're a great person. I just don't know you. So therefore, I'm not ready to share everything about me to you. I'm sure you understand! We're still friends right? 🙂
P.S. Also remember that no matter what rules you put in place or privacy settings you have turned on, if there is something that you would cringe if it made its way out into the general public, then DON'T PUT IT ON THE INTERNET!
Generally your info is just a Google search away! Increasingly potential employers and business associates are checking YOU out on the web to see what you're really into. So keep that in mind the next time you're about to upload that funny picture or make that obscene comment.