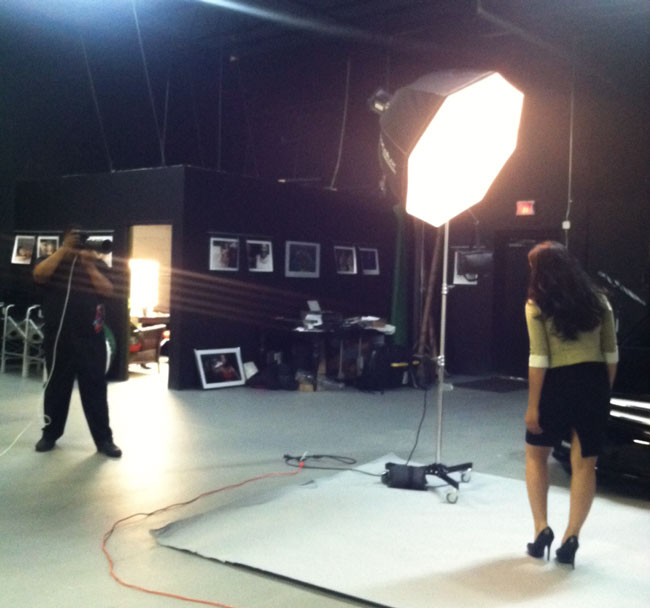 I've done posts here in the past showing various ways to shoot tethered to a computer or to an iPad. When I got my Nikon D4 I popped for the WT-5A Wireless Transmitter too. While it works perfectly, it's not as fast as a wired connection. Since the D4 has a 10/100 baseT Ethernet Port built-in I decided to give it a shot and shoot tethered via Ethernet.
Understanding the difference…
Most Nikon and Canon DSLRs are supported natively by programs like Adobe Lightroom for USB tethering. That means you just connect the camera via a long USB cable and the software can bring in the images as you shoot automatically. However, when it comes to non-USB connections such as WiFi or Ethernet, this support is usually NOT built-in. Nikon's Wireless Transmitter Utility will enable you to bring the images into a folder as you shoot, but then in order to get them in Lightroom you have to use the Auto Import feature in Lightroom. Keep in mind that this adds a second or two to each image import vs. native USB support. However, with that said Ethernet is still faster! With USB tethering my 16.2 MB RAW files typically take about 6-8 seconds to come in via USB. When shooting via Ethernet, they actually come in in batches of about 6-7 images within a few seconds. My guess is that there is some overhead from the time files get dumped into folder before Lightroom sees something new and then imports them all at once. Also the Ethernet connection is a lot less fragile than the USB connection I've used in the past. 😉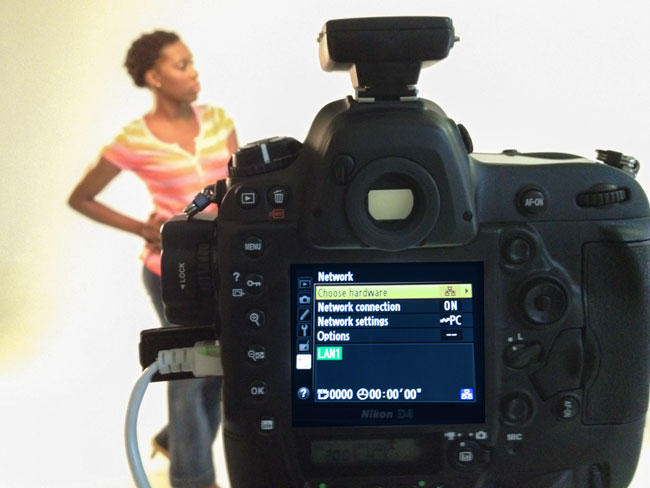 The D4 allows you to switch between a wired or wireless connection via the Network menu. This means that I can disconnect the 100′ Ethernet cable that I bought and go wireless via the WT-5A module without skipping a beat. Wired or wireless, the images are going to the same Watched folder that Lightroom is looking at.
The Bottom Line
If you use the D4 in a studio environment and you shoot tethered, you definitely want to give Ethernet a try. Rather than going through a switch/router, I have the ethernet cable plugged directly into my MacBook Pro for the fastest possible connection. It would have been nice to see a Gigabit Ethernet port considering what the D4 costs, but the 10/100 baseT connection is still pretty fast.