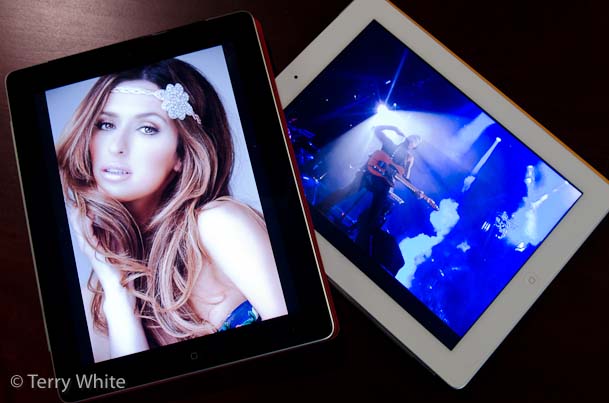 It appears that by all measures the iPad 2 launch was a success! iPad 2 officially went on sale in stores at 5PM local time on Friday, March 11, 2011. Online ordering opened up at 4AM ET the same day. When I woke up around 7AM and placed an order, my delivery time was set at 5-7 days. Apparently I missed the window of 3-5 days earlier in the morning. About an hour later the wait time went to 1-2 weeks for new orders and currently sits at 3-4 weeks for any new orders. This translates to Apple is selling iPad 2s as fast as they can build them and new orders will see a 3-4 week wait time. Placing an online order first thing in the morning for many served as a backup plan in case they didn't get one that evening locally.
Luckily, I was able to snag two at my local Apple Store. I got the 64GB black Wi-Fi+3G and the 32GB white Wi-Fi+3G (both on AT&T). I think the thing that surprised me the most was that even though there was a long line at most Apple stores throughout the US, Apple employees were still taking the time to offer a "personal" setup and walkthrough of the device. For many waiting in line, this meant that it was going to be a long night.
First Impressions
When I picked up the original iPad out of the box, my first reaction was "it's heavy". It was heavier than I expected it to be and I knew from that moment that it would not be comfortable for one handed reading for long periods of time. When I picked up the iPad 2 out of the box my initial reaction was "wow, it is lighter." On paper the iPad 2 is not that much lighter at all (1.34 lbs vs. 1.6 lbs). However, it is noticably lighter in reality. I still think it's probably too heavy for long periods of one-handed reading and the Kindle wins in that scenario big time, but for those of you who wished the iPad were lighter to hold and use, I'm happy to report that it is. Also with the new flatter back and rounded edges it's just more comfortable to hold in general.
While I know that it now has a dual processor A5 chip and significantly faster graphics, I haven't actually felt the effects yet. This is largely due to the fact that I never felt that the original iPad was slow. The iPad 2 is fast and Apps open quickly and graphics display beautifully and fast. Again, I haven't been wowed by the speed increase though. I also have always said that we quickly assimilate speed. You don't really realize how much faster something is until you go back to something that was slow. So perhaps if I spent a day back on my "old" iPad I would notice it more.
Smart Covers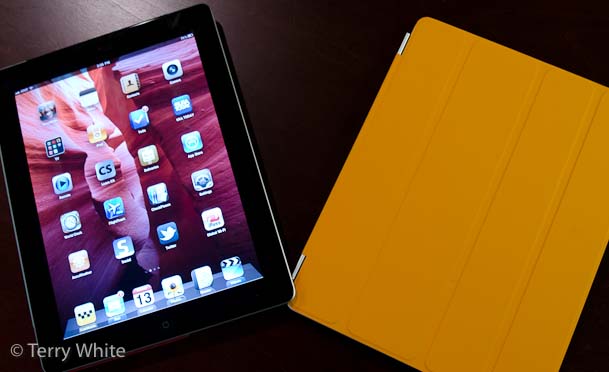 I opted for the red and black leather Smart Covers as well as an Orange polyurethane Smart Cover. I know that it's the little things in life that really matter sometimes and this is one of those times. During the keynote and introduction of the iPad 2, the thing that I was most excited about was actually the NEW cover. Don't get me wrong, I've wanted the cameras since day one, but we all knew that the cameras were coming. What we didn't see coming was the new Smart Cover design. Although I have a few different cases for the iPad 1, I was never really in love with any of them. I liked the Apple case the least, which is what lead me to buy the other two in the first place. I liked the Macally Bookstand Case (the one I used the most) and Incase Convertible Book Jacket, but while the Macally case was nice and thin, it never felt stiff enough and while the Incase offered the most support for standing it was too thick. So I alternated between them constantly.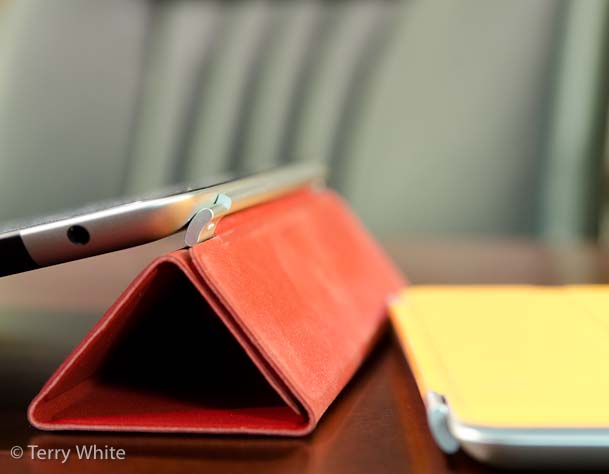 The Smart Case is perfect for me! It keeps the iPad 2 nice and thin for travel. It attaches and detaches in a second. Also it's integrated in that opening the cover turns the iPad 2 on and closing it turns the iPad 2 off. By not covering the back it also makes it very easy to use with accessories such as docks and keyboards.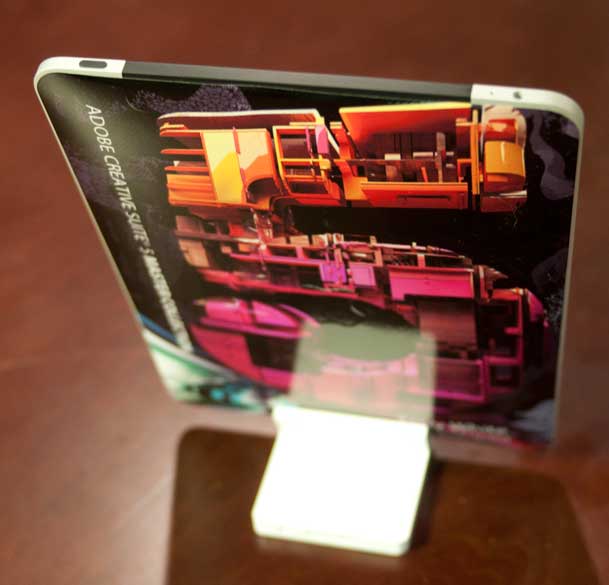 Custom Gelaskin on the back of my original iPad WiFi+3G
Gelaskin has your back – the obvious downside to the Smart Cover is that it leaves the back completely exposed. I'm not too worried about it because like with the original iPad, I'll be putting a Custom Gelaskin on the back of the iPad 2 (as soon as the iPad 2 template is available for custom ordering). The skin protects from scratches while keeping the iPad 2 nice and thin.
Cameras and FaceTime
I was stunned that the original iPad didn't include cameras. Like I said back then, I'm not looking for an iPad to replace my camera from a photography standpoint, I'm looking for the iPad to have cameras more from a App standpoint. There are several Apps that would have been even better on the iPad if the iPad had built-in cameras. FileMaker Go for iPad comes to mind as well as Bento for iPad. These database Apps will now be able to benefit from the rear camera on the iPad in an inventory taking/cataloging scenario. Also Apps that scan barcodes or just scan in general will now be able to run from the iPad 2's built-in camera. Many of these Apps will need updates to drive the cameras directly. However, almost all of them currently allow you to grab images from the camera roll. This means that you can use the built-in camera app today and get going.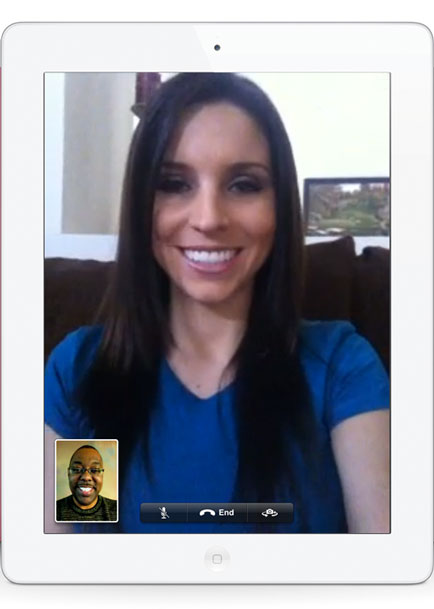 Video conferencing/FaceTime is a natural on the iPad 2. The nice big display on the iPad looks great while doing FaceTime calls. I'm looking forward to an iPad 2 version of Skype now. While FaceTime is great, the "WiFi Only" limitation is really getting old. One other point to consider is that large size of the iPad 2 compared to say an iPhone 4 makes placement for FaceTime calls even more challenging. It's too heavy to hold straight out for long periods of time and sitting with it in your lap or on a table gives you that lovely up the nose look. Also I found that doing FaceTime in landscape mode was kinda distracting from an eye contact perspective as the camera is on one far end of the device at that point and you have a tendency to look at the person in the middle of the display. Ideally even in portrait mode you'd want the iPad camera at about forehead level for a more straight on look. I wonder how long it will take before we see elevated FaceTime stands for iPad 2. A Gorillapod mount would probably do the trick. FaceTime works between iPad 2, iPhone 4, iPod touch 4th generation and Mac OS. When using FaceTime on anything other than an iPhone 4 your FaceTime number is your FaceTime "registered" email address.
iPad 2 will record video at 720p HD 30 frames per second. I'm sure will see tripod mounts coming soon 🙂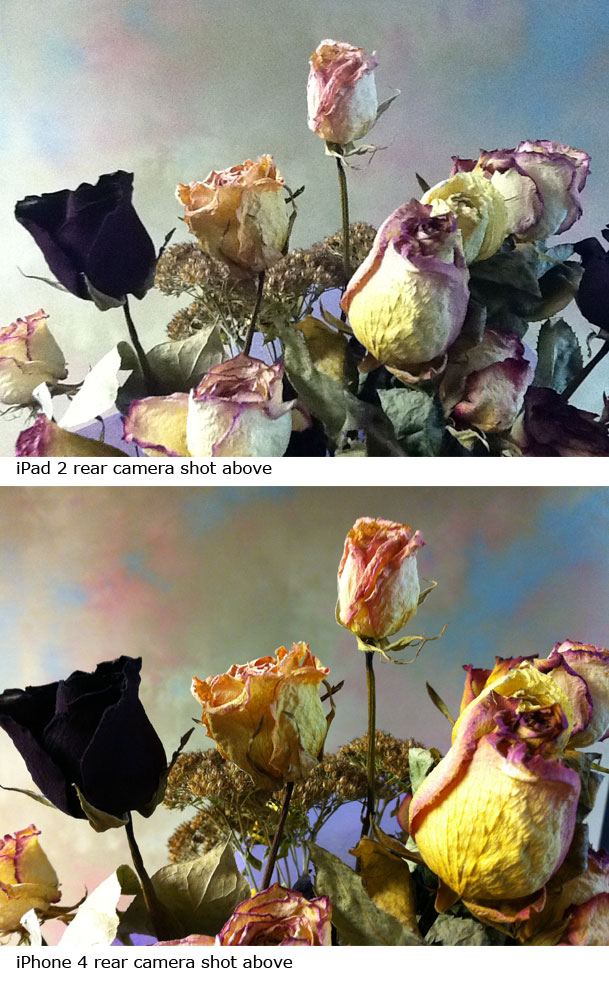 If you're thinking that you'll use the iPad 2 as your only camera then you're likely to be disappointed. The camera on the back of the iPad 2 is really not designed for "photography". It's slightly worse than the one on the iPod touch. Also it's a big device to hold while composing your shot. In a pinch if it were all you were holding and it meant missing the moment, by all means fire up the iPad 2 and take the shot. Otherwise, use the camera for your Apps, and low res shots that won't be printed and displayed.
What about Photographers and the Camera Connection Kit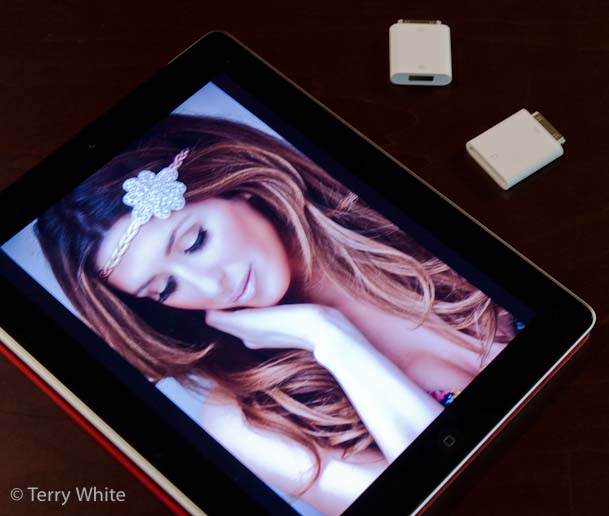 The iPad Camera Connection Kit still functions as it did on the original iPad. However, Apple reduced the power output of the original iPad via an iOS 4 update and the reduction in power still evident in the iPad 2. That means that you won't be connecting USB devices like card readers for reading Compact Flash cards. This will disappoint the pro photographer community that had hopes of importing images from Compact Flash cards into their iPads. This doesn't mean that someone couldn't create a specific device for this purpose. Someone could make a battery operated Compact Flash reader and even put a dock connector on it to plug right into the iPad or at least a USB connector to plug into the Camera Connection Kit. Until then, the MacBook Air makes a better lightweight tool for photographers. Sometimes I wish I were an inventor.
HDMI Out – Yes!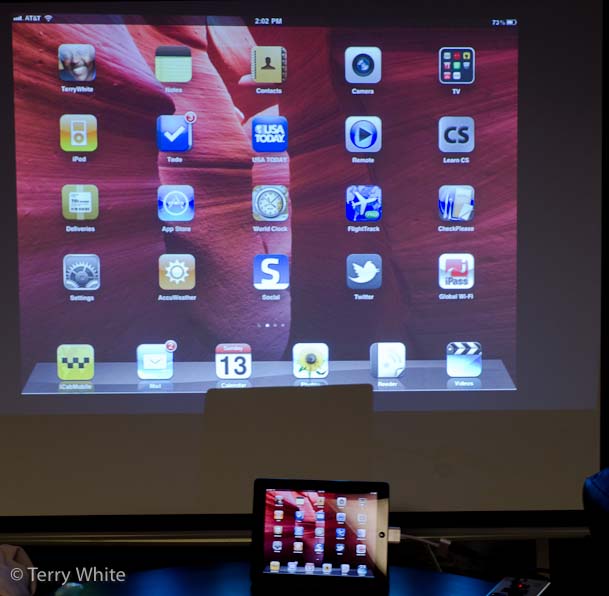 The iPad 2 not only has native support for HDMI out (with the optional HDMI adapter), but it does something that I've been wanting since iPhone 1 in 2007. It allows you to "mirror" the iPad 2's display. This was designed for teachers using iPads in the classroom so that they could connect the iPad 2 to an HD monitor and show the class the Apps that they were teaching from. For me, it will be a great addition for doing live presentations of Apps that I show for work.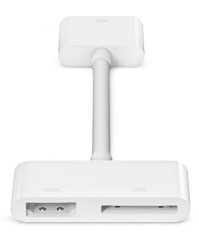 Also in theory I'd be able to record iPad 2 demos using a card like this one.
I got the adapter and connected to an Epson HD projector and the display was crisp and responsive. Anything I did on the iPad 2 was shown on the big screen in real-time. No lags, no delays.
As far as video out to your HDTV, the iPad 2 will connect and send video over via your Apps that support video out. Keep in mind that while the iPad 2 will connect to your 1080p HDTV, it will only display video out at 720p.
The New Speaker – The new speaker grill on the back looks promising. However, in my limited testing it's not sounding any louder or better than the original iPad. I'll have to play more stuff, but so far I'm not impressed with the audio from this speaker.
What about Apps?
I'm not going to spend a lot of times on Apps here because I have a site dedicated to them. However, I will say that I haven't had any problems running my existing Apps.
If you're new to the iPad, check out my App picks:
10 Must Have iPad Apps for the Office
8 Must Have iPad Apps for Photographers
10 Universal iPhone & iPad Apps
10 Must Have iPad Apps – back when the iPad 1 first shipped
Moving over your Unlimited AT&T Plan from your iPad WiFi+3G to your iPad 2 WiFi+3G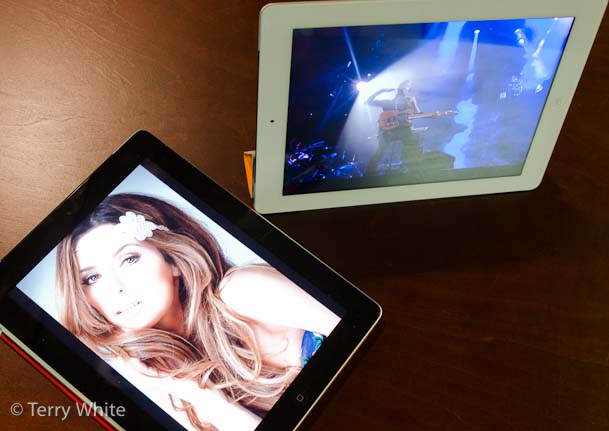 AT&T announced that they would allow those of you who were grandfathered in with an unlimited data plan on your original iPad to move that plan over to your New iPad 2. Here's how.
The Bottom Line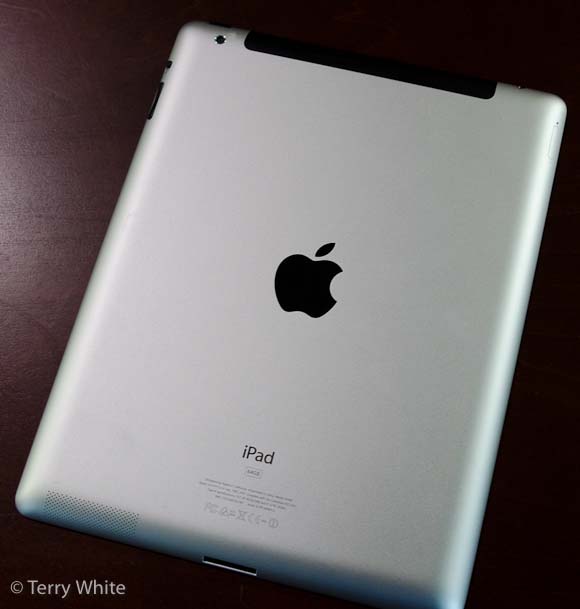 While there is nothing in the iPad 2 that is revolutionary (besides the Smart Covers), it's a welcomed update to the original iPad. It has improvements in all the right areas. I do wish that Apple would bend a little when it comes to using the dock adapter/Camera Connection Kit usb adapter for connecting other devices. Clearly it can be done because people were connecting everything from keyboards to card readers to the original iPad before Apple took that option away in the latest iOS updates. Nonetheless, iPad 2 improves on a already revolutionary device and while no single iPad 2 feature would have made me upgrade the sum of all the enhancements made it a no brainer for me.
By keeping the entry price at $499 they have made it that much harder for the competition. The bar has been raised.